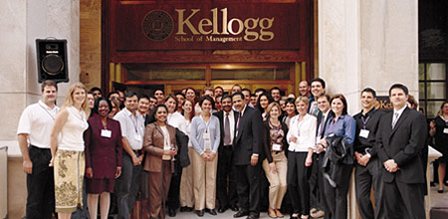 © Nathan Mandell
Dean Dipak Jain and TMP Associate Dean Vennie Lyons (center) with students, faculty and staff at a recent TMP class gift ceremony where students unveiled new signage for the part-time program.

Part-time students, full-time experience
The Kellogg School evening management program offers the same top-quality academics — and community — found in the school's traditional MBA curriculum, but with schedules designed to meet the needs of working professionals
By Mary E. Morrison
When part-time MBA students from the Class of 2001 first walked into 340 E. Superior St. on the Kellogg School's Chicago campus, they were greeted by an unceremonious plastic banner bearing the school's name. This spring, at the part-time program's first-ever class gift gala, the recent graduates adorned the building with elegant new signage, and began what many hope will be a longstanding tradition at The Managers' Program (TMP).
The May 10 event, a Cajun-themed party, was a celebration that recognized TMP's Class of 2001, which raised a record $61,000 for its class gift, and to inspire the Class of 2002, which is determined to raise a six-figure amount for its legacy. The evening began with a ceremony to unveil the Class of 2001's gift — a Kellogg sign for the Superior Street entrance of the TMP building.
"There is a genuine sense of belonging, a sense of community here," Kellogg School Dean Dipak Jain said to a large group of students, faculty, staff and alumni gathered for the unveiling. "All of us, by working together and employing our talents and passion, can take this school to the next level and make it the best program in the country."
But it is not just a sense of community that has landed TMP at No. 2 on the U.S. News & World Report ranking of part-time MBA programs. The Kellogg School administration has gone to great lengths — and has vowed to go even further — to make sure that part-time students have a full-time academic experience.
The key to achieving that goal, says Vennie Lyons, associate dean and director of the part-time program, is ensuring that TMP admits the same caliber students as the full-time program and places the same faculty members at the head of the evening classes.
Professor Sonia Marciano teaches management and strategy in both the full-time and part-time programs and points out that although many TMP students have demanding work schedules, they still show up to class prepared. "This dedication is very motivating for me as a professor," says Marciano. "Consequently, I can deliver that same rigorous full-time course to the TMP students, without altering my syllabus, even though we have somewhat less time relative to the full-time curriculum."
© Nathan Mandell
TMP embraces the dynamic Kellogg culture. Here (left to right) Keri Piercy, and William and Heather Kelley enjoy a recent social event on the Chicago campus.
Kellogg's thought leaders also give special lectures to TMP students, Lyons notes, citing recent presentations by Dean Jain and Louis Stern, the John D. Gray Distinguished Professor Emeritus of Marketing, to smaller groups of part-time students. Beyond that, Lyons says, it is important to offer TMP students the same special programs for which Kellogg's full-time program is known.

Among those programs are the Global Initiatives in Management course (GIM), and TechVenture. For GIM classes, students study a particular country for 10 weeks and then travel to that country with a faculty adviser for two weeks of intensive field work. TechVenture is a class in which students study technology and innovation before meeting with leading companies in Silicon Valley or other locales.

"Originally it was thought that TMP students couldn't participate in these academic opportunities because they would have to miss work," explains Lyons.

But, in fact, both programs have proven very popular with students. TMP offers three or four GIM classes a year, and when TechVenture was first introduced, one class had as many as 550 students. "They find a way to make it fit," Lyons says. "Our students want to get the whole experience."

Of course, doing so isn't easy. TMP students juggle full-time jobs, class assignments and extracurricular activities — not to mention their personal lives. It can be challenging for these students to keep their day-in, day-out focus on Kellogg, says Megan Byrne Krueger, assistant dean and director of student affairs at the part-time program. "We want people to get more than just a classroom experience," says Krueger, herself a 1990 TMP graduate. "Not everyone will take advantage of that, but we want them to have the opportunity and choice."

Many students say they were drawn to the part-time program because the class material would be directly applicable to their daytime job. The key to success, they say, often lies in time management.

"You end up having a set amount of time to do your projects and to do your homework," says Stephen Simsic, who works in commercial real estate at U.S. Equities Realty LLC and serves as president of the Evening Management Association, TMP's student government. "You have constant deadlines, and hours matter. You're pressed for time."

Apparently the sacrifice of time, and money, is one that TMP students are willing to make for the academic excellence delivered by Kellogg. The Class of 2001 raised the largest financial contribution ever recorded by a TMP class. More notable, says Liz Livingston Howard, director of development and a 1993 graduate of the part-time program, is that 48 percent of the class donated money to the class gift fund. "It's phenomenal," Howard notes. "To us, this participation is as important, if not more important, than the amount of money raised because it indicates a singular level of support."

It's a standard that the Class of 2002 intends to exceed. In announcing his class's gift to the school — a replica of the iconic stained glass window that adorns the Jacobs Center in Evanston — Simsic threw down the gauntlet to declare the goal of his Kellogg peers: a 100 percent participation rate.