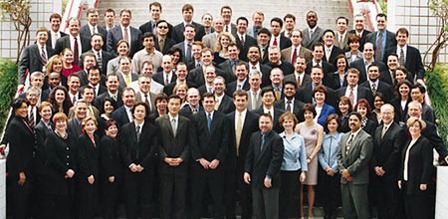 GIM offers Kellogg students — and faculty — a "total learning experience"
Classroom study and field research a powerful combination
By Matt Golosinski
For more than a decade, the Global Initiatives in Management (GIM) course has proven one of the Kellogg School's most popular academic choices. It's easy to see why.
Through GIM's powerful combination of classroom study and intensive field research, the course gives Kellogg students maximum exposure to the international dimensions of leadership and management strategy, while also providing an outstanding opportunity for them to meet Kellogg alumni in dynamic corporate and social settings around the world.
What some might find surprising, however, is that the experience is equally rewarding for the faculty advisers who accompany their students on this intellectual — and geographic — journey.
"These GIM experiences are better than virtually any trip that anyone, either faculty or student, would design on their own," says Professor Mark Finn, appointed the GIM program's director last year. He explains that the course provides a specific powerful lens through which participants view the country and its economic environment. "You see a lot of things you would never see as a casual traveler," he adds, since GIM participants enjoy access to top business and political leaders. Professor Richard Honack agrees.
"GIM is a total learning and leadership experience, not just a classroom simulation," says Honack, a faculty adviser who has lent his insights and guidance on seven GIM excursions, including a trip to Hong Kong and mainland China this spring. The classes leading up to the trips prepare the students and faculty for the business environment in-country, including the cultural nuances and politics, Honack notes. "Once in-country, you see the students' eyes light up — and I am sure they see mine, too — when what they have learned comes to life," he says.
In addition to the rigorous academic component of the course, students and alumni also enjoy the chance to interact in a variety of ways, including dinners. "This is an element of the course that everyone finds especially valuable, since it helps build strong partnership bonds within the overall Kellogg School community," explains Honack.
Each year, some 450 Kellogg students from the full-time, TMP and EMP programs and their advisers spend 10 weeks designing real-world research projects during the classroom portion of GIM. Then, the classroom and its participants essentially scatter themselves to the winds, leaving for two-week-long field trips to points around the globe where they implement their projects while meeting extensively with government and business leaders in their destination countries. Destinations can be virtually any location on the map, so long as it's suitable for the students' eclectic research agendas. Vietnam, China, Thailand, Peru, Ghana and the European Union represent a few popular GIM settings.
In a typical GIM course, students and advisers may choose to study such phenomena as socially responsible business practices in Brazil, entry strategies for multinational firms in China, or the food and fashion industries of France. Since the faculty and students work together to devise continuously evolving and relevant projects, GIM reinvents itself each year based upon its participants' experiences and aspirations.
One thing remains constant, though: the academic value offered by the course.
Even seasoned travelers, such as Finn, Honack or Professor Johannes Moenius, report that GIM offers both students and the faculty a wealth of knowledge and experiences they would otherwise never enjoy.
As much as the faculty advisers and student leaders try to prepare students for the in-country experience, "it still overwhelms everyone," says Honack. "When you see the meetings that are arranged with heads of foreign governments, royalty, ambassadors, CEOs, CFOs, CMOs, all the way to the shopkeeper, taxi driver or school children shooting baskets and inviting us to join in, it's simply incredible."
For Moenius, GIM allows him to live out the plot of a favorite childhood book called "The Flying Classroom." In that story, high school students no longer have mundane classes, but instead hop aboard planes to travel around the globe for a first-hand intellectual adventure.
"With GIM, an old childhood fantasy came to life!" says Moenius, who adds that the learning, research and social interaction provided by the course "makes it a challenge worth taking for MBA students" — even those already well-traveled.
Everybody who participates in the GIM experience wins, he contends, faculty advisers included.
Says Moenius, "When otherwise do we get the chance to travel with an elite group of highly educated, motivated people with practical experience to ask the questions we likely would not come up with?"