YEARS TO BUILD, SECONDS TO BREAK
TRUST IS AN INTEGRAL, COMPLEX PART OF BUILDING
AND MAINTAINING ANY BUSINESS, SAYS KENT GRAYSON
By THEO ANDERSON | ILLUSTRATION BY MICHAL BEDNARSKI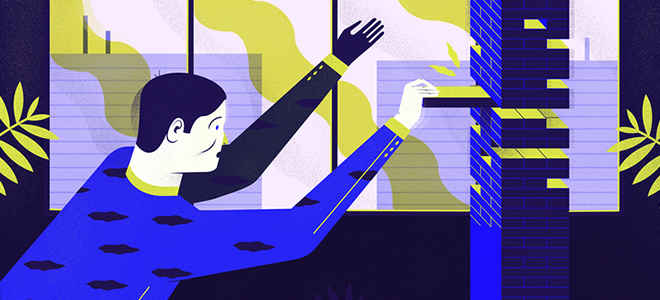 Trust is the foundation of productive relationships: There is no basis for doing business when it erodes. But what is the foundation for trust?
The Trust Project
, which launched in February, explores this question by drawing on the research and insights of scholars and the experience of business leaders. The first phase consists of more than 30 brief videos featuring faculty experts from a range of academic disciplines at Kellogg and NU — including marketing, psychology, sociology and philosophy — as well as industry leaders.
"Trust is not this monolithic thing. It's not just that I trust you and that settles it."
KENT GRAYSON
Associate Professor of Marketing
Kent Grayson, an associate professor of marketing at Kellogg and the faculty coordinator for the project, says one goal of the initiative is to encourage academics to think differently about how they study trust. Another goal is to provide a place "where business leaders can come to investigate, in a more practical way than you might find in an academic article, how trust relates to their everyday decisions — about employees, about brand management, and about managing investors and other stakeholders."
Grayson notes that trust has long been an interest of scholars — in the last decade alone, there have been more than 15,000 social science papers focused on trust. Despite that output, there's never been a central repository designed to marshal and disseminate the insights of that research.
Trust is not monolithic
One key theme of the contributors is that trust is a fluid concept, and that it functions differently depending on context. "Trust is not this monolithic thing," Grayson says. "It's not just that I trust you and that settles it. Trust, it turns out, is actually experienced by people in multiple dimensions."

areas of expertise:
Brand management, consumer behavior and trust and deception
Current research considers the benefits and drawbacks of trusting a business partner, how consumers decide whether something is authentic or fake and what happens when a "true" friend tries to sell you something.

Awarded the Chairs' Core Teaching Award in marketing at Kellogg in 2004, 2006, 2008, 2010, 2012 and 2014.
Researchers posit that there are three dimensions of trust, Grayson says, which are competence, benevolence and integrity. One dimension will sometimes conflict with another — for example, some managers generate trust based on their competence rather than their benevolence. They might even fear that benevolence will make them appear weak. "But that approach can sometimes undermine trust more than help it," Grayson says.
Another theme running through the research is the importance of reciprocity in building trust. It seems intuitive that trusting other people makes us feel vulnerable, which is "the double-edged sword of trust," Grayson says. But one well-established finding in the research is that trust is often repaid with trust. "Sometimes, when you trust someone, it imposes an obligationon the other person to trust you back."
Trust does not mean 'moral'
Knowing the mechanics of trust can help managers be more effective, Grayson says. For example, trust is often viewed as an act of altruism. "People often believe that if a person is someone who engenders trust in others, they are moral. But there is a slightly different line of thinking that emphasizes the self-interested motivation of trust."
"It is good for business," Grayson adds. "It actually makes self-interested sense in the marketplace if you build trusting relationships. It's not just because you're a good person." Making such insights accessible to a wide audience will be the project's ongoing mission, and Grayson believes it will become a valuable resource for managers and academics alike. "Intuition can sometimes take you a long way," he says, "but what we've learned across the academic research on trust is that, sometimes, intuition's not enough."