SERVING THE PUBLIC GOOD
KELLOGG'S NEW DIRECTOR OF SOCIAL IMPACT RETURNS
TO GROW THE PROGRAMMING THAT HELPED HER SUCCEED
By ADAM MORGAN | PHOTO BY JEFF SCIORTINO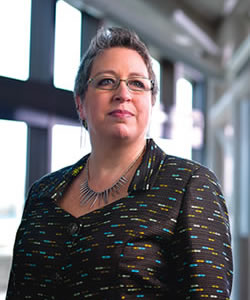 When
Megan Kashner '03
woke up one Sunday morning back in 2011, she had an idea that would change not only her life, but also hundreds of lives across the country. "I realized there was a gap," Kashner said, "and an opportunity to fill that gap with an innovation that could help a lot of people."
The idea was simple: Help low-income families and individuals meet crucial one-time needs through crowdfunding donations, Kickstarter-style. The result was Benevolent, a web-based nonprofit where donors can choose from hundreds of people who need help paying for car repairs, bus passes and other essentials.
But without the network of colleagues Kashner made at Kellogg — where she completed her MBA in Marketing, Strategy, and Public & Nonprofit Administration — Benevolent never would have become the success story it is today, helping over 675 individuals across 20 states, partnering with 185 organizations, and garnering attention from the White House, MSNBC,
The New Yorker
and
The Huffington Post
.
"Many of Benevolent's greatest allies have been Kellogg faculty and alumni," Kashner said. "Our very first market research was done, pro bono, by a Kellogg alumnus I'd never even met." Now, Kashner is returning to Kellogg as a clinical assistant professor and director of
social impact
, a role she's perfectly suited for thanks to her time at Benevolent, the Taproot Foundation and her years as a social worker in Chicago. "I'm excited to bring the networks I've amassed during my career and make them available to students," Kashner said.
"Megan is a dynamic and energetic leader who is deeply committed. She will bring student and faculty endeavors together to make them even more effective"
JAN EBERLY
James R. and Helen D. Russell Professor of Finance; Faculty
Director, Kellogg Public-Private Interface
In addition to teaching and capitalizing on her network, Kashner's primary role will be to increase Kellogg's reputation as a
social impact
leader by facilitating and promoting new faculty research and student activities. She'll also oversee the school's social impact programs, including the Youn Impact Scholars,
Social Impact Days
, and the annual Morgan Stanley Sustainable Investing Challenge.
Bringing Kashner back to Kellogg is just the latest step in the school's mission to increase its social impact footprint. "Megan is a dynamic and energetic leader who is deeply committed," said
Jan Eberly
, faculty director of Kellogg's Public- Private Interface (KPPI), which overseas social impact. "She will bring student and faculty endeavors together to make them even more effective."
For Kashner, returning to Kellogg is both a homecoming and a new challenge, but more than anything, it's an opportunity to help grow social impact at Kellogg. "It's phenomenal to be back," she said. "I love walking the halls and seeing incredibly energetic students, as well as faculty and staff who helped me when I was a student myself. I can't wait to hear what they're interested in and help them make an impact."