WHERE ARE THEY NOW ?
CONCEIVED AT KELLOGG, THESE FOUR STARTUPS CONTINUE TO
THRIVE AFTER THEIR FOUNDERS' GRADUATION
It's in the DNA of Kellogg students to start building businesses long before their graduation date.
Kellogg recently caught up with four startups founded by alumni and checked in on their progress.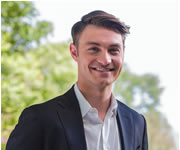 YEAR FOUNDED:

2013 Innoblative is developing a series of medical devices that use radio-frequency waves to treat surgical sites like the ones left after resecting tumors.
Innoblative
KELLOGG ALUMNI:
Tyler Wanke '15 (CEO), Dan McCarthy '13, Jason Sandler '15,
Victor Simpes '15, Kate Yeskey '15
LAST UPDATE:
As of June 2014, the medical device startup had won or placed in 11 business plan competitions, along with a bounty of $200,000.
WHERE ARE THEY NOW?
Innoblative has since closed a $1.2 million seed round, grown to five full-time and three part-time employees, and added a new office just outside Boston near its developer/manufacturer of the device. Going from a prototype to a final version is the plan now, and Innoblative is currently raising $2-3 million to help pay for Food and Drug Administration clearances and an upcoming clinical trial.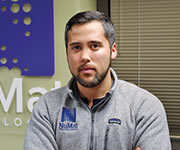 YEAR FOUNDED:

2012
The nanotech startup develops materials to store gases at very low pressure, which might have a future application in natural gas and hydrogen-powered vehicles.
NuMat Technologies
KELLOGG ALUMNI:
Ben Hernandez '13 (CEO)
LAST UPDATE:
Two years ago NuMat was just getting spun out thanks to a tech transfer deal with Northwestern University.
WHERE ARE THEY NOW?
Instead of tackling the hydrogen market head-on, NuMat plans to integrate its technology into products in the semiconductor, healthcare and defense industries, like a material for the Department of Defense that can act as a filter in next-generation gas masks. The startup has raised $5 million from investors, and plans to grow from 15 to 20 full-time employees in 2016.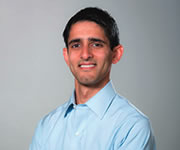 YEAR FOUNDED:

2013 SiNode develops silicon anodes that enable fast charging and high capacity batteries for consumer electronic and automotive applications.
SiNode Systems
KELLOGG ALUMNI:
Samir Mayekar (CEO), Nishit Mehta, Guy Peterson, all '13
LAST UPDATE:
In June 2014, the U.S. Department of Energy awarded the startup a $1 million grant.
WHERE ARE THEY NOW?
SiNode Systems has doubled its lab space, grown its full-time staff to six, and completely reinvented its battery material to be more scalable. The startup has also been working on automotive projects for government electric vehicle initiatives.
YEAR FOUNDED:

2013
Page Vault is a secure, cloud-based service for lawyers who need to admit web content as evidence in court.
Page Vault
KELLOGG ALUMNI:
Jeff Eschbach '14 (CEO)
LAST UPDATE:
Early last year, Eschbach's legal software startup secured
$1.3 million in funding.
WHERE ARE THEY NOW?
Page Vault is planning another funding round for the spring as it approaches 100 clients, and recently began targeting the financial and healthcare compliance markets in addition to the legal market. Page Vault also recently released Site Vault, which creates secure copies of entire websites instead of individual pieces of content.
STUDENT STARTUPS EMERGE AS THEY MOVE FROM BUSINESS PLAN TO LAUNCH
Here are a few up-and-coming businesses helmed by current Kellogg students:
| | | |
| --- | --- | --- |
| OPTICENT HEALTH is commercializing a medical device that will allow for the early diagnosis and monitoring of eye diseases — like glaucoma and macular degeneration — that cause blindness. Co-founder Kieren Patel '16 says the startup is testing a pilot version of its device at Northwestern Memorial Hospital. Opticent also recently received a $225,000 grant from the National Eye Institute to finish building another device to be installed at NYU Langone Medical Center in New York. | WANDERFUL, an online, worldwide network for women helping women who travel, boasts more than 10,000 women representing 110 countries. Founder Beth Santos '16 wants to take her network one step further. She's currently creating an ambassador program, where women from other countries will not only be available to dispense advice online, but will also meet up with Wanderful women travelers, show them around and host travelers in their homes. | THE GRAIDE NETWORK is an online platform bringing together current middle and high school teachers with aspiring teachers. It allows soon-to-be teachers to learn in a virtual way, while assisting current teachers with grading and evaluating student work. Founder Blair Pircon '16 has just launched The Graide Network's second major pilot, which runs through April and will serve more than 3,000 students. |