The gourmand
STEVE CARLEY IS OUT TO REBRAND BURGER CHAIN RED ROBIN
AS AN UPSCALE DINING EXPERIENCE
By ANDREW FAUGHT | PHOTO BY JONATHAN CASTNER
R

ed Robin is changing its tune.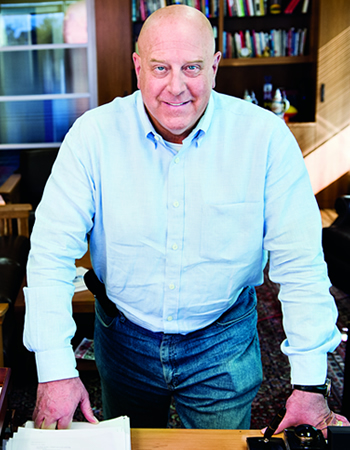 The 45-year-old casual dining chain, best known for its diverse hamburger lineup, is pushing the boundaries of gastronomy under CEO Steve Carley '75.
Before Carley assumed the helm of the Colorado-based Red Robin International in 2010, previous leadership had shifted the eatery into a kid-focused establishment, complete with "refreshment centers" and cook-offs that pitted young chefs against one another. The move backfired, and shareholders ousted Carley's predecessor.
"We lost a lot of adult traffic — adults without kids and singles," Carley says, noting that average restaurant receipts plunged by more than 10 percent. "That's a big deal in a business with low margins."
But resurgence is afoot. Carley's innovations include the puckishly named Wedgie burger — a bacon and avocado burger wrapped in a "wedgie" of lettuce — that's an homage to a wedge salad; Boozy Shakes (including Jim Beam Maple Bourbon swirled into vanilla soft serve, crowned with bacon bits and a strip of candied bacon); and beer can cocktails (a beer-infused margarita, for example, served, as advertised, in a can.)

Rather than drop prices, Carley stressed product innovation. So far, the plan appears to be resonating with diners. "That did two things: It helped build our reputation as the burger authority, and it dramatically improved our profitability, almost overnight," he says.

"
[Product innovation] did two things: it helped build our reputation as the burger authority, and it dramatically improved our profitability.
"
While post-recession customer traffic across the casual dining/full-service restaurant spectrum is down 2 percent annually over the past seven-plus years, Carley isn't deterred. He says Red Robin is in the fifth year of a decade-long plan to usher in innovation and lure customers back to the company's more than 500 locations, all of which will have undergone a redesign by the end of the year.
Carley joined Red Robin International after serving as CEO of El Pollo Loco from 2001-10, and as chief operating officer of Universal Studios Hollywood from 1996-99.
These days, burgers rule the roost. He's relying on word of mouth to get diners to flock back to his restaurant, whose past incarnation he describes as "loud and chaotic," a place where "there was a feeling of sensory overload."
Nowadays, Carley's Red Robin is partitioned into three distinct areas: the bar, a family section and what's called The Gathering Area, for all diners in between.
"In the past, because we seated people at random, somebody on date night could very easily end up sitting next to someone else's 2-year-old," he says. "That was a big negative."
In the family section of the new configuration, Carley adds, "no one is looking out of the corner of their eyes wondering why your kid is standing on the table with two salt shakers because all the kids are having fun. You won't get judged. That's a key secret."