The long-term visionary
LOOKING TOWARD THE FUTURE HELPED ANN DRAKE TURN A WAREHOUSING AND DISTRIBUTION FIRM INTO SUPPLY-CHAIN POWERHOUSE DSC LOGISTICS
By LORENE YUE | PHOTO BY JEFF SCIORTINO
A

nn Drake '84 never thought she would lead a national company or become the female icon of supply chain management.

"Women didn't do business or have serious careers when I grew up," said Drake, chairman and chief executive officer of DSC Logistics Inc. in Des Plaines, Illinois. "And, this particular field has been very male dominated."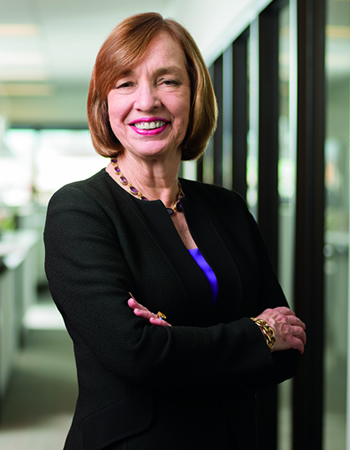 Everything changed in 1984 when her father, Jim McIlrath, asked her to join the board of directors for the public warehousing firm he founded in 1960. Armed with a newly minted master's in business administration from the Kellogg School of Management, she accepted the opportunity and became a director at Dry Storage Corp.
Drake was an observer and advisor for five years before making an emboldened move: She crafted an ambitious reorganization plan that would consolidate the firm into one entity from 22 and allow it to become a leader in the burgeoning field of logistics and supply chain management.
"I wanted the company to succeed in the 21st century, and it was clear to me we weren't able to do that," she said. "We were a public warehouse company basically storing things for companies. The company was going to need a lot of change."
Her massive overhaul plan came with an added bonus: the newly created job of executive vice president of strategy and culture.
Drake's father embraced the 12-point plan, as did the board members, but employees and customers were tougher to convince.
"I remember being afraid to use the word 'change' in the first years because it would send people to passing out," she said.
"
I've been going straight up a learning curve for the past 20 years, and the good news is, it hasn't stopped.
"
Her instincts, however, were spot on. Several years later, Drake found herself seated next to Pillsbury Co.'s supply chain executive at a dinner hosted by the food manufacturer. The executive wanted to grow Pillsbury's business and looked to DSC Logistics for assistance. "That had never happened before," she said. "I think he was very impressed with our team."
Today, DSC Logistics does more than just store items for its Fortune 500 clients; it provides leadership for their network analysis and design, logistics center and transportation management, supply chain visibility, business process integration, value-added services, and lead logistics partner capabilities.
Drake's crowning achievement came in 2012 when she became the first woman in 47 years to receive the Distinguished Service Award (DSA) from the Council of Supply Chain Management professionals.
Through AWESOME (Achieving Women's Excellence in Supply Chain Operations, Management, and Education), a national organization she founded in 2013, Drake champions women working in supply chain management, and hopes to see more women not only succeed in the field but also become distinguished leaders.
In the meantime, she's grooming the next generation for leadership positions within DSC Logistics. One of her stepdaughters is on the board of directors while another stepdaughter works for the firm. And Drake continues to find ways to help the company evolve.
"I've been going straight up a learning curve for the past 20 years, and the good news is, it hasn't stopped," she said.