The patient executive
AS CEO OF HEALTHCARE.GOV, KEVIN COUNIHAN DIRECTS ONE OF THE MOST PROVOCATIVE INITIATIVES IN RECENT POLITICAL HISTORY
By CHUCK MCCUTCHEON | PHOTO BY BROOKS KRAFT
K

evin Counihan '02 started out wanting to make a living by writing music. But after getting his undergraduate degree in music composition and English from the University of Michigan, his night classes at New York's Juilliard School didn't give him much hope.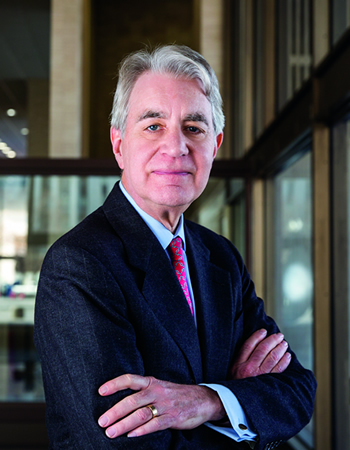 "One of my teachers told me politely, 'Don't give up your day job' … It's a tough racket on the creative side," Counihan recalled, laughing. "But I got really interested in health care." That interest led him to Kellogg and eventually to one of the federal government's most demanding, behind-the-scenes jobs. Since September 2014, Counihan has served as chief executive officer of Healthcare.gov, the insurance program created by the Patient Protection and Affordable Care Act and commonly known as " Obamacare."
In that role, Counihan works to ensure the program has avoided the technical disasters that plagued its rollout in 2013. At the same time, he has overseen a dramatic increase in sign-ups as the uninsured rate has shrunk to record-low levels. He's especially pleased that of the more than 12.7 million enrollments for 2016 coverage effective dates, 4 million were new enrollees — a sign the program is reaching the "higher-hanging fruit" among the public.
Counihan, who was lauded for his previous work as CEO of Connecticut's health insurance exchange, credits Kellogg for instilling in him the management techniques needed for high-level health policy.
"It was the perfect fit for me," he said of the school. "I learned some of the technical skills I've needed: finance, accounting and around corporate collaborations, alliances … The second piece was the strategic piece, how to think strategically and apply that thinking in a prac-tical way."
"
One of the things we've learned is creating the right type of process to understand the problem, get to a root cause, fix it and move on.
"
Marketing is another skill that Counihan has drawn from his Kellogg education. He has made frequent appearances in cities and towns across the country, highlighting the program's strengths and trying to dispel misconceptions.
Not everything has gone smoothly, though. The Government Accountability Office (GAO) was able to create fictitious applicants who successfully enrolled in the program. And Counihan had to answer to an angry Congress last year for some 820,000 recipients receiving inaccurate tax information for 2014, compelling the Obama administration to give tax breaks to those affected.
"One of the things we've learned is creating the right type of process to understand the problem, get to a root cause, fix it and move on," he said.
As the Obama administration winds down, one of Counihan's goals is to get those following Healthcare.gov to embrace a quality that's often in short supply around Washington, D.C.: patience.
"We need to understand, and to communicate, that this is a multi-year implementation," he said. "Medicare and Medicaid took years. Our system is infinitely more complicated."