The regulator
Sharon Bowen takes on fraud as a Commissioner of the U.S. Commodity Futures Trading Commission
By Chuck McCutcheon | Photo by Jeff Mauritzen
F
or Sharon Bowen '82, some of the most "critically important" experiences of her Kellogg years came while collaborating with her study group.
"We maximized our skills — one of us was really great at marketing and one was really great at math, and I was the writer," Bowen recalled. "Whenever we had team projects, we worked quite well together."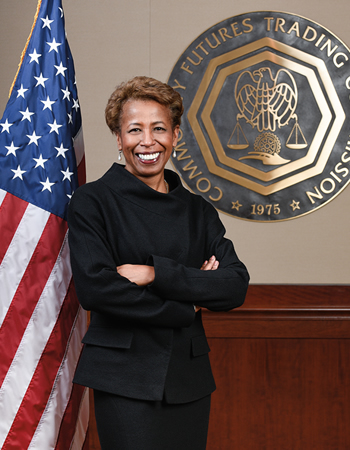 Bowen has parlayed that collaborative leadership style as part of another group — the federal agency charged with regulating futures and derivatives markets. In June 2014, she was sworn in as a commissioner of the U.S. Commodity Futures Trading Commission, becoming the first African-American to serve there.
She has kept busy since joining the five-commissioner agency. The group was in the headlines last December when Republicans in Congress agreed to increase its budget in exchange for repealing a controversial derivatives rule in the landmark Dodd-Frank financial industry regulation law.
Bowen and her fellow commissioners argued for the funding hike, saying that the agency had been spread thin because of the expansion in oversight responsibilities it acquired under Dodd-Frank, including authority over the customized contracts traded between private parties called "swaps."
The lack of funds hampered the commission's ability to crack down on commodity fraud, precious-metals scams and other activities, Bowen said in an interview from her Washington, D.C., office. "We definitely need the money," she said. "We have an amazing mandate."
For Bowen, who also holds a law degree from Northwestern, the CFTC job is the latest addition to a lengthy résumé. The former securities lawyer spent more than three decades on Wall Street, becoming a partner in 1991 in the New York office of Latham & Watkins LLP. In 2010, President Barack Obama appointed her vice chair of the Securities Investor Protection Corporation. She took over as acting chair two years later.
"I find the work to be fascinating and interesting, and I think that kind of shows."
Her work in that post stirred controversy. Sen. David Vitter (R-La.) tried to hold up her nomination, contending that she failed to protect victims of financier Allen Stanford's massive Ponzi scheme because the SIPC maintained the investors' legal protections. The Senate confirmed her on a narrow 48-46 vote.
Did the experience grate on her? "Not at all," she said. "I knew our position [at SIPC] was the correct one."
Bowen has grown used to being one of the higher profile African-Americans in the financial world, though she said it has never been an issue in her day-to-day activities.
"Most clients just want you to get their work done right," she said. "I'm pretty good about getting it right. I find the work to be fascinating and interesting and I think that kind of shows."