The leader of consequence
CEO Bill McDermott's strategic mindset and CUSTOMER FOCUS ARE taking business software market leader SAP into the future
F
rom an early age, SAP CEO Bill McDermott '97 believed work was a noble endeavor. Watching his father put in long hours working for Con Edison, the Long Island native grew up in a family where a strong work ethic ran deep to the bone.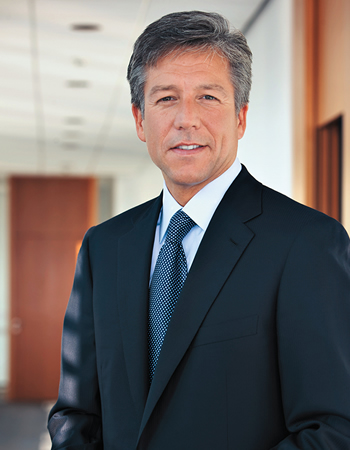 "I knew I wanted to achieve a level of independence through earning an income," he remembers. "I always felt that there was something magnificent about being in charge of your own destiny."
That strong work ethic and a desire to be a self-described "leader of consequence" propelled McDermott up the ranks of several companies before joining SAP in 2002. Today, he helms the world's business software market leader as CEO.
With more than 263,000 customers in 188 countries, SAP has grown under McDermott's leadership, recording historic business results. Since February 2010, when McDermott was named co-CEO, SAP has created 35,000 jobs, invested more than $37 billion in innovation (acquisitions and organic development), and tripled the company's addressable market from $110 billion to more than $350 billion. "We've essentially doubled the size of the world's leading business software company," says McDermott, who was promoted in 2014.
He attributes this to the people working at SAP and the vision they share to make the company a success.
"Numbers alone do not inspire. People need more meaningful targets," he says. "Everything we've done has been in service to SAP's vision to help the world run better and improve people's lives."
Another driver of the company's success has been the software itself, led by the flagship SAP HANA platform.
"Everything we've done has been in service to SAP's vision to help the world run better and improve people's lives."
"It's the fastest-selling business software product in history and is firmly in the center of some of the most innovative and dynamic success stories we've seen in enterprise technology," McDermott says.
Looking forward, how companies adapt their business models to digitization and incorporate mobile technology and cloud computing will either make or break them, McDermott says. This and the business network are at the heart of SAP's vision for the future.
"What people don't have a grasp on yet is the power of the business network, where companies manage labor, materials, travel, expenses, entertainment and key business processes," he says. "I think that's where SAP has the winner's edge."
Predicting the future is tricky, but thanks to the strategic thinking he learned at Kellogg, McDermott is ready for whatever comes.
"At Kellogg, you had the opportunity to predict and simulate the real world before you actually got there," McDermott says. "It was a nice way to get ready for the decisions that I've had to make later on."