The first line of defense
Inspirotec Co-founder and CEO Prasanthi Gandhi wants to make the world a better place, starting with the air we breathe
By Sara Langen | Photo by Jeff Sciortino
F
or Inspirotec Co-founder and CEO Prasanthi Gandhi '08, translating a passion for changing people's lives into business ideas has become her personal and professional mission.
"I have these ideas about what I think the future should be. Then I have this eagerness that I want to make that a reality, and I'm not going to wait for someone to do it," she says. "I'm going to do it myself."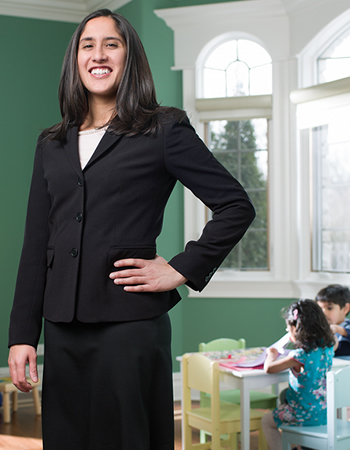 That need to drive change is what brought Gandhi and scientist and inventor Julian Gordon together to found Inspirotec in 2011. Wanting to improve lives through new technologies led them to develop a new device to sample, detect and monitor airborne allergens and pathogens.
Their desire to give allergy and asthma sufferers more control over their health evolved into a first-generation filter that samples air quality. Samples are sent to a lab and analyzed, providing allergy and asthma sufferers and their physicians with information about allergens in their environments.
It's a product that's personal for Gandhi. "I have allergies and asthma, and I've spent most of my life on medications," says Gandhi. "Since I started this, I've had two kids, and my kids also have allergies and asthma, so now I'm even more motivated as a mom."
The technology has received a lot of attention, including from early Facebook investor Peter Thiel, whose Breakout Labs Program provided $350,000 in seed funding. The company is in the midst of another round of fundraising. Early sales have been in the research market. A product launch is scheduled for early 2016.
The company's long-term vision is a real-time sampler that can detect allergens and alert rapidly, with applications for indoor air quality, hospital-acquired infections and biodefense.
"I have this eagerness about what I think the future should be. I'm not going to wait for someone to do it. I'm going to do it myself."
"This is applicable to the next-generation product as well as what we have today, so while we are talking about allergens, we are also able to collect bacteria, viruses, fungi, anything that's biological, anything that comes from a living organism," Gandhi says.
Gandhi grew up in a family of physicians. While visiting family in India, she saw the poor conditions there. A concern for the health of others prompted her to pursue a public health master's degree, serve as a project officer with UNICEF and start SAATHI USA, a nonprofit organization dedicated to addressing the needs of children affected by HIV/AIDS in India.
Gandhi credits her Kellogg experience with helping her realize her vision of creating lasting change. That experience, along with positions as an innovation leader at Sara Lee, Coca-Cola and Element bars, gave her the foundation to start Inspirotec.
"Kellogg allowed me to make a switch from being a social entrepreneur to a business entrepreneur," she says. "It was absolutely pivotal."