True Corrections
Using televisions and tablets, Jail Education Solutions turns
county lockups into learning centers

By MARC ZAREFSKY Illustration by PAUL STERRY

Nine-year-old Brian Hill sat in his parents' Sacramento home and listened as his father read stories of remorse written by jail inmates. David Hill, a professor at a California community college, taught college courses at Folsom State Prison and wanted to teach young Brian that many times, inmates deserve a second chance at life. They just need the opportunity.
Twenty years later, Brian Hill '15 has brought those opportunities to the digital age as co-founder of Jail Education Solutions, a startup that seeks to replace daytime soap operas and talk shows with educational content on jails' existing TVs and on tablets inmates can rent for private study.
"From a really young age, this population has been in my frame of reference," Hill said. "I realized that there was a huge need."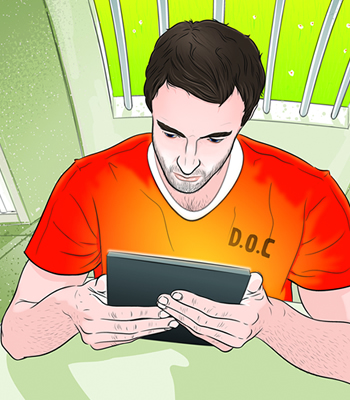 The idea came to Hill in January 2013 as a way to help reduce the number of repeat offenders. Three months later, JES had a team of four employees: Hill, Adam Hopson '13, Freya Riel '13 and co-founder Andy Brimhall. By summer, the team had expanded to more than 20 people.
The team received more than $400,000 in grant money and won three competitions that awarded additional funding, including the Kellogg Innovation Network Global Summit. After receiving positive feedback from officers at the National Sheriff's Association Conference, the team decided it was time to build the product.
The first JES box — similar to a cable box — was installed in Illinois' Cook County Jail in late October. As Hill watched inmates view the material, he made several realizations, including that inmates needed the opportunity to choose when and what they watched.
"No one is going to put their hand up and ask to change the television to the educational channel," Hill said.
Enter the tablets. JES purchased a collection of Android-based tablets to be rented to inmates for a nominal daily price. Each tablet provides resources for GED, college, English as second language, literacy, court-mandated, vocational and other classes. The inmates earn points for engaging with the learning materials, which they can then spend on entertainment options. They can also continue with the courses after they're released.
Also on the tablets are a variety of tests and quizzes that allow the sheriff's department to track inmates' progress. The plan is to create an incentive program that could eventually allow inmates to shave time off their sentences by showing commitment to their education.
"
We want jail to be a true corrections facility.
"
Brian Hill
Co-founder, Jail Education Solutions
"The feedback has been really positive," said Margaret Egan, director of public policy for the Cook County Sheriff's Office. "[Inmates] are excited to have programming that they otherwise may not have."
Hill's goal is to have JES in 25 jails by the end of 2014, expanding from there.
"We want jail to be a true corrections facility," Hill said. "We want to make educational content available to everybody."