With more than 1,000 alumni in CEO roles, the Kellogg School has proven to be a fertile training ground for those who aspire to lead
By Matt Golosinski
Passion, courage, vision, charisma.
Study the essence of leadership and you'll hear traits such as these mentioned repeatedly, along with qualities like "experience" and "intelligence."
But those lofty attributes don't tell the full story of leadership, and anyone who assumes that leaders are born rather than made should take a close look at the Kellogg leadership curriculum — and the growing number of Kellogg alumni in CEO positions.
| | |
| --- | --- |
| | |
| | Doug Conant '76 |
| | |
| | |
| | John Schlifske '83 |
| | |
| | |
| | Gregg Steinhafel '79 |
| | |
| | |
| | Tom Wilson '80 |
| | |
| | |
| | Ellen Kullman '83 |
| | |
| | |
At Kellogg, leadership education is rooted in the school's collaborative culture and in an MBA program that develops general management skills in addition to area expertise. At last count, more than 1,000 Kellogg graduates held chief executive officer roles in widely disparate organizations, putting that education to work every day.
"The importance Kellogg placed on working collaboratively has been extremely valuable to me as a leader," says Gregg Steinhafel '79, chairman, president and CEO of Target Corp. "The intense focus on marketing and the deep insights into consumer behavior also prepared me well for my retail career."
Similarly, 7-Eleven Inc. President and CEO Joseph DePinto '99 says his Kellogg education "reinforced my view about the power of teams and working collaboratively to solve complex business problems." At the same time, DePinto says Kellogg's balanced strengths across disciplines, particularly in finance and marketing, produced knowledge that endures. "Many of the principles taught," he says, "I use every day." These same skills are helping Ellen Kullman '83 run DuPont. "Leadership is about getting people to bring all of themselves to the table," the chairman and CEO says.
Campbell Soup President and CEO Doug Conant '76 credits the "extraordinary Kellogg professors" who "instilled a curiosity and a passion for business that I still carry with me." John Schlifske '83, president of Northwestern Mutual, says his wide-ranging Kellogg education "provided an incredible foundation" and developed his strong critical and strategic thinking.
This breadth of knowledge has proven especially valuable in the investment world. "I never felt stuck in one dimension when it came to analysis and security selection," he says.
Leadership is infused into every aspect of the Kellogg experience. Inside the classroom, it's the focus of courses like Leadership in Organizations, Leading Strategic Change, Leading and Managing Teams, and Values-Based Leadership, to name just a few.
Outside the classroom, an array of student-directed initiatives and clubs offer further opportunities to develop and test leadership skills. Meanwhile, Kellogg scholars such as Adam Galinsky push the boundaries of leadership research, exploring the ways psychology influences top-level decision-making.
"Leadership is about having the ability to motivate, influence and integrate a collection of individuals toward a shared goal," says Galinsky, the Morris and Alice Kaplan Professor of Ethics and Decision in Management. "Leaders aren't born; they're made."
Decision-making, Galinsky says, is an obvious leadership skill that helps set the right goals and strategies for an organization. But he highlights another quality that may be less obvious: authenticity. While plenty of stereotypical "Type A" personalities occupy executive suites, Galinsky says there are many effective leadership styles.
"People talk about charisma and that leaders must be socially gregarious — that's not true," says Galinsky, who teaches leadership courses across all Kellogg programs. "We see the proof of this in many different contexts. The way you influence others is by being authentic. You have to be who you are. Be true to yourself."
Harry Kraemer Jr. '79, clinical professor of management and strategy, agrees. The former Baxter CEO and current executive partner at Madison Dearborn Partners says that "value-based" leaders must be "comfortable in their own skin" and mature enough to understand that they don't always have to be right. He asks his students, "Have you reached the point in life where you're not keeping score, where you are willing to change your opinion, where doing the right thing is more important than being right?" That's the essence of true self-confidence, he says, which is something all good leaders need.
Kraemer believes that self-reflection is critical too. Everyone is busy, he admits, but good leaders don't "confuse activity with productivity." They chart a course for themselves by first understanding their own values and goals. "If I can't lead myself, how can I lead others?" asks Kraemer.
The ability to hear all sides of an issue is also key. "The leader should talk last," Kraemer says. "By listening to your team, you'll gain a holistic understanding and a better chance at making a decision while keeping your people engaged and motivated."
Good leaders cultivate genuine humility, he adds: "We may feel good about what we've done, but the values-based leader understands that no one person is any more important than any other person. Success is a mix of skill, timing and luck."
Leaders who stay grounded remember that their job includes helping others do their best too. This is vitally important, Galinsky says, but the challenge is knowing when and what to delegate.
"When you are motivating and enabling your team to achieve its goal, you are trying to find the right conditions that allow someone to reach his or her full potential," says Galinsky, whose research in this area has appeared in top journals, including Science.
"We know that when people lack control, it disrupts the psychological system. Leaders have to set direction — perhaps by having strict control over the mission and certain organizational guidelines — but they also need to enable people by giving them a proper amount of control."
Managing this "oscillating balance" requires exceptional team skills, something central to the Kellogg MBA program. Given the great number of Kellogg alumni in chief executive roles, that approach is yielding results.
"One of the reasons I was attracted to Kellogg," recalls Tom Wilson '80, chairman, president and CEO of Allstate, "was that I saw professors thinking about business in a broader sense. They included the skill of successfully interacting with people, which is something I valued — and still value a lot." ˜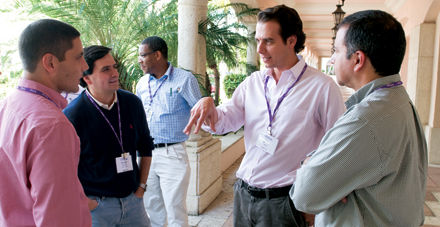 One of the distinctive features of the Miami EMBA program is its diverse student body. About 30 percent of the students in the Miami program live in Latin America, and a high percentage work for family businesses or private companies. Photo © Nathan Mandell