Winning streak
Competitions showcase students' expertise
Armed with skills they developed in the classroom, Kellogg students emerged victorious in a series of case competitions this winter. Students battled against other top business schools and amongst themselves to research and create strategic plans for businesses in the healthcare, retail and manufacturing fields. Here's the tally of Kellogg wins: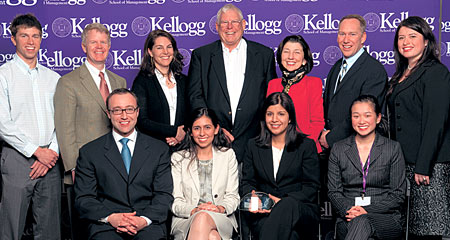 Photo © Rich Foreman
Part-Time Kellogg MBA students claimed top prize in the Biotech & Healthcare Case Competition and the Coca-Cola Channel Reinvention Case Competition
Kellogg teams claimed first and third place at the Kellogg Biotech & Healthcare Case Competition in January. Competing teams traveled from around the world to determine a pricing strategy and marketing plan for the launch of Renvela, a product for chronic kidney disease patients. First place was won by a team of Part-Time Kellogg students: Deepika Singh, Michelle Huie, Paul Altman and Anisha Madan. The third prize went to Kellogg students Zsolt Abonyi '09, Chris Carter '09, Katharine McGrath '10, Michiko Suzuki-Aida '10 and Joris de Groot '09.
---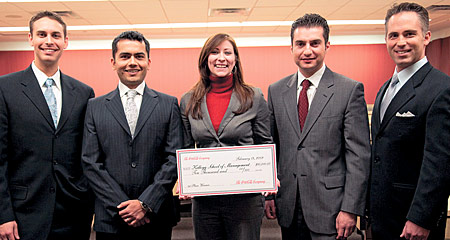 Photo © Rich Foreman
A team of Part-Time Kellogg students took the top prize at the Coca-Cola Channel Reinvention Case Competition in February. Five teams of Kellogg students offered their recommendations on how Coca-Cola's largest bottling partner could increase its share of energy drinks sold to pubs and nightclubs in Australia. The contest was judged by Kellogg faculty and Coca-Cola executives. Kellogg Part-Time students (left to right, above) Matthew Null, Varun Goyal, Amber Jacoby, Umut Tekin and Keith Maziarek bested four other Kellogg teams to finish on top.
---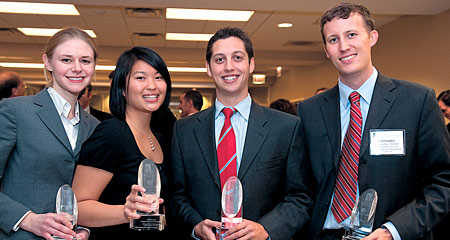 Photo © Nathan Mandell
A Kellogg team was awarded first place in the fifth annual ABI Corporate Restructuring Competition in November. The team included (from left) Jennifer Trawinski '10, Kathy Lai '10, Daniel Aronson '10 and Christopher Fletcher '09. The students pooled their knowledge of turnaround management, operational and financial restructuring methods and bankruptcy law to develop the winning presentation. The challenge was posed by a fictional firm with a host of financial, manufacturing, litigation and union problems.
---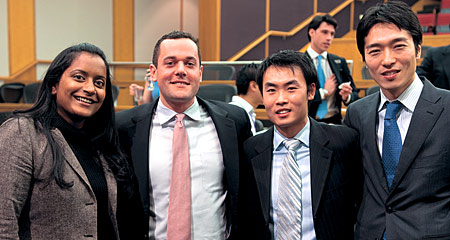 Photo © Nathan Mandell
In the first-ever Kellogg Strategy Challenge, nine Kellogg teams vied in January to offer the best plan to revive retailer Steve & Barry's, which filed for bankruptcy in 2008. First place was awarded to the "Poets" team, from left: Swapna Chandamuri '10, Jason Stulberg '10, Jonathon Wong '10 and Yuki Oi '10. The event was launched this year as the capstone to the core Management & Strategy class, and will be a "forum for the exchange of ideas among students, faculty and strategy thought leaders," said Thomas Hubbard, the John L. and Helen Kellogg Professor of Management & Strategy.