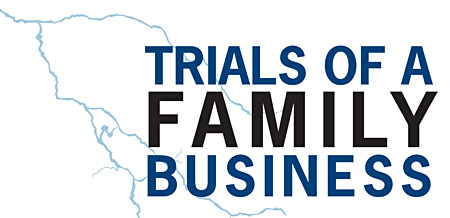 The Kellogg School's Center for Family Enterprises supports alumni like Grant Gordon '80, whose new book examines the ups and downs of famous family ventures. He finds that those ties really can bind
By Adrienne Murrill
The Center for Family Enterprises at the Kellogg School is home to a small but rich library of case studies, articles, books, journals and biographies about family business practitioners.
| | |
| --- | --- |
| | |
| Grant Gordon '80 outside Buckingham Palace in London | |
| | |
This is where Grant Gordon '80 began his research for his new book Family Wars: Classic Conflicts in Family Business and How to Deal With Them (co-authored with London Business School Professor Nigel Nicholson). The text promises to take readers behind the scenes for a look at the ups and downs of some of the world's biggest family companies. In the end, the authors hope readers gain insight into how to avoid the pitfalls that can decimate their businesses. This goal of strengthening family business is shared by Kellogg School experts like John Ward, clinical professor of family enterprise.
"We owe deep gratitude to our friend and professor John Ward. He's been a leader in this area, and one of my inspirations for this project," says Gordon, who himself hails from a prestigious family business — William Grant & Sons, the Glasgow, Scotland-based distiller. Ward, along with Lloyd Shefsky, is co-director of the Kellogg Center for Family Enterprises and has written several influential books on family business.
Ward says Gordon and Nicholson's book offers fresh psychological insights into how family businesses work. "It's a very interesting, compelling book that, through some of the troubles of others, offers lessons for all and for family businesses particularly," says Ward.
When Gordon studied at Kellogg, the school's family business resources did not exist. But since its start in 1999, the center has been a pioneer in this area, focusing on teaching, research and case writing about family business strategy, governance, succession and many other related topics. "Because Grant was a Kellogg alumnus, he was able to come back and start this project using our resources," says Carol Zsolnay '86, assistant director of the Kellogg center.
"Today we have a class and a very active student Family Enterprise Club, but one thing we also offer is our resource center," she says. The center offers these resources so that students and alumni may discuss their family businesses with their peers and learn from those experiences. "Our mission is to serve our students and alums."
Family or foe?
Gordon's family business was founded in 1886 and remains controlled by the family's descendants. It is the second-largest privately owned business in Scotland and 10th-largest in Britain. Although Gordon left William Grant's board of directors in 2003, he continues to play a small role in the family foundation and is a board member of Laurent-Perrier, the leading independent family owned champagne house in France.
Family friendly: More than 100 students from business-owning families are enrolled at Kellogg in 2008. Some alumni include:

Cynthia R. Bigelow '86
R.C. Bigelow Inc.

James B. Ethier '66
Bush Brothers & Co.

William T. Dillard '99
Dillard's Inc., U.S.S.

Curtis Johnson III '83
JohnsonDiversey Inc.

Linda Johnson Rice '87
Johnson Publishing

Karger David Kohler '92
Kohler Co.

Michael Baskin '83
Mark Shale

James S. Mills '57
Jonathan M. Mills '60
Andrew J. Mills '85
Medline Industries

Paul Hulseman '00
Richard Hulseman '00
Thomas Hulseman '01
Solo Cup Company
He also has applied his expertise as director general of the Institute of Family Business, a nonprofit that promotes the success and sustainability of U.K. family enterprises. These experiences led Gordon to collect family stories and search for patterns that eventually appeared in

Family Wars.

There are many proven advantages among family businesses, Gordon points out, including their ability to survive longer than non-family firms, to outperform on stock markets globally and to retain their foothold in the economy. "But what I've seen through my experience is that for every great strength, there's a potential weakness," he says, emphasizing the word "potential."

Family Wars focuses on what those weaknesses can be, how they arise, how they impact the family business and how they can be avoided by examining conflicts within some well-known families, Gordon says. One example that comes up is an exclusive wine company that ultimately was sold once the family patriarch's disregard ended up alienating other family shareholders. In some ways, this person was a fine businessman, Gordon notes, but he did not succeed in rallying fellow shareholders around a common vision.

"There are some great lessons to be learned from the lives and stories of these families because they're stories about entrepreneurial business families, about human beings and their great strengths and, equally, the weaker side of people," Gordon says. "We're hoping that the readers will find it entertaining, but above all informative and valuable for them as professionals, managers, board members and academics."

Gordon says that writing this book has taught him the responsibility of the senior generation to prepare the next generation of family business leaders.

"We should not try to dictate to the next generation their future, but I think more importantly we can instill in them a sense of pride in the family business and build in them a sense of trust," he says. "If you can instill those values into the next generation, you stand a good chance that they're going to develop to be responsible owners, which will lead both the family and the business to prosper."