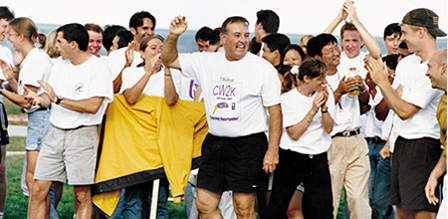 © Nathan Mandell
The ever-popular Wilson surrounded by Kellogg students during CIM Week 2000.
Ed Wilson to retire at end of school year
After 30 years, a "Kellogg patriot" says goodbye
By Matt Golosinski
Associate Dean for Student Affairs Ed Wilson will retire at the end of this school year, closing out a long and celebrated tenure as one of the Kellogg School of Management's most popular and familiar administrators.
Wilson, a 1984 Kellogg graduate, made the formal announcement during a February faculty meeting. The news was met with an audible gasp from those assembled, some of whom had worked with the affable Wilson for many of the 30 years he has spent at Kellogg, first as director of admissions and financial aid, later as director of the Executive Master's Program and the associate dean for student affairs.
Among the reasons Wilson cited for his decision were his age — he turns 62 this year — and longstanding tenure at the school. "I had the honor of serving under three deans at Kellogg, all of whom displayed vision and dedication, and I enjoyed every minute of it," said Wilson, adding that he hopes the school's "unmatched student culture" continues being nurtured.
Dean Dipak C. Jain credited Wilson with leaving his imprint on any number of initiatives that have significantly enhanced the quality of student life at Kellogg. "Students, even those who graduated many years ago, all remember Ed. He has truly been a vital part of the Kellogg School and it is with much sadness that I accept his retirement," said Dean Jain.
Dean Emeritus Donald P. Jacobs, whose tenure closely matched Wilson's, called the associate dean a "major Kellogg patriot" and praised him for his exemplary service in every position he has held at the school. "In every responsibility, Ed did a wonderful job," said Jacobs. "I'm sure he knows of the high regard in which we all hold him."
Dean Jain has invited Wilson to assume a new role as Kellogg's "ambassador-at-large." While retiring from regular service, Wilson will, in this new position, work with the school's Development Department and Office of the Dean, traveling periodically to network with Kellogg alumni and supporters, a role that many believe Wilson's gregarious personality is perfectly suited for.
Upon hearing news of the retirement, several former presidents of the Kellogg Graduate Management Association (GMA) recalled their experiences working with Wilson on various initiatives.
Luke Parker '93 remembered Wilson as a great friend of the students, one who "continually acted with concern for us and guided us through our many issues." Parker noted that he and his peers were struck by the deep commitment Wilson demonstrated to Kellogg. "Without exception, we were all touched by Dean Wilson's unflappable and cheerful manner," said Parker.
| | |
| --- | --- |
| | |
| | |
| | Top photo: Wilson in his early years at Kellogg. Bottom photo: Wilson threw out the first pitch for the Cubs during a 1999 CIM Week visit to Wrigley Field. |
| | |
Similarly, Christian Barry '98 noted Wilson's passion, especially during CIM Week activities when the associate dean facilitated the events designed to transmit the Kellogg spirit to incoming students. "One doesn't forget the introduction to Dean Wilson," said Barry. "For some, it was the huge smile on his face as he kicked off CIM Week, helping lead those remarkable section cheers. For others, it was watching him demonstrate the proper technique for 'Dizzy Bat.' And for others, it was going to Wilson's office with a problem, then departing with a resolution and the certainty that this dean really cared deeply about students."
Wilson not only opened the door to his administrative office, but also the door to his home, hosting Kellogg-related events that demonstrated the spirit of the relationships he worked to cultivate at the school. Some 12 years after graduation, Dennis Valdes '90 still remembers Wilson as a role model who welcomed students into his life, both on and off the job.
"I was so impressed that Dean Wilson would invite us into his home for a Kellogg reception, rather than have the dinner at the school," said Valdes, GMA president for 1989. "This hospitality showed me right away that Dean Wilson would treat us as friends and colleagues, rather than business associates. And that's the quality of his that I remember through all the years I've known him — his ability to make people comfortable and to communicate in an informal and straightforward way. It's a quality that I've always admired and tried to emulate in my own dealings with people."
Wilson came to the Northwestern University School of Management in 1972 as director of admissions and financial aid programs for the full-time and part-time programs. He served in that capacity until 1982; a decade in which Kellogg received its name, applications quadrupled, GMAT scores reached new highs and the McManus Living-Learning center was created.
Overlapping this time, Wilson became dean of students, a position he has held for almost 25 years. He is credited with several new initiatives that improved the quality of life for students that led to what today is widely known as the Kellogg School culture of teamwork and collegiality. Also during this period, the Kellogg School rose in the ranks from a small Midwestern U.S. business school to one of the leading management schools in the world.
From 1984 through 1999, Wilson was also director of the Executive Master's Program, where he built the applicant pool and increased the size of the program almost 80 percent. Dean Jain noted that no U.S. ranking service has ever ranked Kellogg's Executive Master's Program lower than No. 1. Much of this success, Jain stated, is credited to the foundation that Wilson built for the program.
Said Laura Smith '02, GMA president for 2001: "Dean Wilson created the Kellogg culture, something now synonymous with the Kellogg brand.This spirit is reflected in everything he does — his style, the way he communicates and his dedication to students. Dean Wilson has been the driving force behind Kellogg's personality."