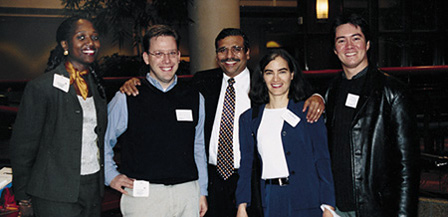 Dean Jain visited Kellogg School alumni in Atlanta as part of his ongoing extensive partnership initiatives.

Dean Jain continues partnership
Brand champion aims to keep Kellogg a "leadership innovator"
Dean Dipak Jain continues to partner with Kellogg School alumni, leveraging their insights into strategic advantages
By Matt Golosinski
Upon learning of Kellogg School Dean Dipak C. Jain's election to the John Deere Company board of directors in February, some Kellogg faculty, staff, students and alumni doubtless found the match especially appropriate.
After all, the agricultural equipment manufacturer's popular motto is "Nothing runs like a Deere." Point taken, but given Dean Jain's relentless networking schedule over much of the past year, the slogan might well be modified to read "Nothing runs as fast as Dipak Jain."
As he's done from the start of his deanship last July, Jain continues to split his time away from Evanston, traveling the world in an effort to ensure that the bonds between Kellogg and its alumni remain strong, and grow stronger. The dean, with the support of Associate Deans for Academic Affairs Robert Magee and David Besanko, is achieving this goal by fulfilling his pledge to keep "the Kellogg School experience" alive for alumni — and enlisting their support, and ideas, for the school's initiatives.
Jain's travels so far this year have taken him to more than a dozen cities across the United States where he has met with Kellogg's alumni clubs, recruiters and other supporters of the school. To date, the dean has visited alumni in Toronto, Atlanta, Florida, Boston, New York, New Jersey, San Francisco, Minneapolis, Dallas, Indianapolis, Los Angeles and Seattle. He has also recently visited alumni in Mexico, Venezuela and Scotland.
"Having an open dialogue with our alumni, recruiters and corporate friends of the Kellogg School remains one of my top priorities," said Jain. "It is through this dialogue that we continue to build value for our school and its alumni by increasing the effectiveness of our existing academic offerings, as well as implementing new strategies based on the desires of our graduates and the demands of the marketplace."
| | |
| --- | --- |
| | |
| Jain with Jerry Kenney '67, executive vice president for Merrill Lynch, who was among the corporate leaders the dean met with in New York. | |
| | |
At each stop, Jain has been met by enthusiastic Kellogg graduates excited about the chance to contribute to the school's vitality, and genuinely delighted by the opportunity to interact with the dean personally.
"The tremendous energy and insights that Dean Jain brings to his partnership efforts are helping create a broader sense of community among our alumni and will engender more widespread support for, and identity with, his initiative," said Jerry Kenney '67, vice chairman for Merrill Lynch.
"Alumni are certainly giving Dean Jain a very warm reception," said Megan Byrne Krueger, assistant dean for The Managers' Program, and among those who have traveled with Jain. "It's thrilling to see the response the dean is getting."
Part of that enthusiasm comes from Jain's pledge to build the Kellogg School brand, both in the United States and internationally.
"The dean understands the challenges facing Kellogg as the school reinforces its brand in Europe, and he is committed to working hard with alumni to meet these challenges," said Philippe Laval, president of Kellogg's Benelux alumni club. "Since Dean Jain has taken the helm at Kellogg we have seen a much stronger emphasis on leveraging alumni relations."
Similarly, Sue Kiner, leader of the Kellogg United Kingdom alumni club, said that Jain has "brought with him a sensitivity to the European clubs, encouraging ideas suitable to the different clubs and recognizing our need to expand awareness of the Kellogg School name in the business community." Kiner is especially happy about the dean's support of the new European alumni Web site (http://europealumni.kellogg.
northwestern.edu).
Said Kiner: "Both the dean's visits and the new Web site are helping provide a sense of cohesion among Kellogg's European alumni club members."
| | |
| --- | --- |
| | |
| | Ben Kudlo '40 and Kristi Anderson '97 were among the enthusiastic crowd that met Dean Jain in Los Angeles. |
| | |
In addition, the dean has strengthened the Kellogg degree not only by exploring innovative ways to brand the school, but by enhancing its already strong academics.
Academics, in fact, is a point that repeatedly came up in the dean's discussions with alumni. Teaching remains Jain's fundamental passion, and on these travels the dean engages alumni and corporate leaders in lively conversation about strategic marketing.
Kellogg graduates have expressed their desire for expanding the day-long "refresher" course called MBA Update. The program is now primarily based in Evanston, and Kellogg is considering how to deliver more academic programs to its alumni around the globe.
In every city he visits, Jain also meets with corporate recruiters to gain valuable feedback about their needs, and how Kellogg students can better prepare to enter the job market.
Roxanne Hori, assistant dean and director of the Kellogg Career Management Center, noted that the Kellogg entourage conducted intensive recruiter roundtable discussions with senior management. Participants in these discussions featured CEOs such as Leo Mullin of Delta Airlines, Dietmar Ostermann of A.T. Kearney, Mike Eskew of UPS and Phil Marineau of Levi Strauss.
"It's been an exciting exchange of ideas and insights," said Hori. "We are finding that the partnership experience is providing valuable strategic tools for Kellogg."
Of particular value in these dialogues, said Melinda Worman, director of corporate relations, is the "competitive intelligence" being shared by recruiters. "They really let us know our students' strengths," said Worman.
Jain explained that it's vital for him to obtain these insights, since they allow him to understand better the academic and professional needs of alumni. Furthermore, he said, the school is inviting alumni suggestions about how to bolster its alumni outreach programs.
"At Kellogg, we always wish to remain at the forefront of leadership innovation. Partnering with our alumni, and leveraging the insights, talents and enthusiasm of our people, is one strong way we can achieve this goal," said Jain.