Kellogg Magazine
|
Departments
Brave Thinkers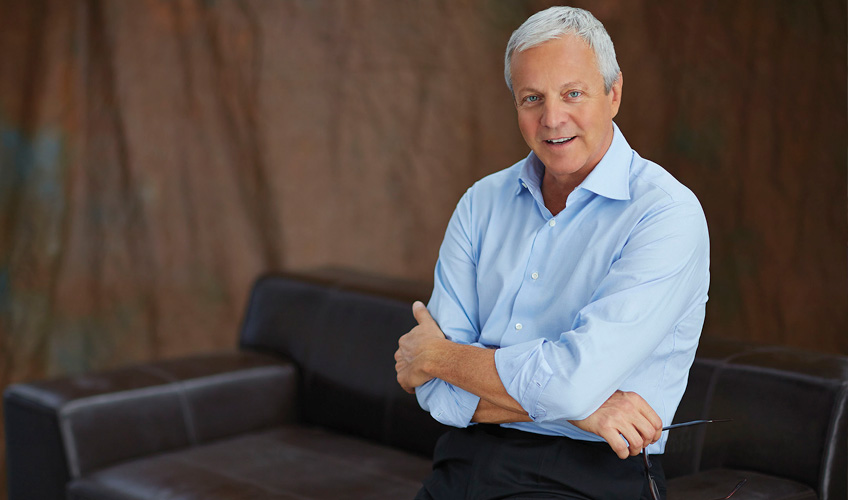 In the mix
Bradley Blum takes a hands-on approach to leadership in the restaurant industry
From Olive Garden to Burger King to Romano's Macaroni Grill to establishing Good Food for the Planet™ and more, Bradley Blum '78 has built a career in the restaurant business. But it's his newest venture, as owner-partner, chairman and CEO of FoodFirst Global Restaurants, that has really whetted his appetite for hands-on innovation.
The new, privately owned company recently bought the Brio Tuscan Grille and Bravo Cucina Italiana brands. "We're going to do a lot of work here," Blum says. "These are very valuable brands, with great 'bones.' We want to refresh everything across the board and really begin to grow these businesses."
Northwestern roots
Before Blum started his career in the food industry, he earned his MBA at Kellogg (when it was called Northwestern Graduate School of Management). "We had very bright professors and students in a collaborative learning environment," Blum recalls. "It was a great experience."
Graduate school helped Blum discover the importance of leaning on others. "They gave us more work than any normal human being could get done," Blum says. "We had to work in teams, and they encouraged that. You had to divide and conquer and trust one another to follow through."
Another valuable tactic, Blum recalls, involved simulating what might happen in the business world. "That was at the core of what I learned there," Blum says, "along with the idea of innovation — taking prudent risks and finding new ways to solve problems."
From cereal to private equity
After graduate school, Blum spent 11 years at General Mills in Minneapolis. "Of everything I've done in my life, I'm most famous — among the under-15 crowd — for inventing Cinnamon Toast Crunch," Blum says, with a chuckle.
He also put the first female athlete on the Wheaties box, Olympic gymnast Mary Lou Retton, and the first African American, Chicago Bears running back Walter Payton.
In 1994, Olive Garden recruited Blum as president to lead that restaurant chain out of its slump. "We completely turned that around," Blum says. "There was about a six-fold increase in Darden's stock price that was fueled by Olive Garden's resurgence. It was an exciting time that resulted in a huge culture change."
After Olive Garden, Blum had a series of other roles, including global CEO of Burger King. Recently, he was involved with private equity ventures and consulting. He has also served on a variety of boards around the world.
Rolling up his sleeves
As much as he enjoys serving on boards, consulting and mentoring, "what I truly love is running something," Blum says. "Helping people believe that they can do things that they didn't think were possible — and doing it as a team.
"That's what we've done here at Food First Global," Blum continues. "I've been able to orchestrate something with the help of a lot of people to create a new restaurant company. My sleeves are very much rolled up. I couldn't be more excited about the future."
"They gave us more work than any normal human being could get done."
---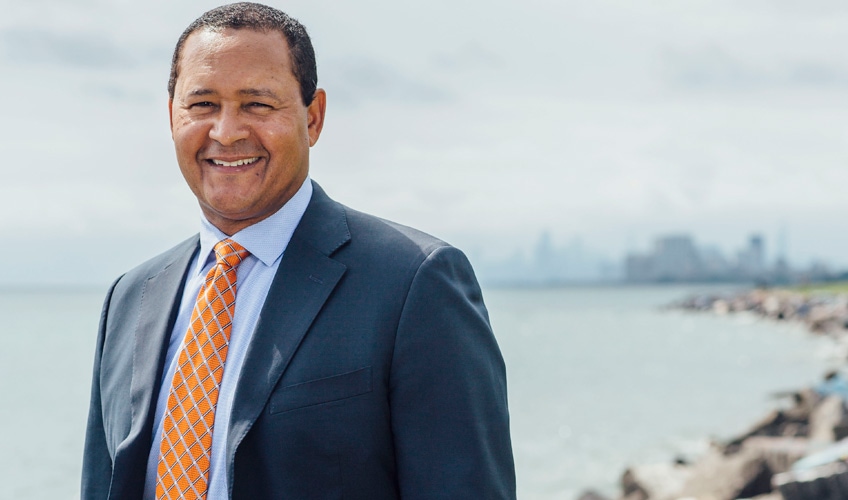 Grounded in values
Following his beliefs – not his plans – helped Calvin Johnson find the path to success
Calvin Johnson '98 says his career hasn't always gone according to plan. And yet looking back, Johnson, CEO of Comprehensive Pharmacy Services, realizes that he could tackle any dilemma so long as he focused on two areas: staying grounded in principles that have been honed through good experiences and working with great people along the way.
He encountered his first obstacle early. After graduating from the U.S. Military Academy at West Point, Johnson wanted to be a helicopter pilot. But vision and hearing challenges disqualified him for combat service. As a result, he became a maintenance officer, which was one of his first and surprisingly best leadership experiences.
"I was disappointed," Johnson admits. "But by being a maintenance officer, I learned it takes seven people to support one soldier in combat. That role helped reinforce the importance of excellent customer service, servant leadership and playing an important role as part of a bigger mission."
The concept of supporting others was nothing new to Johnson. In fact, that value was a big part of his upbringing. "My mom ran a dive restaurant in Memphis," he explains. "She fed the homeless. She fed the drug addicts. … It was her church where she supported thousands through the years and inspired many along the way."
The Kellogg experience
Eleven years into his career, while working for Corning Inc. in New York, Johnson decided to get his MBA. The company offered to pay his salary and the cost of his degree.
Although several grad schools accepted Johnson, he chose Kellogg for its team-based approach. "I'm a team player," Johnson explains. "And Kellogg wants students to engage with classmates and have debates about issues. There are always competitive individuals, but life is about learning how to deal with different personalities and cultures in order to achieve a common goal."
Making a difference
Johnson went on to Gateway Computers and Kinko's before Sodexo recruited him for a position in the health care industry. "There's nothing glamorous about health care," Johnson says. "But you get a chance to make a positive difference in the lives of the patients, clients and communities you serve."
Johnson thought he would stay at Sodexo until he retired. But then another opportunity came along — CEO of Comprehensive Pharmacy Services, the largest pharmacy management services organization in over 700 hospitals and health care facilities in the U.S. "Sixteen months later, I don't regret it," he says. "Last year was the company's best year in a long time. And it wasn't about my technical expertise in the pharmaceutical industry. It's about having a great team of compassionate leaders who are aligned around a common mission of excellence."
Johnson feels as if his career has come full circle. "Everything has been a building block," he says. "I'm grounded in my faith and values, and I try to find companies that are aligned with my core beliefs."
"Life is about learning how to deal with different personalities to achieve a common goal."
---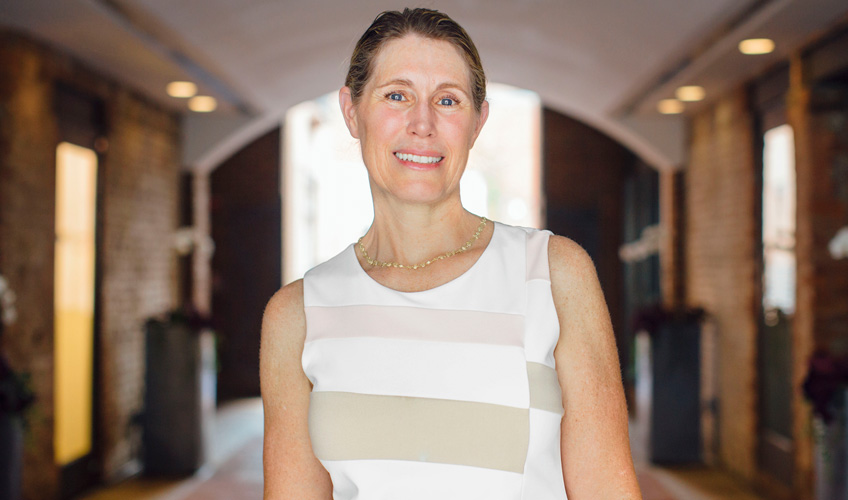 At the helm
Vice Admiral Sandra Stosz's adventurous and illustrious career in the U.S. Coast Guard
Vice Admiral Sandra Stosz '94 recently retired from an auspicious career in the United States Coast Guard. But she's quick to point out that others helped pave the way.
Stosz entered the Coast Guard Academy after graduating from high school in 1978 — something she almost wasn't allowed to do. It wasn't until 1975 that the service academies were required to open their doors to women, with the first female class entering in 1976. "So I had opportunities that I wouldn't have had if I was born a few years earlier," Stosz explains.
Her opportunities weren't wasted, as evidenced by numerous honors. She was awarded the Coast Guard Distinguished Service Medal, three Legion of Merit Medals, four Meritorious Service Medals, two Coast Guard Commendation Medals and two Coast Guard Achievement Medals.
"I joined because I wanted to serve my country," Stosz says. "I stayed for 40 years — even though I only had a five-year service obligation — because of the people. I loved the Coast Guard."
Navigating the seas (and D.C.)
As a young ensign, Stosz first served on an icebreaker. "We were stationed in Long Beach, California, and went down to Antarctica," she recalls. "It was beyond belief. There were volcanoes, seabirds, whales — just stunning beauty."
Stosz spent 12 years working at sea, including commanding vessels on the Great Lakes and the North Atlantic. Earlier in her career, she was sent to Washington, D.C., to be the military aide to the secretary of transportation. "It was a job that gave me a top-down view of the Coast Guard and the entire Department of Transportation," Stosz says.
In 1992, Stosz went to Kellogg to get a different sort of education. "There are a lot of good things about government, but there are also things we can learn from the private sector, like agility and innovation," she says.
At Kellogg, Stosz learned concepts that helped her throughout the rest of her career. "When people give me compliments on my leadership, it often traces back to what I learned at Kellogg — which is how to make good decisions, so you can move your team forward," she explains.
But that's not all she took from her Kellogg experience. "At that time," she recalls, "the other business schools were all individually focused. But Kellogg was bold. They knew that teams were the way to the future."
Leading the way
After Kellogg, Stosz went on to additional Coast Guard leadership roles, and she earned a Master of National Security Strategy from the National War College in 2004. She also became the first woman to lead the Coast Guard Academy.
Stosz's last assignment was deputy commandant for mission support, leading the 17,000-person organization that enables the Coast Guard to perform operational missions.
"Is the door open? If so," she says, "it's up to you to go through it and do the necessary hard work."
"Kellogg was bold. They knew that teams were the way to the future."