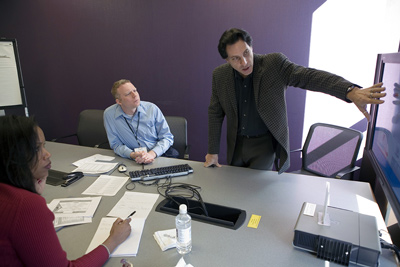 Photo © Robb Hill
Consulting
A recognized specialist on networks and complex systems in firms and markets, Professor Uzzi consults on building better executive networks and on managing complex systems within firms and in markets, including knowledge management systems, intellectual communities of practice, and electronic chat networks. He has worked on problems of innovation and change in patenting, science, consumer products, and art. Brian has received 11 teaching awards and the media frequently covers his research and research presentations. Brian speaks the topics of leadership, networks, persuasion, change, and social media. He has given talks in more than 25 countries worldwide.
In his executive teaching seminars and large and small public lecture forums, Brian speaks the topics of leadership with a focus creating and developing networks that enhance executive creativity, R&D innovation, and the implementation of new products and ideas.  His other work focuses on making high risk decisions under conditions of incomplete information, changing competitive decision making in teams to collaborative decision making, leadership in political environments, organizational culture development, and the diffusion of innovations, especially in long tail distributions. 
Recent Programs:

Abbott Labs
ANBAMBRO
Amdocs
Association for Corporate Growth 
Astellas
Baker and Mckensie
Blue Cross Blue Shield
Brown Forman
BP
Center for Leadership
Clayton, Dublier & Rice
Colgate
Credit Suisse
Daimler Benz
Deloitte
Duff and Phelps
Family Office Exchange
Fannie Mae


FBI
First Republic Bank
Frito-Lay
Fundacao Dom Cabral Brazil
Genentech
Hearst Media Worldwide
HSBC
IRI Industrial Relation Institute
Johnson & Johnson
Kaiser Permenente
Kraft
KPMG
La Salle Bank
Littler
Maddock Douglas
Martin Hughes
Microsoft
Motorola

Oak Hill Partners
P&G
Pepsico
Pokerstars
Smith College
Societe Generale
Societies of Actuaries
Society of IT leaders
Society of Women Engineers
Takada Pharmaceuticals  
Thomson Reuters
UNITE
US Olympic Committee
William Blair Associates
World Bank
Young President's Organization
YMCA
For more information, contact Professor Uzzi.