Lecture Series
The China research cluster invites top researchers to speak about their research to a broad audience of economists. The goal is to increase knowledge about the Chinese economy and about doing research on the Chinese economy to faculty and graduate students.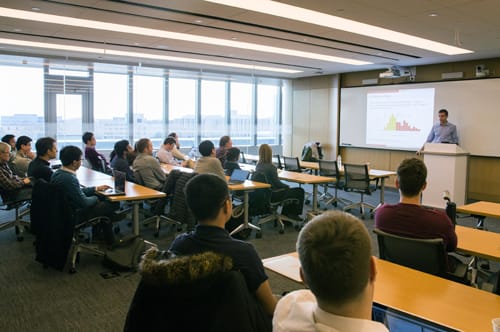 Each lecture focuses on one topic, and in addition to the usual academic presentation, the speaker is asked to address the following questions:
What should policymakers in China do differently?
What did policymakers in China do right?
Are there lessons for policymakers in other countries?
What are the obvious questions for which more empirical research is needed?
What obstacles did the researchers face in doing research on China, and how should students overcome them?
Where/how did the researchers obtain data and institutional knowledge?
Speakers
Upcoming:

Date TBD:
David Dollar, John L. Thornton China Center at the Brookings Institution: US-China Trade and Technology Competition

Past speakers:

October 30, 2019
Wei Cui, University of British Columbia: What is a Tax Audit in China?
May 15, 2019
Daniel Xu, Duke University: Tax Incentives and Firm Investment in China
December 5, 2018
Michael Greenstone, University of Chicago: Childhood Air Pollution Exposure, Human Capital Accumulation, and Adult Wage: Evidence from China's Huai River Policy
Multi-Day Workshops
During these workshops, researchers present and discuss works-in-progress, share ideas and work on existing or new collaborative projects. They are distinct in their small size, intimate nature and focus on earlier stages of research projects by established researchers. This allows for in-depth discussions and time for researchers to build collaborative relationships.
Each workshop has a topical theme, and invitees are each asked to invite one pre-existing collaborator. Workshops are held at Northwestern as well as at partner institutions in China. All invitees are asked to fund their own travel expenses if possible. In some cases, funding may be available.
Other Events
June 4-6, 2021
China Star Tour
Presenters:
Nano Barahona (Stanford University)
Christina Brown (UC Berkeley)
Allan Hsiao (MIT)
Peter Maxted (Harvard University)
Carolyn Stein (MIT)
Tianyi Wang (University of Pittsburgh)
May 6, 2021
The China Econ Lab Master Lecture Series
Presenter:
Emi Nakamura, UC-Berkeley Chancellor's Professor, John Bates Clark Medalist
Title:
Research on Empirical Macroeconomics

April 19-20, 2021
Political Economy Student Rookie Workshop
Presenters:
Silvia Vannutelli (Boston University)
Ricardo Dahis (Northwestern University)
Camille Urvoy (Sciences Po)
Brian Wheaton (Harvard University)
Sebastian Ellingsen (Universitat Pompeu Fabra)
Lisa Tarquinio (Boston University)
Martin Mattsson (Yale University)
Milena Djourelova (Universitat Pompeu Fabra)

March 31, 2021
The China Econ Lab Submission Process Workshop
Speakers:
Paola Giuliano (UCLA, Anderson School of Management)
Rema Hanna (Harvard Kennedy School)
Juan Carlos Suarez Serrato (Duke University)
Daniel Xu (Duke University)


November 21 and 30, 2020
Political Economy Job Market Student Workshop Schedule
Presenters:
Milena Djourelova (Universitat Pompeu Fabra)
Ricardo Dahis (Northwestern University)
Giacomo Battiston (Bocconi University Milan)
Sebastian Ellingsen (Universitat Pompeu Fabra)
Augustin Bergeron (Harvard University)
Naila Shofia (Bocconi University Milan)
Elisa Macchi (University of Zurich)
July 15, 2020
Fudan-Kellogg Seminar: "Agora's Road to Success"
Speakers:
Tony Zhao (Agora, Founder and CEO)
Jenny Lee (GGV Capital, Managing Partner)


June 12, 19, and 26, 2020
China Star Tour
Presenters:
Evan Rose (UC Berkeley)
Isabela Manelici (UC Berkeley)
Ian Ball (Yale University)
Victoria Marone (Northwestern University)
Adrien Bilal (Princeton University)
Chen Lian (MIT)
November 20, 2019
Book Conference for "Good Economics For Hard Times," by Abhijit Banerjee and Esther Duflo
Book Presentation and Reading
:
Abhijit Banerjee (MIT)
Round Table Panelists
:
Benjamin Jones
Nicola Persico
Diane Schanzenbach