Stacy Blackman '99
and
Stefan Miller '13
have a lot in common. Both are entrepreneurs. Both created companies inspired by their sons. And both are Kellogg alumni.
Yet, they never met until they coincidentally ended up representing two of 10 companies chosen to attend the 2020 Target Beauty Accelerator, a competitive program aimed at jumpstarting the growth of emerging startups.
"One of the reasons Stacy and I both bonded is honestly, truly looking at how are we are impacting the world by looking first through the eyes of our boys," Miller said.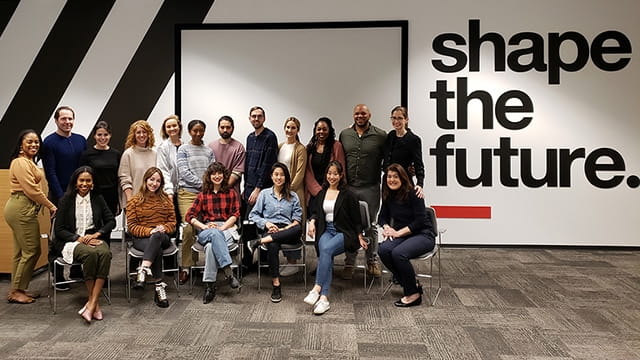 For Miller and his wife Cora Miller, they wanted to find clean, natural products for their three-year-old son Kade's full head of hair.
"We were really looking at what were hair products for African American boys and really looking to find a clean natural offering … we found nothing," Miller said. "Like every great Kellogg alum, when you see a problem, you just decide to go ahead and create the solution for it."
So, in December 2019 Young King Hair Care was born. The company offers a plant-based, natural hair care line created for multicultural boys ages 0-15 with kinky, textured hair.
Blackman also identified a gap in the market for products for her teenage son. In January 2020 Blackman launched Stryke Club, a dermatologist-developed skincare line formulated specifically for the needs of teen and tween boys.
"There's a preoccupation with outward appearances largely because of the selfie generation, and even though boys are under pressure to look good, there are not great products available for them," Blackman said. "We felt like we'd stumbled across this white space and decided to pursue it."
Even for Blackman, a seasoned entrepreneur who has launched three companies, kickstarting a business in the midst of a global pandemic certainly brought unexpected challenges. For instance, Blackman is pleased that Stryke Club's products are sold out, but she's been struggling to get more produced as her manufacturer is working on COVID-19 related products right now.
Similarly, for Miller, Young King Hair Care products sold out of six months of products in four weeks. Additionally, the company's initial plans relied heavily on in-person outreach, so when the pandemic hit, Young King Hair Care needed to ramp up its digital marketing efforts at a much faster rate than expected.
"For as much as you plan, you're never fully prepared," Miller said. "It's been great to adapt to see how we can evolve but also be in control of our evolution."
Both Miller and Blackman cite their Kellogg networks as being instrumental in their entrepreneurship journeys. For Stryke Club, Blackman said Kellogg alumni have facilitated connections and even become angel investors in the company.
"With launching this company, the impact of my Kellogg network has been incredible," Blackman said. "Just day one, Kellogg has been so instrumental to me and my company on every front."
Miller added that he called up classmates he has not talked to since graduation, and they overwhelmingly agreed to help.
"The number one thing I think about what we learned and took away was the power of the people around you and the ability to work in teams to find creative solutions and challenging the status quo," he said. "Kellogg is a continuous process, and it's been great to see the support from the school and the people of the school."
As Miller and Blackman continue to grow their companies, they hope to promote acceptance in our society, targeting their efforts toward youth.
"It's really become a bigger conversation about empowering boys to engage in personal care and show a little bit of vulnerability," Blackman said. "We think that taking care of yourself is good for boys and girls, so we really want to infuse those healthy nurturing self-care habits in our boys as well as our girls from the beginning and open up that conversation."
With racial inequality on the forefront of national conversations, Young King Hair Care is working to especially empower multicultural boys.
"I think a lot of people see you simply for the products that you sell versus the mindset you're changing and the narrative you're trying to change," Miller said "Honestly for us, it goes way beyond haircare products. It's really about how do we give black and brown boys the confidence to show up and be themselves."