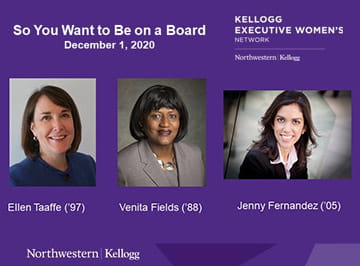 In fall 2020, Kellogg Executive Women's Network began to offer its programming virtually, allowing KEWN to bring a nationwide group of Kellogg alumnae together.
The first fall event featured Gwen Cohen '82 who spoke on ESG Investment. The annual fall networking event was virtual, but KEWN members had the opportunity to have wine delivered to their homes and raise their glasses on Zoom as the club welcomed new Kellogg graduates.
On December 1, 2020, close to 90 women from across the country attended the first of a series of three panels designed to help more women consider corporate board service. Panelists Professor Ellen Taaffe '97 and Venita Fields '75 BS, '88 discussed their experiences with corporate boards and answered questions from moderator Jenny Fernandez '05.
KEWN once again asked its members to support Sarah's Circle in celebration of Kellogg Cares Month in October and to help the women and children supported by Community Alternatives Unlimited during the December holidays.
KEWN partnered with the Women's Business Association for a virtual networking and wine hour on International Women's Day. KEWN ended International Women's History Month with a panel on nonprofit board service, which attracted close to 175 attendees. Wendy Kritt '84 served as moderator to panelists Dorri McWhorter '09, Ivy Walker '98, Sarah Berghorst '10 and Karianne Gomez '05, who brought a wealth of knowledge about serving on nonprofit boards. KEWN would like to give a special thanks to Liz Howard '93, executive director of the Center for Nonprofit Management, and Mary Maher, associate director of alumni engagement, for supporting this event.
Connect with the Kellogg Executive Women's Network