Skip to E&W Class Notes
2000 — FT
John Baker
After 19 years in London, Dubai and Hong Kong, John Baker and
Fernanda Artese Baker '01
have settled in Los Angeles with their two daughters. John spent the last two decades at Lehman Brothers and then Nomura, shifting from M&A into management and transformation. They have enjoyed reconnecting with Kellogg alumni around the world, and they can't wait to hang out with Southern California friends as the pandemic eases.
2000 — FT
Ken Bower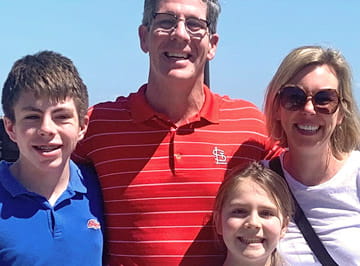 Ken Bower is the CEO of Clayton Financial Group (CFG), a nationally known wealth management firm that recently surpassed $1.1 billion in managed assets. CFG serves successful families in 32 states – including two families within an hour of campus.
2000 — FT
Ariane Gorin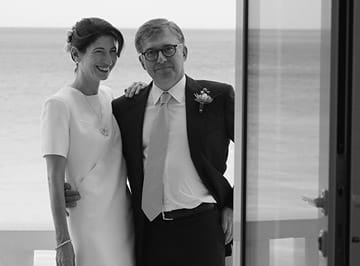 After over 17 years of engagement, Ariane Gorin and Frederic Halley '97 tied the knot in August 2020 in Cabourg, France. Given global travel restrictions, it was an intimate ceremony. In the many scenarios they had imagined their wedding, never once had they expected to have a Zoom wedding
2000 — FT
Guilherme Johannpeter
Guilherme Johannpeter recently became executive chairman of Gerdau, a leading steel company in Brazil. Gerdau has operations all over the Americas.
2000 — FT
Annette Kaempf-Dern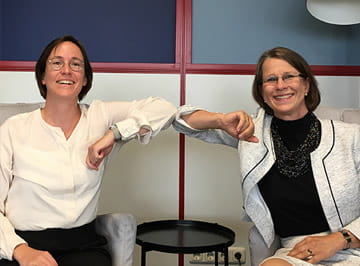 Annette Kaempf-Dern is a professor of management of facility services at the Frankfurt University of Applied Sciences. Following appointments at HafenCity University Hamburg and Bauhaus University Weimar, she is back in her hometown where she works in the Department of Architecture, Civil Engineering, Geomatics. Her focus in research and teaching students in real estate and facility management programs is on strategic and operative management topics and project, process, HR and workspace management.
2000 — FT
Burton Roberts
Burton Roberts has launched his latest TV series, The College Tour, on Amazon Prime and Roku. Each episode provides an inside look into colleges around the world and tells the story of a single college through the lens of its students, helping potential applicants and parents make the important choice about where to go to college. By the end of the year, over 60 colleges will be profiled on www.thecollegetour.com.
2001 — FT
Elly Andriopoulou
Elly Andriopoulou has been appointed president and managing director of the Stavros Niarchos Foundation Cultural Center, a sustainable, world-class cultural, educational and recreational urban complex. It was designed by Renzo Piano and includes the facilities of the National Library of Greece and the Greek National Opera. It is situated within the 42-acre Stavros Niarchos Park in Athens, Greece.
2001 — FT
Fernanda Artese Baker
Fernanda Artese Baker recently moved to Los Angeles. Having lived and worked in London, Dubai and Hong Kong, this is her first time living in the U.S. since Kellogg. She is in West L.A. with husband,
John Baker '00
, and two daughters. She looks forward to sharing the Kellogg spirit with alumni in the area.
2001 — FT
Alejandro Colindres
Alejandro Colindres launched a podcast series based on his upcoming book,
The Road to Champagne: 13 Tested Principles to Drive Your Career to Success
. By applying problem solving methodology to a problem impacting many professionals — Kellogg alumni not being immune — the solutions posed will empower professionals to accelerate career growth. You can listen wherever you listen to podcasts by searching for
The Road to Champagne
or at www.roadtochampagne.com/podcasts.
2001 — FT
Jennifer Zierden Maurer
Jennifer Zierden Maurer and her family were thrilled to move back to Chicagoland after six years in Ohio. Jennifer is still with Deloitte (17 years and counting). She is in a learning and development role supporting the tax practice. Her twin sons will turn five this summer. The Maurer family has settled in Elmhurst and looks forward to reconnecting with other alumni in the area.
2001 — FT
Martha Wofford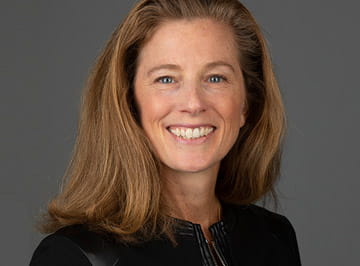 In March, Martha Wofford was named president and CEO of Blue Cross and Blue Shield of Rhode Island. After a decade at Aetna, and nearly seven years at DaVita, helping lead the company's shift to value-based care, Wofford says, "I'm thrilled to be joining Blue Cross and Blue Shield of Rhode Island at this incredibly dynamic time to work with providers and the community to passionately lead a state of health and well-being across Rhode Island."
2002 — FT
Ana Villegas
Ana Villegas was recently promoted to chief marketing officer for NI (National Instruments), a test and measurement company with offices around the world. She currently lives in Austin with her daughter, Audrey, 9, and her husband, Stephen.
2004 — FT
Thomas Fanter
Tom Fanter is a partner at RMB Capital, an independent investment advisory firm with approximately $9.7 billion in assets under management. Tom joined RMB in 2017, when the IronBridge Capital Management team combined with RMB Asset Management. In addition to his role as director of equity research, he is also a member of the firm's investment committee.
2004 — FT
Sri Kaza
Sri Kaza has been promoted to CEO of ForwardLine Financial. Sri will help the 17-year-old firm achieve its mission of improving the financial health of America's small businesses.
2006 — FT
Sonita Lontoh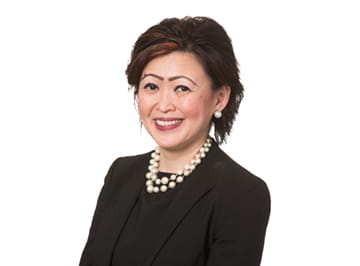 Sonita, CMO of HP's 3D printing and digital manufacturing, was inducted into the inaugural class of the Women in Manufacturing's Hall of Fame. The honorees were chosen among senior executives who have made exceptional contributions to the manufacturing industry and to the advancement of women. Honorees were also chosen for embodying the association's mission of supporting, promoting and inspiring women in the manufacturing industry. Sonita was chosen among 15 honorees that also include executives from GE, Toyota, Boeing and others.
2005 — FT
Jenny Fernandez
Jenny Fernandez is marketing VP at Loacker, an adjunct professor at Columbia GSB & NYU and an executive coach. She plans to publish her first book in 2022, titled,
Zig-Zag to the Top: How Women Master the Habits, Behaviors and Mindsets to Succeed
. The book features female trailblazers and codifies how to take advantage of life's planned and unplanned twists to achieve success.
2005 — FT
Guilherme Maradei
Guilherme Maradei was appointed CEO of Natulab, a private equity-backed pharmaceutical company in Brazil with over 900 employees and one of the largest production volumes in the country. He will be based in Sao Paulo with his wife, Danielle, and children, Alice and Antonio.
2005 — FT
Stephen Weiland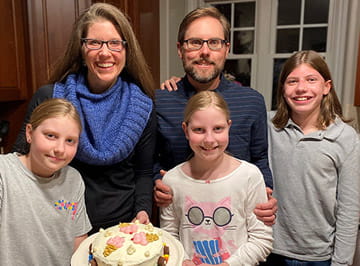 Steve Weiland took a new role at Caterpillar as division CFO of the integrated components and solutions division. He left his prior role as division CFO of the Cat digital division. He sits on the board of one of the division's JVs and the UIUC Technology & Management Program. Steve and his family have relocated back to Peoria, Illinois, from Lake Forest, moving into a home that is five houses away from where they lived three years earlier. His wife, Meegan, and kids, Will, 12, Amelia, 10, and Olivia, 10, are doing well and having fun reconnecting with old friends.
2006 — FT
Neil Rosenblatt
Neil Rosenblatt continues as CEO of Azabu Insights Strategic Consulting in Tokyo, Japan. Azabu Insights has clients across industries with a focus on life sciences and healthcare. This year, rare diseases, next-generation HC and sustainability were popular. Azabu Insights' strategic projects support the topline with a marketing or innovation approach. The firm differentiates itself through strong client collaboration and its Japan network. Reach out to Neil if you know of any Japanese companies that need help or companies looking to come to Japan.
2006 — FT
Gabriel Sussman
Gabriel Sussman is president of the real estate developing company building La Mansa. La Mansa is a new city with capacity for 13,000 people located strategically near the famous beachside city of Pinamar in Buenos Aires, Argentina. La Mansa is expected to be the most important real estate development project in Argentina in the coming years. It will include shopping malls, universities, colleges, international hotels and residential areas together with high-end amenities and world-class levels of sustainable construction.
2007 — FT
Bikram Kapoor
Bikram Kapoor has founded a software company, QSchool Sports, that provides customer acquisition and retention tools to sports coaches worldwide. Based out of Connecticut, the company's mission is to harness the power of code to drive business growth. The first product line, Accelerate Golf, launched earlier this year. It offers golf teaching professionals thoughtfully crafted mobile and web apps.
2008 — FT
Scott McKinney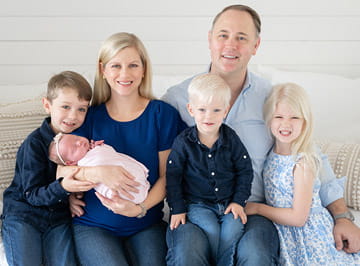 Tracy (Johnson) McKinney '07
and Scott McKinney began 2021 with the addition of their fourth child. Madison Ann McKinney was born on January 4. She is enjoying spring in Houston with her two brothers, Clayton and Tyler, and sister Katherine.
2009 — FT
Cynthia Baker
Cynthia Baker is currently director, brand strategy at Facebook. Over the last three years, she has been building the company brand and growing her team. She is currently living in Colorado with her husband
Will Smith '09
and their three sons, Jackson, Bradley and Zachary. They moved to Colorado during the pandemic to be closer to family but will be moving back to San Mateo, California, in July 2021. They have enjoyed spending time outdoors in the mountains while in Colorado.
2009 — FT

Dan Bielski has a leading economic news website, Israel Financial Insider. Visit it at: www.ifi.today. Without Kellogg, IFI would not have come into the world.
2009 — FT
Alexis Jhamb
Alexis Jhamb recently moved to Atyrau, Kazakhstan, as a Chevron secondee to its joint venture Tengizchevroil. She leads the commercial group, managing sales of crude, LPG, gas and sulphur. Her new interests include ice fishing, doner kebabs and long runs along the Ural River.
2009 — FT
Kevin Kan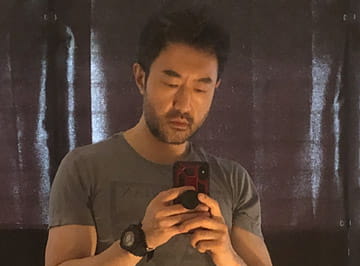 Kevin Kan joined McKinsey after graduation in 2009. Yet, he chose to leave McKinsey after just over two years. He now is happily employed in the video game industry and spends his free time living on the island of Puerto Rico.
2009 — FT
Andres de Lucca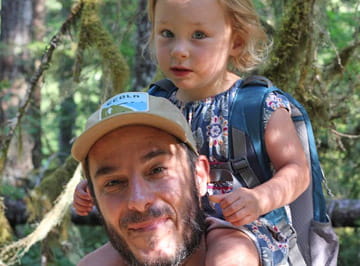 Andres de Lucca is leading product for WAAVE Technologies Inc, a trailblazing fintech startup bringing fiat-crypto payments to the cannabis industry. Launched in early 2021, WAAVE has grown to serve over 50 clients throughout the U.S. He also heads NW Lights, a product management consulting practice bringing expertise to startups and nonprofit organizations focused on building and launching effective SaaS products.
Kenneth Merritt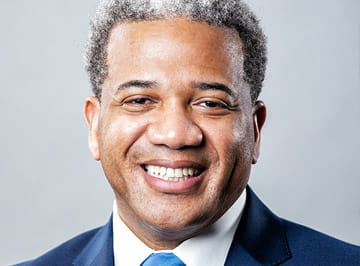 Ken Merritt has joined Korn Ferry as a senior client partner in the firm's organizational strategy practice. Ken has expertise across a range of industries and serves on the board of directors for nonprofit organizations and a private operating company. He is currently based out of the Washington, D.C., metro area.
2000 — E&W
Deb Roberts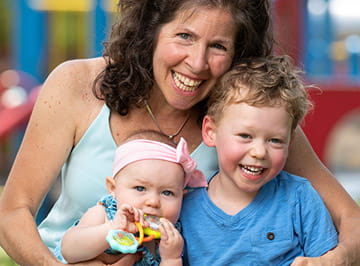 Deb Roberts has launched Embryo Connections, an embryo donation concierge, to help those with remaining embryos from IVF donate to intended parents struggling to have children of their own. The national donation program has grown to nearly 100 fertility practices in just two years and has helped create many new families across the country. This program manages the clinical and logistic requirements to secure the donations for transfer, while empowering donors and recipients to choose what is right for their family.
2000 — E&W
George Webb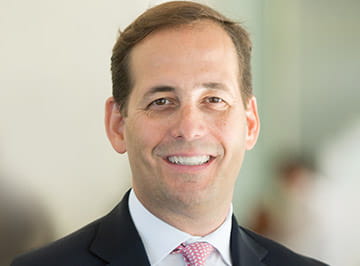 George Webb is the CEO of Pension & Wealth Management Advisors, a boutique wealth management and advisory firm based in Boston. The firm recently added three new advisors in response to its substantial business growth. The company has tripled in size over the last two years, due to referrals from existing clients and added capabilities. The firm has established an asset management and M&A advisory capability to seamlessly assist business owners on all aspects of maximizing their wealth creation opportunities.
2000 — E&W
Andy Young
Andy Young is retired from the U.S. Army and has moved to Bangor, Northern Ireland, with his family. He is currently enjoying a quiet life with his wife, Siegrid. At times he guest presents at the University of Ulster on the law of armed conflict.
2001 — E&W
Katharine Leonard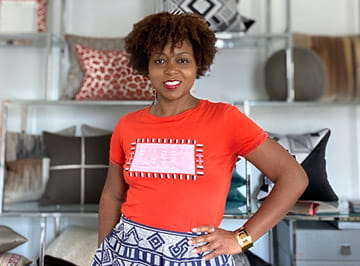 Katharine Leonard has expanded her role as CEO. Her company 92ndStreet Design is now Sōhe Studio. Pronounced "sew," it will continue its legacy of fabricating luxury products for the private aviation, commercial and high-end residential markets, while offering a wider array of bespoke soft goods, Italian textiles, Mongolian cashmere and woven carpets from Nepal.
2001 — E&W
Erin Owen
Erin Owen has joined Abroad.io as chief coaching officer. In this role, she will oversee the professional team and full suite of human transformation coaching and educational programs. These programs are designed to help founders, co-founders, leaders and investors in the ecosystem of high growth companies actualize their human potential.
2002 — E&W
Manuel O. Mendez
Manuel Mendez is relocating to Geneva, Switzerland, to assume the CEO role at Quotient. Quotient will focus on launching a disruptive solution to support innovation in the transfusion and clinical diagnostics markets. He hopes to connect with Kellogg alumni in the Geneva area.
2003 — E&W
Bo Sandine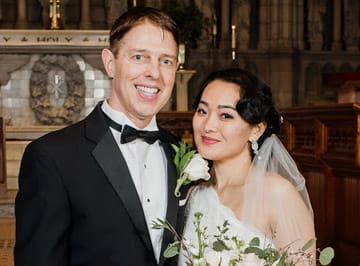 Bo Sandine married his sweetheart, now Anna Zhao Sandine, on February 28, 2021, at Trinity on the Green in New Haven, Connecticut. The brief ceremony was limited to immediate family. The newlyweds plan to honeymoon in Maine and Northern New England late this summer. They hope to host a celebration this fall, which will surely include some Kellogg friends!
2004 — E&W
Ravi Kaushik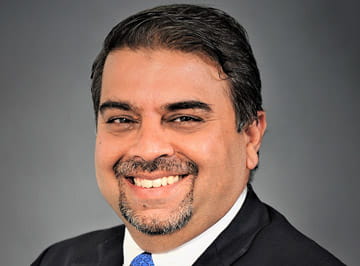 Ravi Kaushik was recognized among the Top 20 Healthcare Industry Leaders of India by
Medgate Magazine
for his impactful leadership during the pandemic. Ravi has been the CEO of Transasia Biomedicals, the largest in vitro diagnostics company of India. Ravi and his team worked on several COVID-19 initiatives during 2020, including launching IGG/IGM and RT-PCR kits, providing services to hundreds of hospitals and labs across Tier 3 and 4 cities while balancing the safety and productivity of Transasia Biomedicals' 1000+ employees.
2004 — &W
Gretchen Peters
Gretchen Peters recently joined Maven Wave Partners as healthcare practice lead. She is excited to join a great team of people committed to collaborating with clients to make the shift to digital and shorten the fuse to innovation.
2009 — E&W
Beth Anne Demeter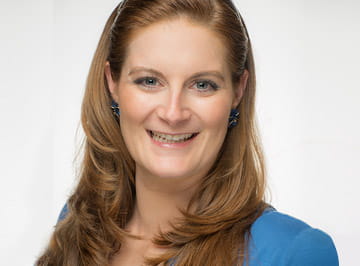 In 2020, Beth Anne Demeter received Sellstate's coveted Diamond Award for residential real estate sales production. This is now the sixth time Beth Anne has received a corporate award and the second time she has received a Diamond Award. Beth Anne was also recognized for her contribution to education, including mentoring new agents and teaching certification and continuing education classes for agents. She enjoys helping people move to the Denver area and serves on several Denver-based real estate boards.
2008 — CERT
Ray Oyemi
After hurdles of legal challenges, Ray Oyemi is moving forward in developing a uniquely multigenerational, vibrant, mixed-use destination: Community of Care. This will be located in the fishing, retirement and recreation town of Kenai, Alaska. This is a first-of-its-kind, 53-acre, campus-style residential and business community. It will be positioned as an extended care and residential campus that supports and enables the continuum of care in aging, affordable housing and active convalescence from cardiovascular and cancer treatment.