1990-FT
Juergen Meffert
Juergen recently retired from McKinsey & Company after 33 years. He is focusing now on his tech startup portfolio, leading the Wissenschaftliche Gesellschaft as CEO and serving as senior adviser to McKinsey and Atreus.
1990-FT
David Packham
David is celebrating five years of bringing the world "pure music" — original songs recorded on an iPhone in just one take — via his YouTube music channel. "It's fun to share songs that inspire," David says. Search YouTube: David Packham, pure music, The Law of Zen.
1990-FT
Mark Slitt
Mark retired from health insurer Cigna, where he was a senior communications adviser, providing strategic counsel to U.S. commercial business leaders. Prior to that he was director of public relations at Harcourt Assessment, after holding marketing, communications and international planning positions at American Airlines.
1990-FT
Allison Plyer
After serving as chair of the U.S. Census Bureau's Census Scientific Advisory Committee, Allison is now co-chairing the Census Quality Reinforcement Task Force of the National Conference on Citizenship. The task force brings together 200 data scientists, former Census Bureau directors, attorneys and civil rights advocates to account for people miscounted in the 2020 Census to improve annual population estimates used to distribute $1.5 trillion per year in federal funding.
1990-FT
Jim Young
Jim and his daughter Katie '26 spent six weeks in Fiji working for MicroDreams/SPBD-Fiji, a microfinance organization led by
Greg Casagrande '90 MBA
. Greg launched his first such organization in 2000 in Samoa and today operates five in Samoa, Tonga, Fiji, Solomon Islands and Vanuatu, serving more than 25,000 microcredit clients.
1991-FT
Janice Williams Oliver
Janice's beauty-industry startup, MisTee Wants To Know Inc., was the winner of the P&G Beauty/WWD media grant. She was also accepted into Graham & Walker's Catalyst program. She is currently looking for funding and has raised $100,000 toward a goal of $600,000.
1991-FT
Leigh Radford
Leigh recently retired from Procter & Gamble after 31 years. She most recently held the position of senior vice president and founder of P&G Ventures, an early-stage startup studio within the company. During her career at P&G, Leigh built multiple $1 billion-plus businesses across various geographies and categories. She is currently an active board member of the E.W. Scripps Company; VF Foundry, a startup-venture arm of the VF Corporation; Fast Studios, a media startup company; and Goodwill Industries International.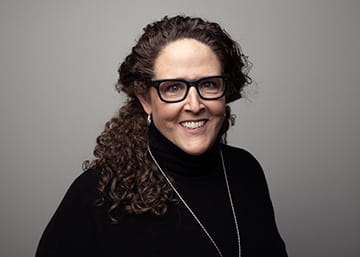 1991-FT
Kathy Jo "K-Jo" (Thompson) Van
K-Jo and classmate Kelly (Hotchkiss) Zehfuss '91 reconnected at Superstition Mountain, Arizona, to enjoy the sunshine and explore the sights. K-Jo now lives in Arizona, and Kelly frequently visits with her husband, Michael, and kids.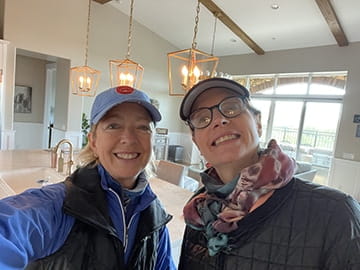 1992-FT
Vinod Dasari
Vinod '92 MEM, MBA shares that he "retired" from corporate life in August 2021, most recently serving as CEO of Royal Enfield. "I'm now running a not-for-profit hospital with my wife," Vinod says. "We invested our life savings, and now it's time to give back to society. I'm also working a bit as operating partner with Advent International PE and doing quite a bit of investing and mentoring of startups. It's an interesting chapter in life — for the first time, I feel like I have control over my time!!"
1992-FT
Axel Wieandt
Axel was back on campus this spring, teaching Blockchain Technology, Digital Assets and the Future of Finance as an adjunct professor of finance. He discussed bitcoin, ethereum, crypto investing, central bank digital currencies and decentralized finance with the classes of 2022 and 2023. His course would not have been possible without the contributions of great guest speakers from Drone Energy, Bitbond, Finoa, Loop Crypto and Goldman Sachs.
1994-FT
Joel Bosch
Joel and Allan are comfortably settled in Valencia, Spain, enjoying retirement and the European lifestyle. Joel writes, "Let us know if you're in the area."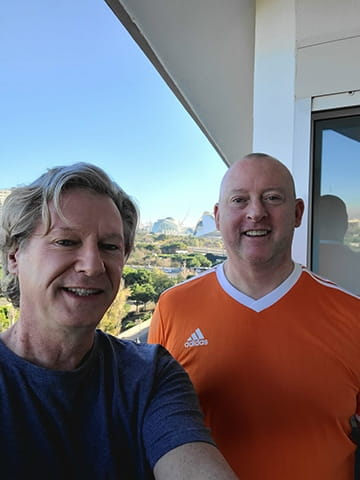 1994-FT
Patrick McQueeny
Patrick joined Prairie States Enterprises Inc. as chief financial officer. Headquartered in Chicago, Prairie States is a national third-party healthcare administrator. Prior to his new position, Patrick was corporate treasurer with retailer Claire's Stores Inc.
1994-E&W
Laura Monahan
Chair of the College of Nursing and Health Sciences at Texas A&M University Corpus Christi, Laura received her DNP and MSN degrees from UIC. She has received numerous grants totaling $2,937,000, and she has published nine articles, one book chapter, five lectures and eight posters. She has also created nine new courses and six interprofessional education programs for medicine, nursing, pharmacy and psychology students.
1994-FT
Per Ohstrom
Per was named partner at Chief Outsiders, a consulting firm that provides fractional CMOs for small and midmarket companies. The business is growing, as many companies choose to access deep experience at an affordable cost.
1994-FT
Paul Stratta
Paul writes that Benjy Robins MBA '94, a former Association of Tennis Professionals tour executive, has joined Paul's scale-up iPlayMe2 Tennis. Based in San Martin, California, Benjy runs the tennis program at the CordeValle Luxury Resort and is now advising iPlayMe2 through its dramatic expansion across the tennis club and teaching pro B2B segments. Paul has also connected alums Eric Eichmann '94 MBA and Chris Jogis '94 MBA to make this a unicorn-in-the-making! Chris Abate '94 MBA lends his passion for tennis, too.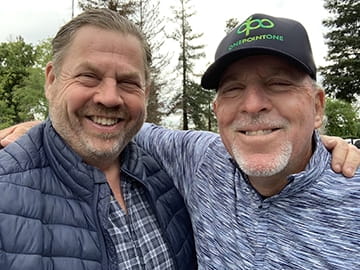 1994-E&W
Andy Tometich
Andy was recently appointed CEO, president and a member of the board of directors of Quaker Houghton, a global leader in industrial process fluids headquartered in the Philadelphia area.
1995-FT
Paige Jernigan
Paige asks all those working in the entrepreneurial/startup space in the middle 20 U.S. states — the heartland — to be in touch with stories that can be highlighted by Heartland Forward, a "think and do" tank based in Bentonville, Arkansas.
1995-E&W
Shekar Shetty
In March 2019 Shekar co-founded Clear Scientific, a company that is pioneering novel therapies for life-threatening and debilitating conditions caused by an excess of harmful substances in the body.
1996-FT
Michael Gruber
Michael is happy to announce that his company, Pura Industries, has received licenses to sell cannabis for adult use in both New York and New Jersey. The company is bringing together leading brands from across the country to enter those markets, along with financing and real estate partners to build out its cultivation and manufacturing assets. Michael also manages the Salveo Capital fund, which is focused on the cannabis sector, and the JLS Fund, which is focused on the psychedelics sector.
1996-FT
Shankar Kiru
Shankar '96 MEM, MBA writes, "Hope everyone is doing well! Getting through the pandemic has given me a greater sense of purpose and fulfillment. What was expected to be a brief stop in the Detroit area after Kellogg has turned out to be longest place we've ever lived, now with the sibling rivalry of our kids continuing at Michigan and Michigan State. The work with Stellex Capital is rewarding, building companies that are enriching, defensible and scalable. If you're in the Detroit area, we would love to see you!"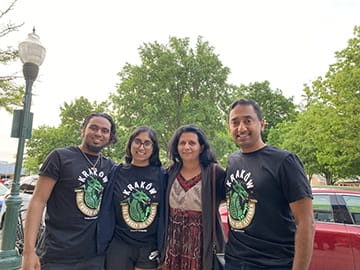 1997-FT
Andy Scott
Andy '90, '97 MBA had a blast reconnecting with classmates at Reunion in May. For the past few years, he has been working as an executive coach and facilitating CEO peer groups. He is currently assembling several peer groups of Kellogg alums who are leading rapidly scaling startups. Reunion was a great reminder that Kellogg alums are very high performers with low egos.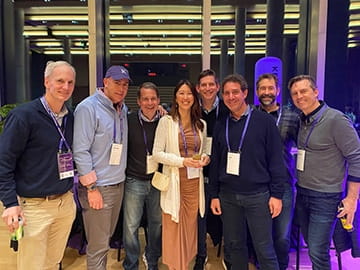 1998-FT
Bill Eldredge
Bill recently joined Nexamp, a leading community solar firm, as vice president of data management. Bill and his wife, Kate, continue to live in Duxbury, Massachusetts, with two very big dogs. They have daughters pursuing various medical-related degrees at Boston College, Northeastern and UMass Amherst, and a son who is heading to Northeastern to study engineering. Bill recently caught up with classmates
Bill Lockwood MBA '98
and
Rob Fawcett MBA '98
.
1998-FT
Titi Falusi-Cole
Titi writes, "A new phase for us. Empty nesters, part-time NYC residents, still in the industry at Citi. Hope everyone is well and embracing all that life has to offer. Looking forward to reconnecting at our 25-year reunion!"
1998-FT
Rachel Fleishman
Rachel left Hong Kong at the end of 2021, just before a wave of COVID-19 infections slammed the city. She and her husband, Eli, landed in ... Evanston! The move was motivated by the joint desire to put her sustainability skills to use in the U.S. and to be close to aging parents. Rachel is excited to have joined HowGood, a SAAS sustainability intelligence startup with the power to help revolutionize how we source, use and dispose of products. She encourages classmates to stop by when you're in town for a great meal, amazing wine and a dose of sustainability ambition!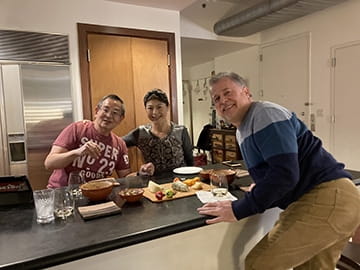 1998-FT
Derek Gaskins
Derek was recently featured in CORE Magazine's list of the "2022 CORE 100 Most Influential Blacks Today." He also was featured on the cover of KIND magazine as the person of the week in the May 23rd, 2022 issue.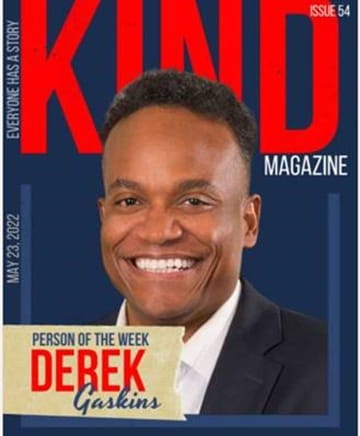 1998-FT
Chris Tomseth
Chris is the co-founder and CMO of SkySquad, a tech-enabled provider of airport assistance. The company has raised $1 million in funding and has expanded to seven airports, most recently Salt Lake City.
1998-E&W
David Urbanczyk
David is executive director for administration, external affairs, at Blue Cross Blue Shield Association, where he has spent the past 17 years. He and his family have moved back to Chicago after nine years in Madison, Wisconsin.
1999-FT
Hank Adams
Hank's startup, Rise Gardens, helps people grow their own food year-round, and one of the company's products was featured in the 2022 Men's Health Tech Awards. The company, which focuses on indoor, hydroponic gardening, raised its Series A with True Ventures, Listen Ventures and Amazon Alexa joining TELUS Ventures. The company stays close to Kellogg with multiple student projects developing customer segmentations and retail growth strategies.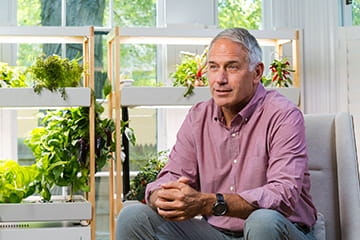 1999-FT
Marina Hood
As a life coach, Marina helps people create and achieve their vision for an amazing and fulfilling life. Her website (marinahood.com) has information about her one-on-one life coaching, meditation instruction and classes in emotional balance, resilience and positive education. This year, Marina has enjoyed giving back to the Northwestern community by mentoring undergraduate students in the Affinity Leaders and Learners (ALL) Mentorship Program.
1999-FT
Jill Hungsberg
Jill reports that she and Paul Anfinsen '94, '99 MBA recently founded Empathos Group, a consultancy focused on transforming workplace culture through the power of empathy. The firm collaborates with organizational leaders and culture stewards to define and implement a vision for empathy in the workplace. It drives cultural change through empathy skills training workshops, presentations and individual coaching grounded in unique insights from the behavioral sciences.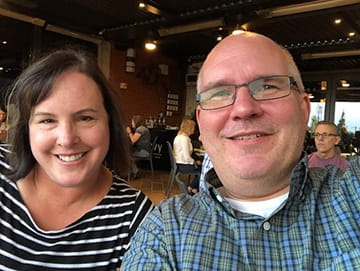 1999-FT
Brent Powers
A group of Kellogg friends recently gathered in Denver to celebrate Brent's 50th birthday. Celebrating the big day with Brent were Greg Graeber '89, '99 MBA; Jim Nollsch '02 MBA; and Jamie Sabatier '94 MBA.