Skip to E&W Class Notes
2000-FT
Ken Bower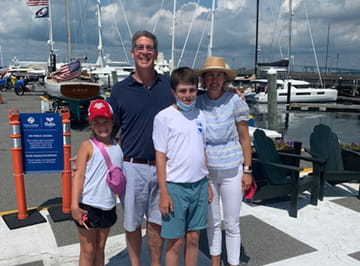 Ken has two good updates from St. Louis. First, the wealth management firm he co-founded, Clayton Financial Group, just celebrated its five-year anniversary and has grown to 19 employees who serve successful client families in 32 states. Second, Ken recently had lunch with two other Kellogg alumni, Dave Baylis '97 and Vic Mattison '96, to celebrate the birthday of yet another Kelloggian, Kevin Fleming '99. Happy Birthday, Kevin!
2000-FT
Joe DeLuca
Along with many individuals within his company, Astrodyne TDI, Joe is helping to fight the global the coronavirus pandemic through the expedited manufacture and delivery of power supplies for ventilators and pulse oximeters. The New Jersey factory is operating seven days per week using social distancing precautions to produce tens of thousands of these devices for medical facilities around the world.
2000-FT
Chris Malin
Chris recently joined Rivian after almost five years at Google. He leads employment marketing, building the Rivian employer brand to attract and hire the adventurous thinkers who will help deliver their first electric vehicles to customers next June.
2001-FT
Rahul Kapoor
After 20 years in Enterprise, Rahul founded a SaaS startup three years ago. Contiq (www.contiq.com) provides buyer intelligence to enterprise sales and marketing leading to faster deal cycles and higher contract values. The journey has been really fun as the vision has resonated with the fortune 100 companies and deployments are going full speed in several of them. On the personal front, his hands are full supporting entrepreneurial endeavors of his college-going son (born when Rahul was at Kellogg) and a middle school "maker" daughter.
2002-FT
Eric Victory
After almost 19 years with MedImmune and AstraZeneca (same place he interned during Kellogg), Eric has left big pharma and taken a new position with Aurinia Pharmaceuticals, a Canadian company on the verge of launching its first product. Eric and his wife Susan live in Maryland with their three boys, the oldest of whom was born during the second year at Kellogg, and who is now headed to his freshman year of college.
2002-FT
Sarah Zehr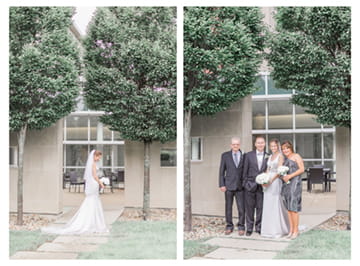 Sarah married Dan Gantz on August 1. While the ceremony was not what they originally planned, their families attended, and the ceremony was livestreamed. The reception will take place next year.
2003-FT
Benjamin Tisdell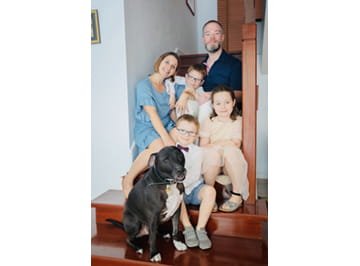 Ben (JD/MBA), his wife Alexis Siggers and their three children relocated to the Washington D.C. after seven years living in Asia. Ben oversees international loan workouts and other special situations for the International Finance Corporation, the private sector arm of the World Bank Group. Alexis is a high school special education teacher.
2004-FT
Derek Apanovitch
Derek has taken on a new role as chief executive officer of Global Safety Management, an environmental health and safety software as a service company. Derek continues to be based in Tampa with his wife Rebecca and three daughters. Prior to his new position, Derek spent over a decade building and leading an online healthcare education company.
2004-FT
Michael Comisarow
Mike and his family are happy to be back in Toronto (his ancestral home) after six years in Calgary with Credit Suisse. Mike runs Credit Suisse's infrastructure investment banking business in Canada.
2004-FT
Qiaoni Linda Jing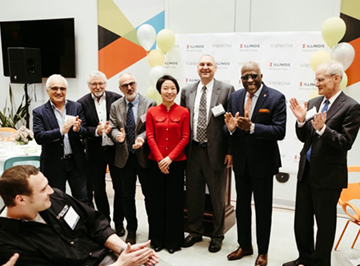 Qiaoni celebrated her first anniversary as president & CEO of Genective, a plant biotech JV of Limagrain and KWS, the largest seed companies in France and Germany, respectively, and the fourth and fifth largest in the world. In this past year, Linda relocated the global headquarters of Genective from Paris, France, to Champaign, Ill., and more than doubled her team in the U.S. Linda is glad to be back in Illinois and would be delighted to receive Kellogg visitors in Champaign.
2004-FT
David Youn
David is back in the country after a five-year stint working overseas and moving to Chicagoland. It will be great to be back near Kellogg since 2004.
2005-FT
Sam Mehta
Sam was recognized for his contributions as the founder of India Home Health Care and respected godfather of the home health industry in India. Sam led the creation and implementation of the specialized home healthcare nurse and caretaker paramedical model across the country. Today over 600,000 mostly young women from underprivileged strata work in the home care sector in India. Sam is also the vice chairman of Dr. Mehta's Hospitals in India and leads health investments for many funds.
2005-FT
Christina Wu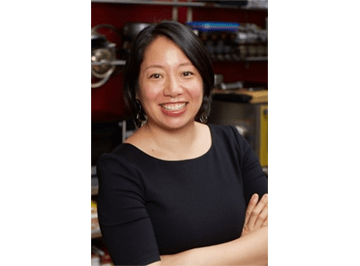 Christina is vice president of marketing in North America for Swiss chocolate company, Läderach Chocolatier Suisse. She started the position in 2019 after winding down her own startup chocolate company.
2006-FT
Kojo Appenteng
Kojo, Sam Ethiopia '06 and Clayton Virgil '06 have partnered to start The PAR Fund, a nonprofit organization dedicated to enhancing venture capital available to minority and female entrepreneurs. They have worked closely with the Kellogg Social Impact Center. They would love to hear from all alumni interested in this important topic.
2006-FT
Sonita Lontoh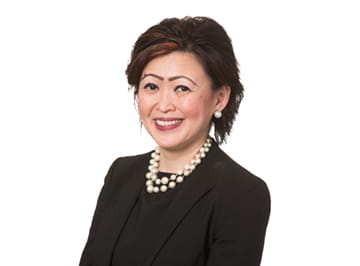 Sonita, CMO of HP's 3D printing and digital manufacturing, was inducted into the inaugural class of the Women in Manufacturing's Hall of Fame. The honorees were chosen among senior executives who have made exceptional contributions to the manufacturing industry and to the advancement of women. Honorees were also chosen for embodying the association's mission of supporting, promoting and inspiring women in the manufacturing industry. Sonita was chosen among 15 honorees that also include executives from GE, Toyota, Boeing and others.
2006-FT
Analiza Wolf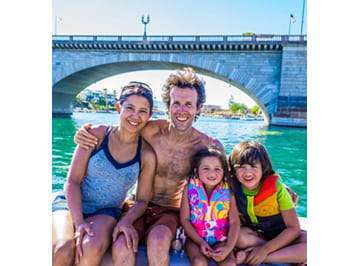 Trying to make the best of the coronavirus, Analiza and Alex Wolf '05 took their kids Bryson (8) and Scarlet (4) cross-country from New York to Arizona, traveling through 14 states camping, rock climbing, hiking and water skiing along the way. Alex transitioned from Bank of America to Mizuho in Treasury. Analiza is the executive director of Neighborhood Charter Schools in NYC.
2008-FT
Michael Beckmann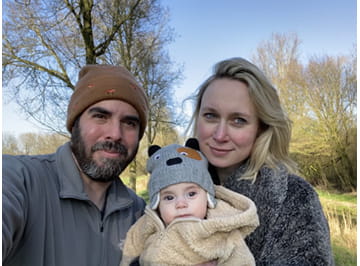 Michael launched CareVillage (carevillage.us) with his wife to help parents find and connect with nearby families to form the coronavirus-safe CarePods. CareVillage families use CarePods to home school together, trade-off watching each other's children while working from home, playdates and more. With millions of parents struggling with how they will balance working from home and schooling from home or wanting to provide safe social opportunities for their kids, CareVillage is helping them find support in their local communities.
2008-FT
Jacob Brauner
Jake and his wife welcomed their first child, Julian, on February 11 in Los Angeles.
2008-FT
Rebekah Scheinfeld
In March, Rebekah began a new role as CEO of Civic Consulting Alliance, a nonprofit that provides pro bono consulting services to government leaders and institutions to help make the Chicago region a better place for everyone to live in and work. The organization has played a central role during the coronavirus crisis, standing up 20 projects and leveraging more than $11M in services to support the region's response and recovery this spring. She's even partnered with other alumni, including Bradford Martin '08 and Nate Anderson '08!
2008-FT
Ruchi Watson
Ruchi was recently named managing director of the Goff Strategic Leadership Center in the David Eccles School of Business at the University of Utah. She also continues her position as a faculty member in the Department of Entrepreneurship and Strategy. Watson identifies her experience at Kellogg as a key factor in her choice to pursue a career in higher education. (Go Buckets!)
2009-FT
Alex Tenorio
Alex is now six months into a new role as executive vice president, development and donor engagement at the Silicon Valley Community Foundation. He's been excited to be part of a leadership team leading turnaround for the foundation. They've really focused locally, supporting philanthropy in San Mateo/Santa Clara County and the broader Bay Area. This turns out to have been incredibly important ahead of the coronavirus crisis and lockdown. It's a privilege to help corporate and individual dollars flow to those in our community who have been most affected.
Rey Bosita
Rey survived a five-day hospitalization for COVID-19. He is now completing his 18th year as a spine surgeon at Texas Back Institute in Dallas and using his MBA on startup medical ventures and calculating IRR on real estate investments. New skills include bread baking, grilling steaks and air-frying chicken.
2001-E&W
Erin Owen
Ever taken your kids on a world-schooling family gap year? Please share your ideas and advice. Erin, her husband Matt and two sons are traveling in the Americas and elsewhere as the coronavirus conditions and country entrance requirements allow for the 2020-2021 "school year" while working from their laptops. Contact her at erin@erinowen.com.
2003-E&W
Marsha McClary (nee Cotner)
Marsha, CDFA of Barrington, Ill., launched the firm ROI of Life specializing in holistic fee-only financial planning, analysis, investment advice and small business consulting throughout clients' life transitions including marriage, family planning, divorce, instant blended family and career pivots. Marsha is the founder of two startups with a breadth of finance and management experience. She is interested in women's empowerment initiatives and is a NextDoor neighborhood lead.
2003-E&W
Steve Wooledge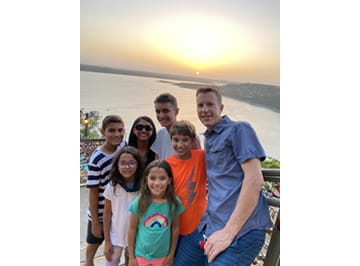 After 17 years in California, Steve and his family moved from San Jose to Austin, Texas. He is working as vice president of customer and partner initiatives for Alteryx, Inc., the leader in Analytic Process Automation software.
2005-E&W
Mike Turner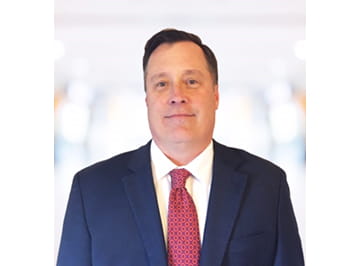 Mike was named president of the Utility Equipment Outfitters division of Nesco Specialty Rentals (NYSE: NSCO). Mike has had a 25-year career in distribution at Anixter Inc., where he held a number of leadership positions across multiple divisions in areas of management, sales and finance. Mike and his family will be relocating to the Fort Wayne, Indiana area.
2005-E&W
Michelle Worth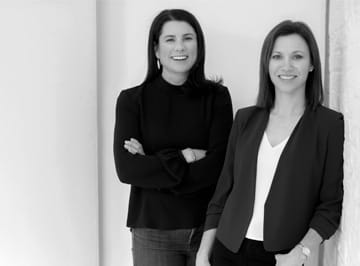 Michelle and co-founder Erin Vollmer have expanded the geographic reach of their pediatric therapy services business, TherapyWorks. TherapyWorks was launched in 2017 with the goal of making quality pediatric therapy more accessible and convenient for busy families. TherapyWorks provides pediatric speech, occupational, feeding and physical therapy and social work services via teletherapy. It now has over 100 therapists licensed in more than 25 states. You can learn more about TherapyWorks' services and therapists at therapyworks.com.
2006-E&W
Prashant Gupta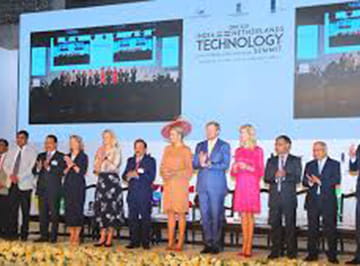 Prashant has introduced health AI collaboratives in cardiology, eyecare and pathology with a shared purpose of reducing disease burden. The work has received the HIMSS Asia Pacific Award, Frost & Sullivan Award and was recently cited at the UK Parliament Group on heart disease and in a 2020 United Nations report.
2007-E&W
Raj Datta
Raj is reshaping the future of cloud security as CEO and co-founder of oak9. The Chicago-based application security company uses intelligent automation and security-as-code to power faster and more secure development. oak9 signed pilots with their first three clients in the first half of 2020 and is currently finalizing their angel round of financing to accelerate product development and client growth.
2007-E&W
Timothy Jensen
Timothy moved to the central coast of California where he joined CoastHills Credit Union as CFO. He is thrilled to be back in California after 17 fulfilling years in Chicagoland.
2007-E&W
Christopher Paquette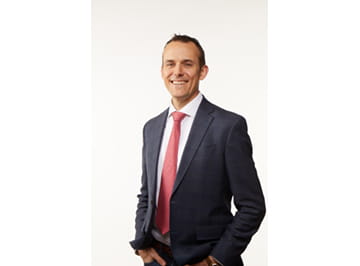 Christopher has joined national employee benefits provider Trustmark as senior vice president, chief digital and strategy officer. In this newly created role, Christopher will establish or enhance centers of excellence in strategy, digital delivery, data and analytics and marketing. He comes to Trustmark from McKinsey & Company, where he was a partner in the Chicago office.
2007-E&W
Mark Skroch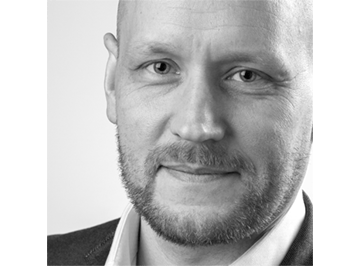 Mark recently started as the general manager of BCV Social, headquartered in Chicago with additional offices in Miami and Noida, India.
2009-E&W
David Hornthal
David and Erica Hornthal welcomed their second child, Michael Julius "MJ" Hornthal, on January 15. Big sister Samantha has been a huge help with her baby brother. David continues his work as president of Crosly & Associates, a boutique executive search firm in the analytics and data science industry. David uses his background as a data scientist to offer a one-of-a-kind recruiting service to his clients, which has included numerous Kellogg alumni.
2009-E&W
Kimberly Jackson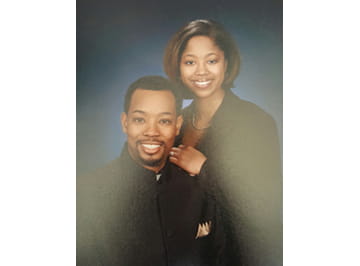 Kimberly lost her husband, Rev. Sirchester Jackson, at the age of 41 after living with sickle cell anemia. His obituary is on a memorial website (https://www.everloved.com/life-of/sirchester-jackson/) where you can share kind thoughts and memories or make a tax-deductible donation to the Sickle Cell Disease Association of Illinois in his memory. Since we are experiencing a global pandemic, there will not be an in-person service. He truly had a big heart, big faith and big vision. He will forever be missed and live in our hearts.
2009-E&W
Anisha Madan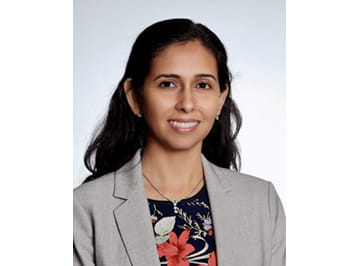 Anisha recently took on a new role as chief financial officer at emids, a PE backed healthcare digital transformation leader. Anisha and her family have been living in Atlanta since 2017 and are even more appreciative of all the hiking trails that Atlanta has to offer.
2009-E&W
Christopher Serb
In spring 2020, the Professional Football Researchers Association honored Chris with its annual Nelson Ross Award, recognizing outstanding achievement in historical research, for his 2019 book, War Football: World War I and the Birth of the NFL.