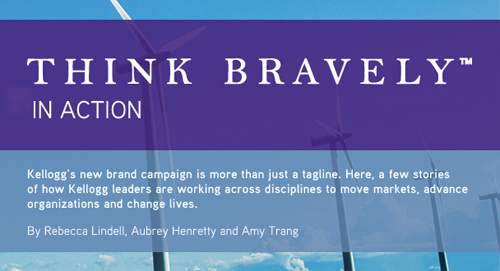 This summer, the Kellogg School launched a new brand campaign. Carrying the tagline "Think Bravely," this campaign articulates what the school stands for in today's rapidly changing environment. It communicates our values and relevance in the 21st century. It speaks to Kellogg's purpose — to educate, equip and inspire leaders who build strong organizations and leverage the power of markets for the betterment of all.

"This is so much more than a phrase," says Kellogg Dean Sally Blount. "Think Bravely speaks to a great legacy, a great future and a great community. It speaks to what it means to be a Kellogg leader."
"In business," she continues, "thinking bravely means that you are willing to challenge the status quo and take a stand on something in an unexpected or nontraditional way because you believe that change really matters. It means having the fortitude to push for change, forge the strong partnerships needed to make change happen, find the
humility to adjust your approach if needed, and yet still be ready to make the hard decisions."
Kellogg has long been known for pushing boundaries and challenging convention. We've always balanced the study of markets with management, valued people and analytics, and believed in the transformative power of organizations to address the most challenging problems confronting business and society. "Think Bravely" nods to this heritage and builds on it.
Examples of Kellogg leaders who think bravely can be found across disciplines, industries and sectors — from venture capital to government to social entrepreneurship
to finance and beyond. Here, a few of their stories.
---
"The brand messaging is more than just a clue to Kellogg's future. It just as aptly fits Blount's own leadership challenge to more bravely chart bold changes at one of the world's best business schools."
John Byrne
Poets & Quants
---
Faculty GIM trip to India
In December, faculty from across academic departments will have the opportunity to participate in their own global immersion inspired by students' Global Initiatives in Management course. The faculty group will visit four cities in India to meet with government officials, business leaders and alumni to gain a better understanding of the country's business environment. Exploring topics that range from marketing to economic policy to operations, faculty will use their findings to support future research and bring a greater international perspective back to the classroom.
---
Joshua Rauh
Associate Professor of Finance
"Very, very instructive and compelling." That's how a congressional senior policy adviser
described Joshua Rauh's research on state and local pension systems in the United States. A leading authority in the national pension fund debate, Rauh has made headlines with his predictions that without basic reform to the current pension system, many large state pension funds will "run dry," some as early as 2018. Rauh's research has been cited extensively in deliberations within the U.S. Congress, and has played a major role in national policy development.
---
"Thinking bravely means being humble enough to recognize that our talents are limited, but ambitious enough to believe that it doesn't matter.
When most people discuss change in the world, they talk about how to best respond to it. When my classmates discuss change in the world, they talk about how to best enact it."
Jesse Loubier '12
Student in the Full-Time MBA Program
---
Global Health Initiative
The Global Health Initiative is a partnership between private industry, nonprofit donors and academia to develop products that address health issues in underserved communities around the world. Through GHI, nearly 500 Kellogg students have worked to address issues such as diabetes in India and HIV/AIDS in Africa.
---
Peter Tan '83
CEO, Burger King Asia Pacific
Fast food giants don't scare Peter Tan. After scaling up McDonald's presence in China and overseeing some 75,000 people and 1,250 restaurants, Tan stepped up to an even bigger challenge: beefing up Burger King's brand in the Asia-Pacific region. Tan, who fundamentally views business success as managing people effectively, hired more experienced personnel into senior level positions, worked to drive operations excellence at the restaurant level and focused marketing efforts on Burger King's unique selling proposition: flame grilling.
---
"The new branding initiative at Kellogg reflects the unique strengths of the school. It is an authentic expression of our culture and our reputation, reflected in the faculty, students, staff and alumni, as well as in the leadership they have demonstrated, their commitment to innovation, and the tradition of collaboration they have created."
Greg Carpenter
James Farley/Booz Allen Hamilton
Professor of Marketing Strategy
---
Janice Eberly
John L. and Helen Kellogg Professor of Finance
Janice Eberly was recently called to Washington to shape America's economic policies. As assistant secretary for economic policy, Department of the U.S. Treasury, Eberly oversees the office responsible for analyzing data and developments in the U.S. and global economies and financial markets.
---
Jeff Ubben '87
CEO and CIO, ValueAct Capital
To most investors, a company with a plummeting stock price looks like a red flag. To Jeff Ubben, it looks like an opportunity. That's because Ubben invests in — and turns around — failing or undervalued firms, particularly those with intellectual property rights in healthcare, technology and information services. Ubben knows how to make changes that quickly generate value, and he differentiates himself as an investor by taking on illiquid assets and working with companies for a longer-than-typical period of three to five years.
---
NUVENTION
NUvention is an interdisciplinary program that teams Kellogg students with their counterparts at Northwestern's engineering, medical and law schools. Students create commercially viable business models in medical technology and experience the entire entrepreneurial lifecycle, from concept and prototype to business plan. Inc. magazine called the course one of the "10 Best Entrepreneurship Classes in America."
---
"What a powerful demonstration of the values that brought me to Kellogg. It's moving in its message and captures what we are authentically about."
Tom Hurley EMP-83
CEO of Becker Holding Corporation
---
John Wood '89
Founder and President, Room to Read
In the mid-1990s, John Wood was director of business development for the Greater China Region at Microsoft. In 1998, he left it all behind to lead a life of service. Room to Read began with a humble request to donate books to children in rural Nepal. Today, the nonprofit helps communities throughout Asia give children the resources they need to complete secondary school. To date, Room to Read has built 1,443 schools and 12,074 libraries, serving 6 million children across the developing world.
---
Roslyn Brock '99
Chairman, NAACP
An active member of the NAACP since her tenure as an undergraduate at Virginia Union University, Roslyn Brock became the civil rights organization's youngest chairman ever in 2010. Since then, she has introduced and led the Leadership 500 Summit, an initiative to recruit, train and retain a new generation of civil-rights leaders — and to encourage them to lend diverse areas of expertise to the NAACP.
---
"As a brand-new student, this confirms every reason why I chose to study at Kellogg. This  direction is inspiring, important and magnetic."
Casey Bankord  
Student in the Part-Time MBA Program
---
Kellogg Innovation Network
Convening global leaders in business, government, nonprofits and academia, the Kellogg Innovation Network (KIN) promotes prosperity through innovation. Founded in 2003, KIN provides leaders with an ongoing platform from which they can share challenges and solutions. KIN delegates, for example, have contributed to the Icelandic government's innovation-focused strategy for growth, raised funds to build women's business centers in Africa, and created partnerships to improve health education and treatment in rural India.
---
John Schweiger '03
Strategic Planner, U.S. Department of State
Before John Schweiger was a counterinsurgency expert for the U.S. Department of State, he was learning how to undermine insurgents firsthand in Afghanistan. A former U.S. Marine, Schweiger spent his first few post-Kellogg years working for USAID in Nangarhar Province, Afghanistan, where his job was to convince the local population that the United States and its allies had "a much better value proposition than the Taliban." In 2006, he returned to the United States to co-author a counterinsurgency manual for the Department of State.
---
Angela Lee
Mechthild Esser Nemmers Professor of Marketing
Angela Lee thinks unconventionally about how consumers think, and how their emotions and goals affect their choices. She also thinks about the impact that marketers can have on the world beyond products and profit. A consumer psychologist, she researches consumer motivation, cross-cultural consumer psychology, and non-conscious influences of memory on judgment and choice.
---
"We are in rapidly changing times and they're troubled times. So 'Think bravely' says that we should be proactive and creative and take some risk, but sound risk."
Philip Kotler
S.C. Johnson & Son Professor of International Marketing