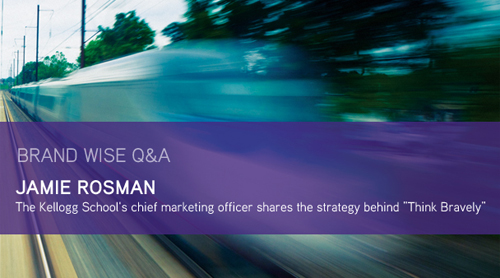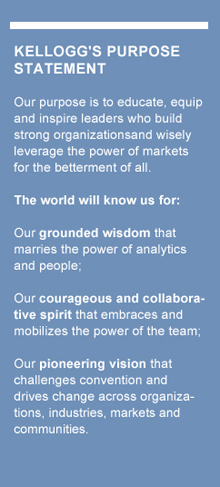 After many months of planning, research and creative development, Kellogg's Marketing & Communications team unveiled the school's "Think Bravely" campaign this summer. Jamie Rosman, Kellogg's chief marketing officer, talks to Kellogg World about the campaign's language and strategy — and how it mirrors the school's incredible legacy and role in the 21st century.
How does the concept of "Think Bravely" connect to
Kellogg's strategy?
"Think Bravely" is a way to demonstrate who we are, what we stand for and, most importantly, where we are headed as an institution. It is an essence and mindset that complements Kellogg's purpose statement (see sidebar), and serves as a guidepost.
Why was new language identified to articulate the Kellogg brand?
We feel that the "Think Bravely" positioning more clearly describes and stakes Kellogg's value proposition in today's environment. Kellogg has always balanced the study of markets with management, and has always valued both people and analytics. And we've believed in the power of the team in addressing the most challenging problems confronting business and society. The campaign nods to this heritage and pushes forward, articulating our belief that business can be bravely led, passionately collaborative and world changing. The idea extends across disciplines and sectors, encompassing for-profit, nonprofit and governmental entities.
We couldn't have gotten this campaign launched without critical support from
administrators, faculty, students and alumni who, like me, believe Kellogg is a special
and distinctive brand.