Reading for the Road
Hitting the road for business? Consider bringing along one of these top management books — all penned by Kellogg faculty.
Covering topics ranging from family business to corporate reputation, these books offer cutting-edge concepts to help advance your enterprise and professional development.


The Dieter's Paradox: Why Dieting Makes Us Fat
By Alexander Chernev, associate professor of marketing

With a rush of nutritional messaging bombarding consumers, eating healthfully should be an easy feat, right? Not so, says Chernev, a leading expert on consumer behavior. While we now have more nutritional information at our fingertips than ever before, a lingering disconnect between information and consumers' ability to translate the data into goal-focused behaviors threatens any positive change. Knowledge, not information, stands as the essential ally in one's quest to eat healthy.

Family Business as Paradox
By John L. Ward, clinical professor of family enterprise, Amy Schuman '05 and Stacy Stutz '99

Whereas family enterprises breed emotion and unconditional acceptance, much of the business world, so grounded in capitalistic ventures, shows no such mercy. Recognizing this unique dynamic, Ward and his Kellogg alumni co-authors, Schuman and Stutz, propose a family business model rooted in solutions that both honor past contributions and promote the necessary change to survive and thrive in an evolving business climate.

From Values to Action: The Four Principles of
Values-Based Leadership
By Harry Kraemer '79, clinical professor of management and strategy

Profits and responsible corporate leadership need not be exclusive entities. With self-reflection, leaders know who they are and where they want to be; with balance, they understand diverse perspectives; with self-confidence, they understand their abilities; and with humility, they recognize their limitations. And by having all of those principles in place, Kraemer contends, leaders can drive sound governance and the bottom line.

Grow from Within: Mastering Corporate
Entrepreneurship and Innovation
By Robert Wolcott, senior lecturer of entrepreneurship and innovation, and Michael J. Lippitz

Entrepreneurship need not be limited to capital-starved, daydreaming startups; in fact, established corporations can — and should — join the innovation game. Wolcott, founder of the Kellogg Innovation Network, teamed with senior research associate Lippitz to study corporate entrepreneurship at more than 30 companies. The result? A captivating array of research and real-world examples that remind existing companies that they, too, can build innovative new businesses.

Kellogg on Marketing
Edited by Alice M. Tybout, the Harold T. Martin Professor of Marketing; Bobby J. Calder, the Charles H. Kellstadt Professor of Marketing; and Philip Kotler, the S.C. Johnson & Son Professor of International Marketing

A second edition to the decade-old tome, Kellogg on Marketing explores marketing's fundamental principles as well as its emerging trends. While original sections on the development and implementation of marketing strategy have been updated, a third section on contemporary marketing issues provides the book its modern-day relevance, thanks to a hearty mix of cutting-edge academic research and real-world examples. It features more than 60 percent new content.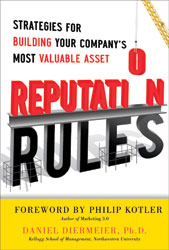 Marketing 3.0: From Products to Customers to the Human Spirit

By Philip Kotler, the S.C. Johnson & Son Professor of International Marketing
According to Kotler, marketing is no longer a simple game of see a need, fill a need. Today's marketing demands a richer, deeper connection with consumers. In his 47th book, Kotler says consumers want solutions that enhance the world. As a result, Marketing 3.0 requires brands to define their values, integrate those values throughout the business and then communicate that mission to their audience.

Reputation Rules: Strategies for Building Your Company's Most Valuable Asset
By Daniel Diermeier, IBM Professor of Regulation and Competitive Practice

In the age of a nonstop news cycle, a company's positive reputation can be shaken — even shattered — with one misstep. According to Diermeier, a company's reputation must stand as a critical priority layered throughout a company's operations. Diermeier identifies the best practices for avoiding reputation-crushing risks, including building trust with social responsibility efforts and reinforcing a company's culture even amid struggles.

Reversing the Slide: A Strategic Guide to Turnarounds and Corporate Renewal
By James Shein, clinical professor of management & strategy

Throughout the recession, operating and financial problems plagued hundreds of companies big and small, but Shein says distressed companies can be saved with the right combination of action and strategy. A noted turnaround expert, Shein details both the stages of decline and, more importantly, the strategic, operational and financial changes needed to spur a rebound.