Dean Emeritus Donald P. Jacobs reflected on the Kellogg School and its distinguishing qualities during his Oct. 10 remarks at the Kellogg Centennial Gala. Jacobs joined the school in 1957 and was its dean for 26 years.
All photos © Nathan Mandell

Kellogg is an 'economic engine' for Chicago, said Chris Kennedy '94, president of Merchandise Mart Properties, who also was the Gala's chairman.
Black-tie event brings together generations of supporters to honor school's tradition of management excellence, as Dean Jain outlines next steps
By Matt Golosinski
A familiar whistle interrupted the dinner discussion of about 600 guests at Chicago's Museum of Contemporary Art on Oct. 10.
Most of the audience — Kellogg School alumni, faculty, staff and friends who had gathered to celebrate the school's Centennial Gala — immediately recognized the sound, and the man at the podium. And well they should: For 50 years, Dean Emeritus Donald P. Jacobs has been helping build Kellogg into a global management education leader.
During that time, including his 26-year tenure as dean, Jacobs' sharp whistle had called to order countless faculty meetings and conferences, or had focused the attention of enthusiastic students to signal the start of a class.
On this night, the sound seemed like an old friend's customary salutation, and it was met with warm approval and applause.
Looking over the formally attired audience, Jacobs beamed: "This is a fantastic evening for me." A finance scholar who joined Northwestern University in 1957 and held the Kellogg deanship from 1975 until 2001, Jacobs added that everyone involved in supporting the school could feel proud. "Kellogg is a very special place," Jacobs said of an institution that began in 1908 as a modest part-time program in Chicago's Loop.
He credited the school's unique culture as its key differentiator, saying that Kellogg had attracted exceptionally bright students, faculty and staff who also demonstrated genuine compassion for others.
The Gala itself underscored that claim, as generations of influential graduates and friends mingled with professors and administrators for a black-tie evening that included live music, fireworks and a video profile of three illustrious Kellogg alums. Another video highlighted the school's philosophy and mission, which involves creating leaders who make contributions of lasting significance.
In his remarks to open the Gala, Chris Kennedy '94, emphasized another distinctive component of the school — its pioneering approach to collaborative learning. "In teaching teamwork," said Kennedy, president of Merchandise Mart Properties, "Kellogg teaches you that working well with others is a show of strength."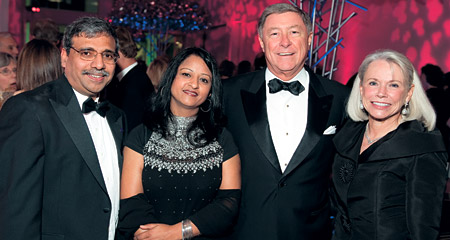 At the Gala, from left, Dean Dipak C. Jain, Sushant Jain, W. James Farrell (Kellogg Dean's Advisory Board chairman and retired chairman and CEO of Illinois Tool Works) and Maxine Farrell
Kennedy also praised the school for "revitalizing" Chicago by serving as an "economic engine" for the entire region and said that Kellogg, by embracing new ideas, had offered the city a visionary academic partner. Along with a passion for innovation, he said, Kellogg provided members of its community with new friendships and a powerful global network. "The great lesson of this school is that you can't do it all alone," Kennedy added. "Kellogg has changed me forever."
Reinforcing this idea of connection was Dean Dipak C. Jain, who concluded the evening with an address that was by turns humorous, reflective and gracious, while also offering a vision for where the school would go next.
Jain touched on his personal journey, whose improbable course had brought him from Tezpur, India, to graduate studies in mathematics at the University of Texas (Dallas), before an adviser counseled him to consider a marketing career. After earning a doctorate in that field, Jain said he was fortunate to be accepted to Northwestern University's faculty, a situation that would later result in him becoming associate dean of academic affairs, working alongside Jacobs for five years. The experience prepared Jain himself for the deanship, which he assumed in 2001.
His story, Jain said, illustrated how special Northwestern and Kellogg are: "Kellogg was a place that took a chance on a person like me," he noted, offering his thanks to the university's president, Henry Bienen. Jain also acknowledged the central part played by the school's senior associate deans and its many staff members and their families.
Looking forward, Jain said Kellogg would continue to define the vanguard of management education by focusing on academic excellence and leadership. But he also said Kellogg must redefine the scope of the MBA degree through a curriculum that encourages students to think "beyond business" and conventional notions of success to make real breakthroughs that impact society. Problems such as poverty or environmental and healthcare crises were among those that he said Kellogg expertise could help solve.
As evidence, the dean referred to Andrew Youn '06, one of the Kellogg graduates featured in a video documentary shown at the Gala. Youn is founder of The One Acre Fund, a nonprofit he started while enrolled at Kellogg. Its mission is to mitigate hunger crises in Kenya and other African nations by providing resources and training that enable farmers to practice sustainable agricultural methods. Since its inception, One Acre has earned critical praise for its work with hundreds of farm families.
One of those supporting Youn's efforts is veteran entrepreneur Larry Levy '67, founder and chairman of Levy Restaurants and chairman and CEO of The Levy Organization. He and his wife attended the Gala.
"Carol and I were thrilled to see Andrew and his wonderful social entrepreneurship work featured as an important part of the Centennial Gala," Levy said. "Knowing that The One Acre Fund started as a business plan in the Kellogg Entrepreneurship Program and is today making great strides to eradicate poverty in three African countries inspires us about what lies ahead for Kellogg."
A longtime supporter of Kellogg and its entrepreneurship curriculum, Levy added that it's been amazing to see the school evolve into "the most-respected graduate school of business, with a worldwide community of multicultural students and alums." He praised Deans Jacobs and Jain for their visionary leadership.
Others, including Sophia Siskel '99, CEO of Chicago Botanic Garden, were equally impressed with the Gala, calling it a wonderful evening. "My husband and I were struck by the message of responsibility to others — colleagues, family, government, those less fortunate — that was sincerely stated by all three speakers," Siskel said. "I had never before traced my commitment to public service and social responsibility to Kellogg, but now I see how much the Kellogg ethos has impacted my work."
Dean Jain summarized the accomplishments of the school over the last century, noting the "dynamic teachers, practitioners, students and others who created a bold academic community eager to solve real problems." From here, though, he said, "We go on to new heights, as we pursue success and significance. Our task now is to bring Kellogg into a new era." He called on supporters to help Kellogg meet the challenges of the next century.
Many in the audience had long been engaged with Kellogg and saw the Gala as an opportunity to build on existing successes.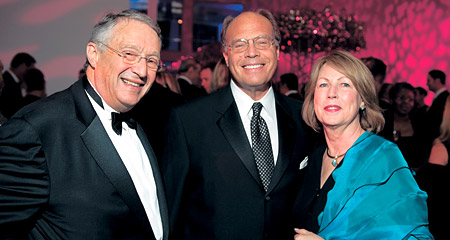 Gordon Segal '60 (co-founder, with Carole Browe Segal, WCAS '61, of Crate and Barrel), Clinical Professor of Management and Strategy James Shein and Jane Shein
"Those of us who have been supporters over the years were impressed with the large turnout, which is a sign of continuing interest in the school," said Homer J. Livingston Jr., retired president and CEO of the Chicago Stock Exchange. In addition to being a Kellogg donor, Livingston is the father of two Kellogg graduates, Liz Livingston Howard '93 and H. John Livingston III '93. "The dinner was a very successful way to reconnect with past Kellogg graduates. The effort now is to take advantage of the renewed interest in the school that has been generated."
Liz Livingston Howard, lecturer of social enterprise at Kellogg, shared her father's enthusiasm, remarking that the Gala was a wonderful forum to celebrate what is special about the school. "It was a tribute to all that has been accomplished by Kellogg students, alumni, faculty and administrators," she said.
After dinner, guests mingled on the museum's patio where they viewed a fireworks display, while a band coaxed attendees onto a nearby dance floor as the party continued into the night.
"The festiveness and enormous support evidenced for Kellogg at this outstanding gala speaks volumes about the school's accomplishments over the past 100 years," said Kenneth Chalmers '51, retired executive vice president of Bank of America. "It certainly signals Kellogg's intention to retain its leadership position as it starts another century of spectacular progress."
The Gala kicked off a season of Centennial initiatives, including upcoming signature events — thought leadership forums that will feature insights from Kellogg professors and senior alumni. Events are scheduled for Chicago, New York, Miami, Zurich and Shanghai, with additional social events scheduled for Chicago, London, San Francisco and Mexico City. For details, visit centennial.kellogg.northwestern.edu, where you will also find a link to additional photos from the Gala.