Kellogg students discover global perspective, understanding through EMBA program's flexibility and international opportunities
By Romi Herron
A defining moment for Jason Chen occurred at China's Zhongshan University when the undergraduate student read a book that would leave an indelible mark on his educational and professional ambitions.
The book, Marketing Management, was written by Kellogg School marketing icon Philip Kotler, the SC Johnson & Son Distinguished Professor of International Marketing, and the work's impact was life changing for Chen.
"I was so completely intrigued with Kotler's modern marketing [concepts] that I wanted to be a marketer, [and] as a business practitioner to change the world," recalls Chen, who studied chemical engineering and economics at Zhongshan, since marketing was not offered in China at the time.
Years later, following several senior executive roles with GE, it was a brief stint managing the company's $1.8 billion U.S. services portfolio in Waukesha, Wis., that brought Chen in proximity to the Kellogg School. He made the most of that opportunity and in January 2005 enrolled in the school's Executive MBA Program. In August of that year, Chen met the man whose writing inspired him more than a decade ago, just days before Chen departed for Beijing and his new role as general manager of a $600 million GE operation there.
| | |
| --- | --- |
| | |
| Tom Liu '04 | |
| | |
| | |
| Jason Chen'06 | |
| | |
"The global reach of Kellogg has allowed me to capitalize on global business opportunities without disruption of my studies," says Chen '06, noting that the Kellogg School partnerships with schools worldwide, including at the Hong Kong University of Science and Technology, facilitate an integrated portfolio of management offerings. As a consequence, Kellogg students enjoy the same quality leadership curriculum regardless of whether they are pursuing their MBA in Evanston, Miami, Toronto, Germany, Israel or China. "Two days after I presented my GE transfer situation to Kellogg administration, they created a great proposal for me which included completing my final term in the Hong Kong program and returning to Evanston to graduate with my classmates in December," says Chen.
Another highlight of the Kellogg curriculum helped shape Chen's international business perspective: the Global Initiatives in Management (GIM) course brought Chen to China for an academic excursion.
"[Assistant Dean and Adjunct Professor of Marketing] Rich Honack did a phenomenal job exposing students to various facets of China and providing a gateway for them to expand into further exploration," says Chen, who hopes to serve as a liaison for future GIM China trips and create partnerships and connection for Kellogg with China's business and academic communities.
Also enriched by the Kellogg School's international study opportunities, Aihong "Annie" Zhan founded SkyBridge Consulting in 2005, one month before graduating from the Kellogg-HKUST Executive MBA Program. The company provides business consulting services to overseas companies looking to develop business channels and strategies in the greater China market.
Though she says her academic foundation from Kellogg is invaluable when she creates business plans for investors and strategy proposals for clients, it is her international Kellogg connections that make the most significant impact in her professional life.
Specifically, an exchange opportunity that brought her to the Kellogg School's EMBA partner in Tel Aviv, Israel — the Leon Recanati School of Business —enabled her to form strong ties for professional collaboration and enriching personal friendships, she says.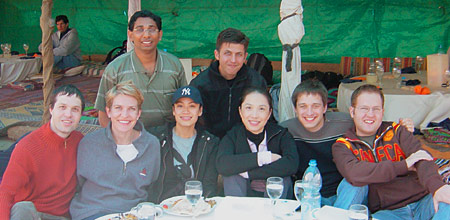 Annie Zhan '05, front row, third from right
"In Israel, the students I met were warm hearted and hospitable, and the learning environment provided not only challenging group discussions and assignments, but class negotiations and experiences in the local culture," Zhan says. In fact, so taken was she with the experience that the following year she returned to Israel on business, surprising her Israeli classmates by dropping in on their monthly Kellogg gathering. The meeting allowed Zhan to introduce her client to her Israeli contacts and bolster his confidence in her networking abilities.
"No matter where I travel, I have Kellogg connections who introduce me to their culture and world of business," Zhan says.
Similarly, San Francisco-based Tom Liu, who is now vice president, Asia-Pacific, for Aeroscout Inc., says he enrolled in the Kellogg-HKUST EMBA program to expand his Chinese network in China.
"I went from holding a Silicon Valley-centric view of the world to a wider pan-Pacific business perspective," says Liu, a 2004 graduate of the Kellogg School. "Traveling two weekends per month for the Hong Kong program forced me to be more disciplined with scheduling business meetings, and the resulting, more predictable schedule of my Asia travels allowed me to join a business advisory board of a publicly traded technology company in Taiwan." His Hong Kong classmates have introduced him to credible potential partners and his company is now considering a Hong Kong subsidiary, he says.
Now that Chen has settled into his new role in Beijing, he sees the values and frameworks he learned in the Kellogg EMBA program are critical.
"We're living in a turbulent world with constant change and unprecedented opportunities, along with global reintegration and readjustment to emerging economic power in regions like China and India," Chen says. "It is more important than ever to have the business foresight and leadership integrity to successfully navigate through and capitalize on this challenging new arena. Kellogg has prepared me well to cope with this journey."