Celebrating 30 years of excellence and innovation, the Kellogg School EMBA program has grown from a scrappy local upstart into an elite international management phenomenon
By Rebecca Lindell
The GSB's Bud Fackler, every inch the elder statesman in a three-piece suit and tie, strode forth and greeted Ken Bardach, his invited guest.
This was no social visit. Bardach was the recently announced director of the new executive MBA program at Northwestern, an initiative set to launch that fall. The program would compete directly with the GSB, which since 1943 had operated the oldest and most highly regarded EMBA program in the country
Fackler, the GSB program director, was deeply curious about the young upstart's plans.
"Do you really think you have a chance in the executive MBA market?" Bardach recalls Fackler asking. "You're going up against the University of Chicago. We own this market. Why do you think you are going to succeed?"
Bardach listed the new program's advantages: "We have a great faculty, location and curriculum. Of course we are going to succeed."
"I like your spirit," Fackler said. "At the University of Chicago, we really believe in competition. I think this will make both of us better."
Bardach squared his shoulders. "Let me make this very clear, sir," he said. "We're not just going to succeed; we are going to dominate this market."
"I love it!" Fackler said. "You're really an entrepreneur. Tell me," he asked, studying Bardach. "Do you have any questions for me?"
Bardach paused. As a matter of fact, he did have questions, enough to keep the old gentleman talking for hours. He dove in, quizzing Fackler on issues great and small. "How do you make sure your applicants' transcripts are in? How do you keep track of admissions? How do you get your faculty to coordinate and work together?"
Fackler chuckled. He led Bardach on a tour around his school's executive MBA facilities as he shared his knowledge. The two shook hands as they parted.
That rapport didn't dull the sharp spirit of competition between the two programs. Within seven years, enrollment at the University of Chicago's executive MBA program had shrunk by half, while Northwestern's had doubled. As Bardach promised, the new EMBA program at Northwestern had overtaken its South Side rival, and was on its way to becoming the most respected EMBA offering in the world.
| | |
| --- | --- |
| | |
| | Today, the Kellogg School's academic reach is global, including an EMBA program in Hong Kong. Here, Finance Professor Vidhan Goyal teaches Kellogg-HKUST students. |
| | |
Finding a vision
The story of how the Kellogg School built its executive MBA curriculum from scratch into the pre-eminent program of its kind is one of doggedness and chutzpah. It is also a story about listening: to companies, competitors, and above all, customers.
The champion of that process was then-Dean Donald P. Jacobs, who assumed leadership of Kellogg in 1975. From the beginning of his tenure, Jacobs made executive education one of his top priorities.
"Don found a vision," says Bardach, now the associate dean and the Charles and Joanne Knight Distinguished Director of Executive Programs at the John M. Olin School of Business at Washington University.
"Executive education wasn't just a program; it was a vision of where he wanted to take the school. It was built on the idea of continual improvement and continually listening to the customer, designing a strategy and tweaking that strategy, and convincing the faculty of the viability of the vision."
Kellogg already offered a number of short-term, non-degree programs for executives. But Jacobs knew there was more for them to learn. With the economy of the 1970s in a tailspin, many mid-career professionals were hungry for the credibility and knowledge an advanced business degree could provide.
The faculty, in turn, would gain immensely from the exposure to current business issues. Executive feedback would help sharpen their teaching and ensure that lessons were relevant. The benefits would accrue to students in every Kellogg program.
How to compete with the behemoth to the south posed a challenge Jacobs relished. He had noted that the University of Chicago taught more or less the same curriculum to executives as it did to those in the full-time program. Jacobs saw that as a golden opportunity to re-invent the MBA experience.
"These were mid-career executives, not students in their twenties," Jacobs says. "Because they didn't have an MBA, they needed to be brought up to snuff in some areas. But in other areas, we could take them even farther. We could take advantage of the maturity of these executives who wanted to learn."
The solution was to create a modular curriculum, with each course broken down into five-week segments. After a Live-In Week at the start of each year, 24 such modules would be taught on weekends over two years. The system allowed professors to tailor the core MBA courses to the needs of executives.
"It was a highly integrated curriculum," Bardach recalls. "The professors would talk to each other about what their needs were. The Kellogg faculty has always been very collegial and willing to work as partners. The EMBA curriculum took full advantage of that."
With the curriculum in place and a faculty that had caught the fire of Jacobs' vision, the Executive Master's Program, or EMP, as it was called, was ready to debut. All it needed was students.
The effort to wrest a piece of the market from the University of Chicago took all the charm, savvy and salesmanship of the Kellogg team. Word went out to friends and alums that Northwestern was now offering an EMBA. When Jacobs spoke to corporate boards in the Chicago area, as he often did as dean, he used the opportunity to sell the EMBA program. Ads in the Chicago Tribune and The Wall Street Journal also played a part in recruiting.
In the end, the school assembled an inaugural group of 52 professionals, who reported for class on the sixth floor of Leverone Hall in September 1976.
"We didn't have the Allen Center in those days," Jacobs recalls. "We didn't have a cafeteria or anything. We'd bring in food from a deli and call that lunch. At night we'd go out to restaurants all around Evanston. We kept innovating. We had a great time."
Raising the bar
By the early 1980s, it was clear those innovations had wrought something special. The applicant pool was growing. The school was offering two EMBA programs simultaneously, geared toward the needs of local students and those who traveled frequently. The James L. Allen Center — a state-of-the-art building dedicated to executive education — had opened in October 1979. Its success was inspiring the construction of similar facilities at rival schools nationwide. Still, the effort was always on to improve. "Don Jacobs was remarkable and very smart in the way he went about this," Bardach recalls. "He kept asking the students, 'What else can we do to make this better?' He kept probing and probing and probing.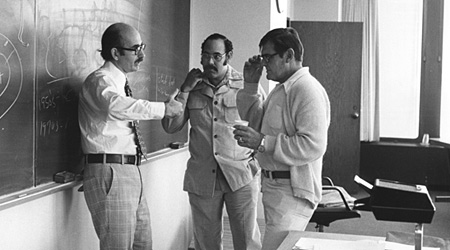 Continuing a discussion about marketing after class, Professor Philip Kotler talks with two executive students in 1976, the inaugural year of the Kellogg EMBA program.
"He was never complacent. He listened to the customer, identified their spoken and unspoken needs and wants, and responded with creative solutions."
By the middle of the decade, the EMBA staff was led by Associate Dean Ed Wilson, himself a 1984 graduate of the program. Wilson and his staff refined the EMBA experience, incorporating as many elements of the collegial "Kellogg culture" as possible. That included a student government, a partners' program, a speaker series, and other activities to build camaraderie. The self-contained quality of the Allen Center enabled students to continue their conversations and group work at all hours of the day.
"We always told ourselves we were admitting one student at a time," says Wilson, who directed the program from 1984 until 1999. "Each student who enrolls honors us with his or her presence. It's our responsibility to make sure we make their experience the best it can be."
As always, that meant listening.
"The students would say, 'Ed, you have to build the character and quality of the EMP experience.' 'Ed, is there a way we can have a Special K or a GIM program?' They asked if they could have their graduation in the Millar Chapel with a speaker of note. I'd say, 'Well, how do we do that? Can you help?' They would come up with wonderful ideas for how to make this place better. They were always grateful that we didn't shut the door."
By then, the number of executives seeking their MBAs at Kellogg had risen from about 210 to about 300 per year. The small, tightly knit Allen Center staff grew ever more adaptable.
"Sometimes you'd see a staff member running from one part of the building to another," Wilson says. "I would say, 'Stop. When you run, it looks like you aren't in charge. Walk, never run!' we reminded each other.
"I guess we flew by the seat of our pants a little," recalls Wilson, now retired. "But in time we began to believe in ourselves, too."
Shortly thereafter, a third EMP section per year was introduced. This one was geared to managers across the country and drew some overseas students as well. It became known as the North American Program, and classes met on alternating weekends instead of alternating Fridays and Saturdays. The enrollment in EMP now exceeded 400.
The global leader
By the 1990s, the Kellogg EMBA program was firmly established as the global leader in executive education. In 1991, it had topped BusinessWeek's list of 35 executive MBA programs, a designation it has retained ever since.
The Allen Center had undergone four renovations, boosting its initial capacity of 64 rooms to 150, allowing the school to offer three concurrent EMBA programs each year. Students traveled from as far away as Asia to obtain the Kellogg EMBA degree.
The business world had become increasingly global. Constantly seeking new horizons, Kellogg announced plans to form joint programs with several institutions overseas to offer an international MBA degree.
In 1996, the school established partnerships with the Recanati Graduate School of Management at Israel's Tel Aviv University; WHU-Otto Beisheim Graduate School of Management in Vallendar, Germany; and the School of Business and Management at the Hong Kong University of Science and Technology in China. Launching the programs required the school to put into practice many of its own ideas about strategic alliances. Concepts about partnership, team leadership and innovation came into play as the school reached around the globe to create a new, international learning experience.
The Israeli program was the first of the joint ventures to debut. Wilson remembers it as an "extraordinary" effort on the part of Kellogg and Recanati.
Erica Kantor, who was EMBA's associate director at the time and served as director from 1998 until 2003, says, "It was an attempt to create a place and a classroom where different groups from all over the Middle East could come together and have one common goal — to learn about doing business.
"Don Jacobs and Recanati Dean Israel Zang created an environment that required students to leave their political beliefs at the door and work together in the classroom. Teamwork took on a whole new meaning."
The strife in the region has not dimmed that concern for the greater good, adds Kantor, now assistant dean of executive education. She notes that both Kellogg and Recanati have been "very protective" of the cooperative spirit in the classroom.
That attitude pervades the other joint programs as well.
"An EMBA student is an EMBA student," Kantor says. "No matter where they live, they all have the same wants and desires and they all want to be a part of Kellogg."
Still listening and still looking forward, Kellogg launched yet another international EMBA program earlier this year, in Miami. The program draws students from across Latin America.
Now, as in the beginning, the Kellogg School's leadership continues to listen closely to its customers, providing the tools for success.
"Given the force of globalization, it is important for executives to have a global mindset — and to refine the frameworks that enable them to compete in this environment," says Kellogg Dean Dipak C. Jain. "With our integrated portfolio of offerings, the Kellogg School makes it convenient for executives on any continent to develop the skills of world-class leadership."