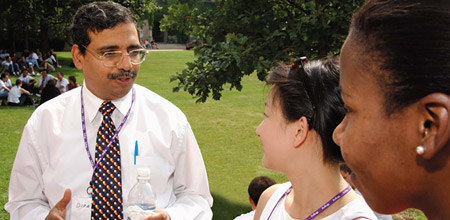 © Nathan Mandell
At the faculty BBQ, students have the opportunity to speak informally with Dean Dipak C. Jain and other faculty members.
CIM Week sets great expectations
Team leadership, tradition on display at annual Kellogg School orientation event
By Lisa A. Ditkowsky
Whose family do you know that includes a tango-teaching U.S. Navy submarine officer, a Chinese actress, television producers, musicians, athletes, a Tokyo runway model, an Egyptian oil rig worker, an Amazonian coffee laborer and the founder of a wild animal theme park?
The Kellogg School family now includes these eclectic personalities among its aspiring global business leaders. All 530 of the school's incoming students met their new extended family during Conceptual Issues in Management Week 2002 (CIM, pronounced sim).
© Nathan Mandell
Left to right: Joe Dondalski '84, Darrell "DJ" Jackson '84 and John Tomaszewski '98 were among 30 alumni who spoke with new students during the CIM Week Alumni lunch. They discussed how students could get the most of their time at the Kellogg School.
"We have a culture here that is incredible," said Hossam Elbadawy '03. "Kellogg is the only school where people are moving together, where students feel that they are one body. It's a culture that invites people to participate."
Second-year students led the week's challenging team-leadership activities. The litmus test for Kellogg spirit arrived early via a rousing cheer-off. Each class section — from the Turkeys to the Big Dogs — boasted its proud new identity for points and prizes throughout the week.
The array of team-building games and field events helped generate instant camaraderie among the participants. "People really care about each other at Kellogg, and in a business environment you don't usually get that," said Jose Aragon '03, formerly an assistant professor of aerospace studies in the United States Air Force. "In the military there was always a cake on somebody's birthday, if not gifts. Similarly, at Kellogg you're part of the greater Kellogg family."
Dean Dipak C. Jain offered his assessment of the Kellogg culture with an acronym that spelled out "L-O-V-E," referring to the leadership, opportunities, values and ethics he said formed the Kellogg School foundation.
| | |
| --- | --- |
| | |
| | CIM Week provided a homecoming of sorts for Tom McNichols Jr. '82 (far left, pictured with, left to right, Dean Dipak C. Jain, Hooman Bahmandeji EMP-29, and Rob Zamacona '03). McNichols, executive vice president of Barton Beers Ltd. and son of the late Kellogg Professor of Management Thomas J. McNichols Sr. '52, sponsored a special CIM Week TG. |
| | |
"The more you lift up the people with whom you work, the more you also go up," Jain told the auditorium of first-year students. "The time has come for us to move from merely working in teams to living in teams."
Jain said the class can sustain Kellogg's acclaim while enhancing their own skills and ability to drive excellence in the business community. "If we can help the best companies sustain their leadership, that is a great honor for this school," said the dean.
These ambitious expectations didn't seem out of place during a week that was filled with passion, fellowship and anticipation of what the new academic term would bring.
"CIM Week sets the expectation for the whole year," said Jen McKnight '03, CIM chair.
The students' whirlwind schedules ranged from diversity and technology training to dance parties. "Kellogg does an excellent job of breaking down barriers quickly and helping students to feel part of the community," said Assistant Dean Michele Rogers. "The hope is that we're training people to be leaders not just within the business realm, but leaders in the larger community," added Assistant Dean Fran Langewisch. She and Rogers share the role of director for student affairs at Kellogg.
| | |
| --- | --- |
| | |
| Campbell Soup president and CEO Douglas Conant was a keynote speaker. | |
| | |
The class of 2004 also enjoyed a preview of the high-profile business leaders who frequently visit Kellogg when Bill Brodsky, chairman and CEO of the Chicago Board Options Exchange, delivered a keynote speech and fielded students' questions.
CIM Week organizers succeeded in displaying many of Kellogg's resources. Top-tier faculty, staff and technology, the intellectual capital of the alumni network, job banks, and smiling friends all greeted new students. But these cultural benefits were not given without certain expectations.
As emcee Rob Zamacona '03 told the incoming students, "You are inheriting a legacy, but it is incumbent upon you to leave one as well. This is now your world."