Braking for value
Ashleigh Patterson '12 slowed expansion at her alternative fuel company to focus on research and quality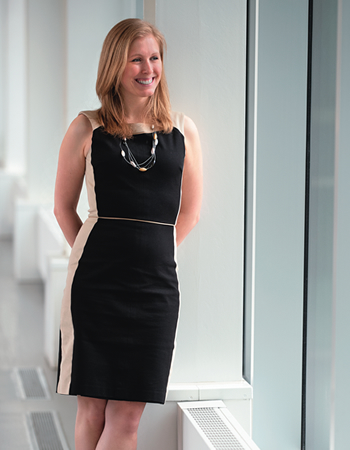 By Daniel P. Smith | Photo by Alan Maudie
For Ashleigh Patterson '12 and the alternative energy industry as a whole, the message is clear: Evolve or get guzzled by the competition.
When Patterson and her father Ian, a well-regarded innovator in the alternative fuels space, founded Viridis Technologies in 2006, the Toronto-based firm marketed its alternative energy dispensers in emerging markets across Southeast Asia. While Viridis captured early success, limited safety standards inspired a range of copycat competitors whose shortcuts and careless workmanship weakened Viridis' profitability and eroded its core business.
Viridis responded by doubling down in research and development, demonstration, and deployment on a key product that would differentiate the company from its competitors. The firm developed intelligent fueling technology using radio-frequency identification and cloud-based applications that restrict refueling to authorized vehicles, a move that reduces explosions caused by fueling substandard natural gas vehicles.
"We patented the new product and hibernated, reducing our staff and production capacity, with confidence that our investment in intelligent fueling would pay off," Patterson says.
Viridis emerged from hibernation last January with the opening of an Ohio factory manufacturing its core dispensers. Though Viridis is starting lean and heightening personnel and capacity only as demand increases, the new facility can produce up to 1,000 dispensers annually.
"The challenge is to maintain that speed of innovation and add people to our team who truly understand the impact we can have.
More importantly, the factory's opening underscores Viridis' potential to transform the swelling U.S. alternative fuels marketplace, one long lacking critical infrastructure. With eight intelligent fueling demonstration projects on the 2013 calendar, Patterson knows the challenge will be quickly commercializing its products – particularly as deep-pocketed competition, led by General Electric, intensifies investment in the dispenser marketplace.
"By having readily available product that meets the most stringent safety standards while offering advanced features similar to gasoline pumps, we are poised to become a dominant player," says Patterson, who was named to Forbes Magazine's 30 under 30: Energy list in 2011.
Nimble and possessing key industry contacts, Patterson says Viridis will continue assessing marketplace demand, production costs, government support and the qualifications of local partners as it pursues growth. She sees rich opportunities for Viridis to create game-changing innovations that shake the alternative fuels world.
"The challenge is to maintain that speed of innovation and add people to our team who truly understand the impact we can have," Patterson says.