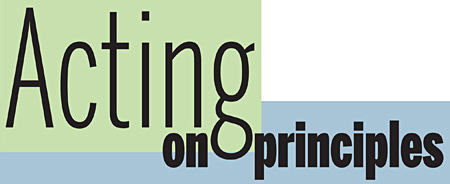 Students turn learning into leadership through hands-on Kellogg courses
By Rebecca Lindell
| | |
| --- | --- |
| | |
| | Saqib Nadeem '05 with some clients at Paradise 4 Paws, a venture he started in a Kellogg class Photo © Pink Parrot Photo Inc. |
| | |
The premiere pet hotel, which features massage services, flat-screen TVs and an in-ground wading pool for its four-legged clientele, has been featured in BusinessWeek, on "The Today Show" and elsewhere. Many of those who have booked stays for their dog or cat at the resort near Chicago's O'Hare Airport are already repeat customers.
But without the Kellogg class Entrepreneurship and New Venture Formulation, Nadeem's idea might never have happened. Indeed, by the time Nadeem graduated, he had already written his business plan, composed his elevator pitch and met potential investors who urged him on.
"It was a very real-life experiential class," Nadeem says. "It was a lot of work, but it was worth it. It helped me develop a plan that I could actually implement."
"Experiential learning" has become a hot phrase in education. Graduate and undergraduate schools alike are offering a growing array of opportunities for students like Nadeem to gain hands-on experience, but few institutions have taken the concept to heart the way Kellogg has. The school offers almost 1,000 distinct for-credit experiential learning opportunities and seeks to create even more. By 2010, as many as 30 percent of all students will put theory into practice through these curriculum enhancements.
"Kellogg will offer project-based learning opportunities in all areas, from nonprofit to finance to healthcare and more," says Michele Rogers, assistant dean for integrated programs and experiential learning. "The more opportunities we can provide for students, the better the experience and the more value added to their future careers."
The emphasis on this kind of learning is nothing new at Kellogg, which has long sought to fuse the practical with the theoretical. Indeed, experiential learning has been part of the Kellogg experience since the mid-1970s, when then-Dean Donald P. Jacobs declared his intention to foster a culture more reflective of the business world.
Since then, the school has delivered an increasing number of ways for students to learn by doing — including introducing them to new fields. Long-running programs such as Entrepreneurship and New Venture Formulation and Global Initiatives in Management (GIM) let students apply their skills in corporate and nonprofit settings. Marketing courses require students to conduct research for actual brands, and strategy and finance courses often seek studies and analyses for outside firms and organizations. Extracurricular opportunities for this kind of learning abound too, through student clubs, competitions, internships and conferences.
Today, Dean Dipak C. Jain counts experiential learning as one of the Kellogg School's "four pillars," alongside intellectual depth, a global mindset and the fostering of students' ethical values and people skills.
"Experiential learning forces our students out of their comfort zones and requires them to apply their classroom insights to real-world settings," Jain says, adding that this approach "makes Kellogg students among the most desirable and most prepared for leadership roles."
Ready for action — and adaptation
Kellogg is an ideal laboratory for experiential learning. In addition to its supportive faculty and administration, the school boasts a student body hungry for hands-on knowledge.
"The typical student who comes to Kellogg wants to make some sort of turn in his or her career," explains Sunil Chopra, senior associate dean for curriculum and teaching. "Even those who aren't seeking a career change want to be prepared for new opportunities down the road. They are all looking for experiential learning so that they can adapt to changing industries and take advantage of new opportunities."
To pivot from accounting to entrepreneurship, from engineering to consulting, or from marketing to venture capital, students may need a tailored academic experience, Chopra says. And with student demand for such education at an all-time high, Kellogg has formalized the experiential curriculum so that faculty can share best practices and enrich the quality of each offering.
Professors of these classes meet regularly to discuss content, teaching and evaluation issues. The effort is coordinated by Rogers, who oversees the school's experiential offerings and its joint-degree programs, positioning her to recognize new opportunities and enhance existing courses.
It also helps her identify ways for alumni to get involved, whether as speakers, mentors or project sponsors. "Alumni love to participate in these classes, because they can engage in the learning process and help to develop student talent while supporting Kellogg – a trifecta," Rogers says.
Among the school's many practical offerings are a few that Chopra describes as "experiential learning on steroids." Each offers a rare, self-directed learning experience that students otherwise would find it difficult to obtain.
Asset Management Practicum, for example, allows students to manage a portion of the Kellogg School's endowment. Venture Lab and Buyout Lab both place students with private equity firms for a quarter, while Management Lab invites students to solve specific problems at real organizations. Other classes offer opportunities to consult for international firms, develop new medical products or serve as members of nonprofit boards. (Read the related story.)
"It should always be an experience that students aspire to," Chopra says. "That ensures the quality and the consistency of the experience, not just for the students but for the sponsoring organizations."
Admission to several of these courses is selective, with students required to demonstrate aptitude to faculty and sponsoring organizations. "These are very labor-intensive, high-touch opportunities," Rogers says. "We're looking for students who really want to apply their skills to a particular area."
Because the students are working with outside firms, they are expected to treat the class like a job.
"It's not just a class," Rogers explains. "This is a commitment of at least eight hours, per person, per team, per week. Sometimes students find they need to put in even more time, and that's fine, as long as they don't miss other classes."
"Our expectation is that students take just one of these labs at a time," Chopra says. "It's a very intense experience, but it's something that a subset of our students really want."
Self-knowledge through experience
That was certainly true for Peter Smith '08, who signed on to an internship with private equity firm Madison Dearborn Partners through the Buyout Lab class this spring.
Smith spent at least one full day each week at the firm, doing industry research, LBO modeling, and developing a sample investment opportunity. "There are classes at Kellogg that teach you those skills, but it's very valuable to see how it's done in the 'real world,'" Smith says. "Every firm does it a little differently."
The opportunity to work for a firm as large and prominent as Madison Dearborn was "fantastic," Smith says, and one that otherwise would have been beyond his reach. Smith enjoyed his experience at the company, but realized he might prefer to work at a smaller VC firm. He also learned where he still needed to grow.
"I've gotten a good sense of the skills I'd like to work on and the gaps in my education regarding private equity," Smith says. "I've been able to figure that out within the context of a class, and now I can concentrate on learning what else I need to know."
That's the sort of self-knowledge one gains only through experience, Rogers says.
"There's a cyclical pattern to learning," she explains, citing the work of educational theorist David Kolb and psychologist Kurt Lewin, who helped develop the experiential learning model. "It's an iterative process – a student has the experience, reflects upon it, derives and tests concepts, and then starts all over again." Learning becomes continuous.
"The key is the moment of reflection," Rogers adds, something the Kellogg classroom encourages even as students are challenged to bring their lessons to life.
Kellogg alumni seeking to participate in the school's experiential learning curriculum may contact Michele Rogers at 847.491.8689 for more information.