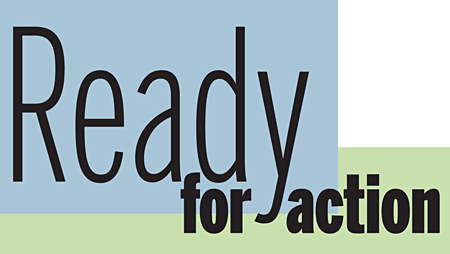 Broad portfolio of courses lets Kellogg students learn by doing, preparing them for leadership roles in a unique and challenging way
By Rebecca Lindell
Kellogg offers nearly 1,000 for-credit action learning opportunities — including some that qualify as "experiential learning on steroids," according to Sunil Chopra, senior associate dean for curriculum and teaching. These tailored courses provide students with a wealth of hands-on education in a specific career field. In addition to Global Lab and Medical Innovation, these include:
Entrepreneurship & New Venture Formulation
Students aspiring to entrepreneurial careers can try to get their ideas off the ground through this highly interactive course, which covers the process of new venture development.
Students learn to screen for ideas, identify and define the fundamental issues relevant to the new venture, identify their market niche and define their business strategy. They also determine how much financing they will need and how the funding should be raised. Each team pitches its business plan to a panel of investors, which provides feedback, and sometimes funding. The class has launched many successful entrepreneurs, including Paul Earle '99, founder of River West Brands. The firm, which was the subject of a May profile in The New York Times, acquires and reanimates discontinued brands.
Another product of the class is The One Acre Fund, created by social entrepreneur Andrew Youn '06. The growing nonprofit empowers farm families in East Africa to lift themselves out of poverty. Youn launched the organization after drafting a business plan for the class and has gone on to raise hundreds of thousands of dollars and earn widespread media attention for his efforts.
Introduced in 1974, the course is now taught by Barry Merkin, clinical professor of entrepreneurship, and James B. Shein, clinical professor of management and strategy. Both spent years working with new businesses before joining the Kellogg faculty.
Asset Management Practicum
Many Kellogg students aspire to careers in financial services. To obtain those jobs, hands-on practice managing a real portfolio is invaluable. The Asset Management Practicum offers students the opportunity to do precisely that, by managing $3 million of the Kellogg School's endowment.
The work is done under the supervision of Kellogg faculty, who nonetheless encourage students to make their own decisions. "We have investment guidelines, but they are allowed some latitude in the exposures they choose to take on," says Robert Korajczyk, the Harry G. Guthmann Distinguished Professor of Finance and co-director of the course along with Linda Vincent, associate professor of accounting.
During the year-long class, students use their own analyses to determine portfolio positions, trading strategies and asset allocations. They rotate across the roles of industry analyst, hedge fund fund-of-funds manager, trader, quantitative analyst and portfolio manager.
Leading practitioners visit the class to discuss the market and future trends in the industry. Recent speakers include Jerome Kenney '67, vice chairman emeritus of Merrill Lynch, and Jack L. Treynor, president of Treynor Capital Management.
| | |
| --- | --- |
| | |
| | John Canning Jr., left, interacts with students during an April visit to Kellogg. The chairman and co-founder of Madison Dearborn Partners helped launch the school's Buyout Lab course. Photo © Nathan Mandell |
| | |
Buyout Lab
Buyout Lab is a quarter-long internship that gives students the chance to experience the day-to-day workings of a Chicago-area buyout firm. Participants assist with deal selection, due diligence and investment efforts. The course admits students by application only and is taught by Kellogg Clinical Professor David Stowell, former JPMorgan managing director.
The class is designed for students who do not have extensive buyout experience but would like to pursue a career in the field. Those selected dedicate one full day a week to the buyout firm's office and are expected to spend at least 10 hours each week on related work.
In addition to the internship, students meet in class during the first week of the quarter and have required readings as well as discussions. They also complete a project report based on their work for the fund.
The class was offered for the first time in April, and launched with a talk by Madison Dearborn Partners Chairman John Canning Jr., who shared insights from his own career and discussed issues facing buyout industry.
Venture Lab
Venture Lab is structured similar to Buyout Lab. It allows students to spend one day per week working for a local venture capital firm, focusing on investment opportunities and due diligence.
As with Buyout Lab, students are admitted by application only and must complete a final report on their work for the firm. The course is geared toward students without venture capital experience but with aspirations in that area.
Mitchell Peterson, the Glen Vasel Professor of Finance, and Yael Hochberg, assistant professor of finance, teach the course, which was added to the Kellogg curriculum in January.
The class was launched with a talk by T. Bondurant French '76, chief executive officer and chief information officer of Chicago-based Adams Street Partners. French shared lessons from his career and his firm, which manages $15 billion in private equity assets.
Governance of Nonprofit Boards
Many Kellogg students hope to serve on nonprofit boards at some point in their careers. This program allows them to have that experience sooner rather than later.
Up to 48 students each year are matched with a Chicago-area nonprofit board of directors. The students serve as nonvoting members from the spring of their first year until the June of their second year. Each student completes a project for the organization — creating a marketing plan, for example, or analyzing data or building a Web site.
In addition to this service, the board fellows complete two courses in board governance. These classes allow students to study best practices, examine trends in nonprofit governance and exchange insights. The program is led by Anne Cohn Donnelly, a clinical professor of social enterprise with extensive experience in the nonprofit field.
Organizations that have hosted Kellogg students on their boards include Girl Scouts of Chicago, The Field Museum, Chicago Communities in Schools and the adoption agency The Cradle.
Management Lab
Management Lab matches students with companies and nonprofit organizations that have specific management questions.
In addition to attending several lectures, students in "M-Lab" work directly with corporate and nonprofit clients on issues ranging from marketing to financial analysis to business plan development. Faculty members meet throughout the quarter with each project team to identify issues and provide guidance. Consulting mentors, typically Kellogg alumni, are made available to advise on specific issues students might face.
Students also are given an assist by partners from firms such as McKinsey & Co. and BCG, who visit the class to discuss the consulting process and necessary skills.
Recent projects have included business development for a technology manufacturing company, STP analysis for a winery in Northern California, the creation of an online travel accommodation service and the design and implementation of a telecom marketing plan.
The class, led by the faculty team of Bala Balachandran, Hall Sullivan, and Michele Rogers, is a longstanding part of the Kellogg curriculum. Until recently, it was known as LEAP.