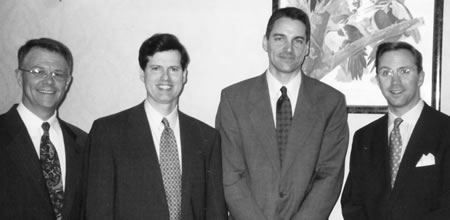 Three club leaders gathered in March to hear Sam Gilliland, Travelocity CEO, speak. From left, John Lump, president of the University of Chicago GSB Club of New York; Dan Schlein, president of the Oxford Alumni Association of New York; Gilliland; and Dan Williams '99, president of the Kellogg Alumni Club of New York.
New York
Mapping your career during turbulent times
In February, more than 60 Kellogg alumni gathered at the Union League Club in New York to hear a presentation by Kathy Strickland and other professionals from the Strickland Group, one of the country's preeminent career counseling and executive coaching firms. This interactive workshop focused on crucial aspects of career evaluation, development and transition for executives. This was the second time in two years that KACNY has teamed with the Strickland Group to provide services to our alumni (which are normally available only to individuals via their employers) and the event was again a sellout. Special thanks to Javed Rahman '97 and Dan Williams '99, KACNY president, for planning this event.
In brands we trust
KACNY teamed up with the Medill Club of New York in March to present this discussion with branding professionals on how brands have been impacted by our challenging environment of global recession, the then-imminent war with Iraq, widespread corporate accounting scandals and eroding consumer confidence. The panel explored recent changes in consumers' behavior and their impressions of brands, and also looked at the roles brands have for the future. More than 100 Kellogg and Medill alumni attended. Special thanks to Lan Wong of the Medill Club of Greater New York for helping organize and plan this event with KACNY.
All-Northwestern happy hour
Alumni from the various schools of Northwestern University in the New York area gathered on an evening in March at the Joshua Tree, a lounge on Restaurant Row in New York's theater district. Alumni from the various Northwestern programs found they had more in common than simply their alma mater.
"Buicks"
KACNY alumni gathered on a March evening for a new production of "Buicks," produced by the Underwood Theater Company and held at the McGinn/Cazale Theater on Broadway on New York's Upper West Side. After the show, alumni attendees gathered at The Evelyn Lounge nearby for a post-production discussion on the performance over a few drinks. Special thanks to Amy Becker '96 for introducing KACNY to the Underwood Theater company.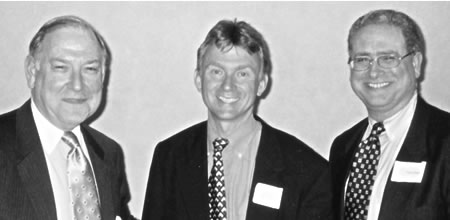 Kellogg alums Bob Gandel '65, left, and Peter Bopp '83, right, with an unidentified guest, enjoyed an evening with Sam Gilliland, CEO of online travel provider Travelocity.
An evening with Sam Gilliland, CEO of Travelocity
KACNY held an event in March featuring Sam Gilliland, CEO of Travelocity. Mr. Gilliland, a true survivor of the dot-com shakeout, and a leader in the travel and leisure industry, presented his perspective on leadership in the current business climate. Attendees picked up a few career tips from a man who has risen rapidly to the top in his industry.This event was sponsored by KACNY and the Oxford Club of New York. Special thanks to Daniel Schlein, president of the Oxford Alumni Association of New York, for organizing this event along with Dan Williams '99.
| | |
| --- | --- |
| | |
| Buhl collection curator Marianne Courville, left, with Victoria Anstead '85. | |
An intimate view of one of the great private photography collections
On a warm spring evening in April, Kellogg alumni gathered in the wonderful Soho apartment of Henry Buhl, one of the world's greatest collectors of photography. Organized by art adviser Victoria Anstead '85, the event not only focused on how Mr. Buhl started in the business as a photographer before becoming a collector himself, but also on the fundamentals of how to begin collecting photography. Guests were able to view some of the Buhl Collection's 960 pieces, including images from noted photographers such as Alfred Stieglitz, Edward Weston, Cindy Sherman and Andres Serrano. Special thanks to Victoria Anstead for organizing this exclusive event on behalf of Kellogg alumni.
| | |
| --- | --- |
| | |
| | Photography collector Henry Buhl, left, discusses some of the pieces he owns with Kellogg Alumni Club of New York members. |
What are we fighting for?
On an evening in April, several hundred Kellogg and Medill alumni gathered at the New York Historical Society in a no-holds-barred, open and frank discussion about the media's coverage of the war in Iraq. Loren Ghiglione, dean of the Medill School of Journalism at Northwestern, was the moderator for the discussion. Edelman Public Relations Worldwide generously underwrote this event. Special thanks to the board of directors of the Medill Club of Greater New York for planning it and for including KACNY as co-sponsor.
An evening with the author of The Power of Full Engagement
Approximately 115 New York-area alumni of the Kellogg, Columbia and Harvard business schools and members of The Williams Club came together in early May to learn the secrets of achieving peak performance through The Power of Full Engagement from best-selling author Tony Schwartz. The simple truth at the center of this New York Times best-selling business book is that the secret to lasting success lies in how we manage our energy, not our time. While the number of hours in a day is fixed, the quantity and quality of energy available to us is not. Approximately 110 attendees of this event learned highlights of the program through the evening's presentation. Special thanks to Dan Williams '99 for planning this event.
An evening with author Gary Weiss
Kellogg alumni and members of the Medill Club of Greater New York gathered in May to hear from Gary Weiss (Medill '76), author of the recently published and much heralded Born To Steal: When the Mafia Hit Wall Street. The book focuses on one particular youthful broker, a street kid from Staten Island who sold his soul to the Mob. Weiss described the inside story of how the book came into being, as well as the surprising lessons that the Mob has to teach legitimate folks on subjects ranging from public relations to the virtues of a decentralized chain of command. Special thanks to Dan Williams '99 for planning this event, and Lauren Young, Medill '93, for introducing KACNY to Gary Weiss.
Executive search lessons
Kellogg alumni gathered on a June evening at a private Manhattan club to get the inside line on the retained executive search profession. The panel included discussion about how retained search consultants work with candidates and clients, how they identify who is right for their search engagements and what you need to know to build solid relationships with them. Special thanks to Sandra Rupp '90, KACNY's vice president of career development, for planning this event.
Fourth multischool MBA happy hour
Kellogg alumni gathered on an evening in mid-June at the Boat Basin Cafe overlooking the Hudson River in Manhattan for a happy hour organized by KACNY and including alumni from the Stanford, Chicago GSB, Haas (Berkeley), Fuqua (Duke), Tuck (Dartmouth), McDonough (Georgetown), Zicklin (Baruch), Owen (Vanderbilt), London Business School, Moore (University of South Carolina) and Thunderbird schools of business, Sciences PO alumni, as well as members of Beta Gamma Sigma at our fourth multischool MBA happy hour. Hundreds of people enjoyed cocktails and lively discussion with new friends and old while watching one of the most beautiful sunsets in New York this summer. Feedback from all in attendance was extremely positive, so look for another similar event in August. Special thanks to Dan Williams '99 for planning this event.