The considerate pharma exec
Through compassion and drive, Vinita Gupta has turned Lupin Ltd. into a global powerhouse providing affordable generic drugs worldwide
By ANDREW FAUGHT | PHOTO BY JEFFERY SALTER
A
s a kid growing up in India, Vinita Gupta '92 loved to paint. Her father, Desh Bandhu Gupta, the founder of pharmaceutical giant Lupin Ltd., suggested a career in architecture, in which his daughter could hone her artistic sensibilities. But after joining her dad on a business trip to Zurich, Switzerland, when she was 14, Gupta's creative instincts found a new locus. She dreamed of taking the firm global, an art form all its own.
"I was always very much impressed and in awe of my father's passion," says Gupta, CEO of Mumbai, India-based Lupin. "He built the organization with a focus on values and fairness. He started an institution that solved a strong need for providing medicine in the area of infectious diseases. I was very easily attracted to the business, and I wanted to find a way to add value to it and further it."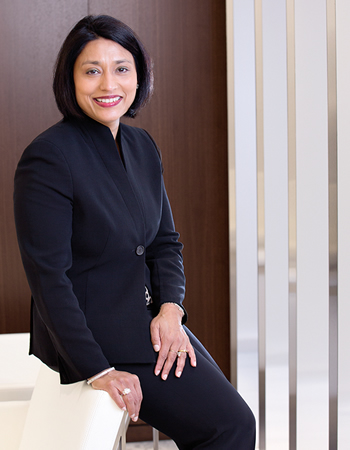 Now, more than three decades after that business trip, Gupta has made good on her early ambitions. Under her leadership, Lupin has become the world's seventh-largest generic drugmaker and India's third biggest pharmaceutical company.
The firm got its foothold in the United States in 2005, when it bought the rights for the antibacterial drug Suprax and reintroduced it to the market. That same year, Lupin launched its generic business.
"Being able to bring affordable, quality medicine to markets and make a difference is a tremendous satisfaction," Gupta says. "That really helped us tremendously in the early days, to establish ourselves and to gain a reputation as a differentiated player. Very rapidly, we were able to gain share within the generic market."
After acquiring a dozen companies in the last decade, the firm maintains lofty ambitions: It hopes by fiscal year 2018 to tally $5 billion in sales.
In March 2016, Lupin acquired New Jersey-based Gavis Pharmaceuticals, a producer of generic drugs. At $880 million, the purchase was the largest foreign acquisition by an Indian pharmaceutical company. The acquisition made Lupin the fifth-largest pharmaceutical company in the United States.
"
Being able to bring affordable, quality medicine to markets and make a difference is a tremendous satisfaction.
"
Gupta is based in Naples, Fla., home to Lupin Ltd.'s North American headquarters. The company does half of its business in the United States, but it maintains a sizable footprint in Japan, South Africa, Mexico and Brazil.
The company's rising star has brought numerous accolades to its own star, with Gupta garnering membership in Forbes' Asia's 50 Power Businesswomen list for 2016. After earning her pharmacy degree in India, Gupta enrolled at Kellogg because of the school's emphasis on international business and marketing. "It was a very targeted approach," she says. "I had determined that I really wanted to get that training and exposure."
In an era of ballooning pharmaceutical costs, Gupta says Lupin and its generic drug business has created $16 billion in savings to U.S. patients alone. It's one of her abiding motivations.
"Everything we do is about making a difference," she says.