The inclusive executive
At Medline Industries, President Andy Mills has built a top-down culture that listens, learns and works together
By ANDREW ZALESKI | PHOTO BY RON WU
I
n 1997, Andy Mills '85 began his tenure as president of Medline Industries, a fourth-generation family business with roots in the Chicago area dating back to 1910.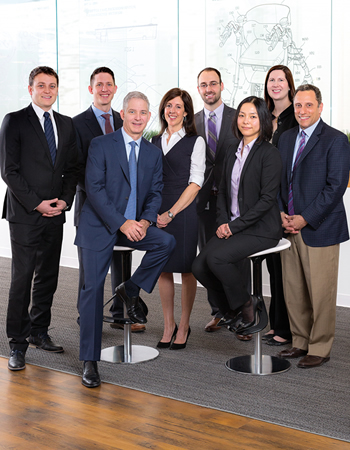 From left to right:
Paul Lishnevsky '09
, division president, exam gloves;
Tony Ricchio '10
, vice president, inventory management;
Andy Mills '85
, president;
Nancy (Ellis) Mills '88
, vice president, corporate branding and strategy;
Randall Schenck '15
, senior director, facilities;
Sissi Miao '09
, division president, advanced wound care;
Diana LeFebvre '12
,
division president, lab & diagnostics; and
David Jacobs '98
, executive vice president, post-acute care
From humble beginnings as a manufacturer of surgical gowns and aprons for doctors and nurses, Medline had grown into the largest privately held medical supplier in the United States, including international business, customers around the globe and double digit growth year over year.
During Mills' earliest days as president, two of Medline's most important values — teamwork and empowering employees — started to shine. It's those values, instilled in Mills since his time at Kellogg, that the company credits for its continued growth.
Today, Medline employs more than 15,000 people in offices worldwide and does $9 billion in annual sales. Its products span far more categories than just hospital gowns and include gloves, lab supplies, CPR masks, scrubs, surgical instruments and more. Innovating on common medical supplies, with a deep sense of collaboration across all levels in the company, keeps Medline formidable.
Medline's recent move to their new Northfield, Illinois, headquarters exhibited the latest advancement in their collaborative company culture. Mills and his team made this monumental decision — filled with risks and opportunities — by taking into account what was best for the business and its employees. Through focus groups, employees shared their needs and wants, and senior leadership listened. Decisions about the new headquarters involved Medline employees every step of the way. This culture also drives the company's innovation, and hence its superior products. For example, after learning that medical practitioners were tearing through a lot of vinyl gloves, employees knew they needed a creative solution. Senior leadership told them to go for it.
"With every boss I've had at Medline, if I came up with an idea, the answer was always, 'Go try it,'" says Paul Lishnevsky '09, division president of exam gloves.
"
We try to treat everybody, whether big or small, with a very high degree of service.
"
Eventually, Medline introduced Glide-On gloves. By coating a vinyl glove with a polymer that allows the glove to slide onto hands more easily, Medline created a product that improved staff efficiency, reduced tearing waste and had a significant impact on the customer bottom line.
Medline remains a business founded on familial vibes — thanks to additional founding family members including Nancy (Ellis) Mills '88, vice president of corporate branding and strategy; Sam Barnett, lead investment strategist and Neuroscience PhD candidate at Kellogg; Wendy (Mills) Abrams '90, environmental activist, founder of public art exhibition Cool Globes and one of Medline's sustainability leaders; and William Abrams '90, division president of distributed products for the company.
But, the cornerstone of Medline is that the company doesn't take any of its success for granted. They are always listening to their customers, whether big or small, to constantly deliver a high degree of service and value.
"We try to treat everybody, whether big or small, with a very high degree of service," says Mills. "That's a function of taking nothing for granted and treating everybody how you want to be treated."