The marketers' marketer
Scott Dorsey turned his passion for entrepreneurship into a billion-dollar marketing software powerhouse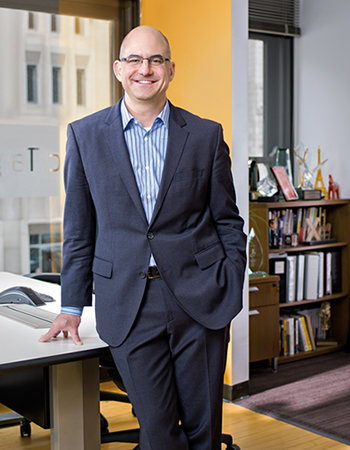 By Lena Singer | Photo by Jeff Sciortino
Thirteen years ago, Scott Dorsey '99, a graduate of Kellogg's Part-Time Program, moved back to Indianapolis, Ind., from Chicago and launched an online marketing software company called ExactTarget. The company's original goal was to help small businesses connect with their customers through permission-based email marketing.
At the time, ExactTarget's strategy was so new that Dorsey and his partners had to convince entrepreneurs and marketers that it was worth their while. "Today, every business uses email and digital marketing to communicate with their customers," says Dorsey. "Back then, the power of the Internet was less obvious."
His evangelism seems to have paid off. Last July, cloud-based CRM leader salesforce.com acquired his then-publicly traded company for $2.5 billion in an all-cash transaction. Dorsey is now CEO of the Salesforce ExactTarget Marketing Cloud, which helps marketers build one-to-one digital campaigns and relationships with their customers.
Dorsey also can lay claim to developing the permission-based, data-driven culture that defines online marketing today, one where customers aren't just allowing emails into their inboxes, but want product updates and offers through text messages, Twitter, Facebook and custom mobile apps.
ExactTarget has grown its client base far beyond small businesses in the Midwest, managing digital marketing initiatives for thousands of companies, including global brands like Toyota, Microsoft, Gap, Coca-Cola and Expedia. It has also gained a following among digital marketers as an innovator, leader and educator in the field.
"[ExactTarget's] permission-first focus earned us a strong reputation and helped fuel our growth and adoption of email, mobile and social marketing."
"ExactTarget was an early evangelist of the power of digital marketing to connect companies with their customers," Dorsey says. "Our permission-first focus earned us a strong reputation and helped fuel our growth and adoption of email, mobile and social  marketing."
As a first-time software entrepreneur, Dorsey founded ExactTarget with brother-in-law Chris Baggott and another partner, Peter McCormick. Starting ExactTarget right after the Internet bubble had burst, the trio worked out of a small storefront office in Greenfield, a suburb of Indianapolis, selling a low-cost subscription service that would help small businesses leverage the power of email marketing.
The company soon landed angel investments and contracts with companies like Home Depot, Hotels.com and CareerBuilder. Along the way, ExactTarget raised hundreds of millions in funding from leading technology venture firms on both coasts. Dorsey rang the opening bell at the New York Stock Exchange when ExactTarget went public in March 2012. Now headquartered in Indianapolis, the company has approximately 2,000 employees working across five continents.
But the decision to go into technology wasn't a hard one, Dorsey says. As a Kellogg student, Dorsey had been part of a group that met with tech and early-stage startup entrepreneurs, many of whom went on to run Google and some of the tech industry's largest companies.
"Kellogg provided me with tremendous inspiration and a world-class education that gave me the confidence to start ExactTarget and scale the business to heights beyond anyone's expectations," Dorsey says, "including our own."