The safety net
When the credit crisis hit, risk management expert Jane Western kept Boeing's retirement programs secure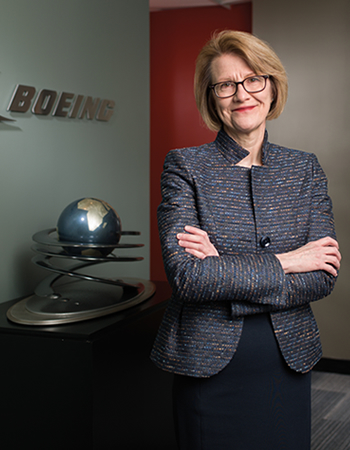 By Gina Bazer | Photo by Jeff Sciortino
When Wall Street titans Lehman Brothers and Bear Stearns went belly up in 2008, many pension plan sponsors at multinational corporations were left scrambling. But not the Trust Investments team at the Boeing Co.
That's because Jane Western '85 and her teammates spent the better part of 2006 rigorously evaluating and improving Boeing's risk management processes. When the credit crisis hit, Boeing was ready for anything.
"Developing a robust [risk management] framework involved honestly rating ourselves to identify gaps," says Western, the aviation giant's managing director for risk management and trust operations. "It wasn't just about giving ourselves a smiley face."
While she's known for wry quips like that, Western is serious when it comes to managing Boeing's $95 billion in retirement funds. Ever since she started out as a plan sponsor at Household International, Western has been a conscientious steward for hard-working people and their nest eggs.
Today, Western is an industry leader known for her progressive ideas on risk management, just one of the reasons she was named 2013 Trailblazer of the Year by the Chicago-based organization Women Investment Professionals.
"Developing a robust [risk management] framework involved honestly rating ourselves to identify gaps"
"Risk is about more than just market risk," she says. "Understandably, investors focus a lot on asset value and market volatility, but risk is multifaceted. There's regulatory risk, counter-party and credit risk, and operational risk, to name a few significant areas."
Western and her team at Boeing Trust Investments have identified 12 key risk standards and about 200 supporting actions, based on a seminal 1996 white paper, "Risk Standards for Investment Managers and Institutional Investors." The framework they created continues to guide them daily. Meanwhile, that game-changing risk-management gap analysis Boeing conducted before Wall Street fell has been the subject of many of Western's presentations to institutional investors. It has also become high-level fodder for colleagues on a risk task force she founded in 2008 within the nationwide Committee on Investment of Employee Benefit Assets.
A tough-yet-fair leader, Western also believes strongly in recognizing her colleagues' hard work. "Why do we only recognize people when they're retired or dead?" she says.
In 2009, she came up with the idea of the Chuck Award, which is now given annually by Boeing to exceptional behind-the-scenes service providers at JP Morgan Chase Bank and State Street Bank & Trust Company, the custodians of Boeing's retirement programs. It is named after two leaders in flight: retired U.S. Air Force Brig. Gen. Chuck Yeager, the first pilot to break the sound barrier, and legendary aviator Charles Lindbergh.
"The award helps us transcend the day-to-day activities and remind everyone of our shared mission — to oversee the retirement assets of Boeing's employees," Western says. "I believe my passion has enabled me to be more effective in my work and I see how much others want to care about their work, too."
Spoken like a true trailblazer.