Private Equity conference draws industry leaders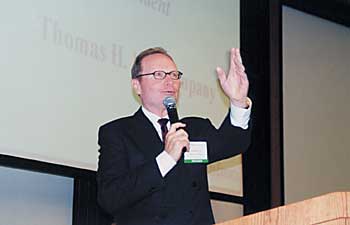 Thomas H. Lee, veteran of the leveraged buyout industry, addresses conference guests.
Kellogg held its 2001 Private Equity Conference at the James L. Allen Center on Feb. 28. "A Return to Fundamentals" featured more than 25 speakers from leading venture capital and buyout firms and attracted over 450 attendees, including entrepreneurs, senior executives and Kellogg alumni, faculty and students.
Keynote speaker Thomas H. Lee, president of the Thomas H. Lee Company, took the podium in a packed Tribune Auditorium. Lee, a 35-year veteran of the leveraged buyout industry, described his career progression from a credit officer with the Bank of Boston to the industry innovator of private equity fund structuring. He also elaborated on investment philosophy and the current fundraising environment in which he was able to raise $6.1 billion, the largest private equity fund to date.
After Lee's remarks, two parallel panels -- "Late Stage Investing" and "Corporate Venture Capital" -- examined the latest issues facing buyout firms as they develop investing strategies, and explored the unique challenges of corporate-based venture capital investing. Later, the "Global Investing" panel discussed international opportunities and challenges of equity investing.
James R. Swartz, founding partner of Accel Partners, provided the conference's second keynote. Swartz, a 30-year veteran of the venture capital industry with lead investments in pioneering companies, described his career from vice president at Citicorp Venture Capital to the founding partner of a Silicon Valley institution. He also elaborated on the investment myths he has debunked.
The conference's final two panels, "Careers in Private Equity" and "Venture Capital Investing," helped students understand important aspects of a junior professional's role, including day-to-day activities, fund mechanics and compensation.