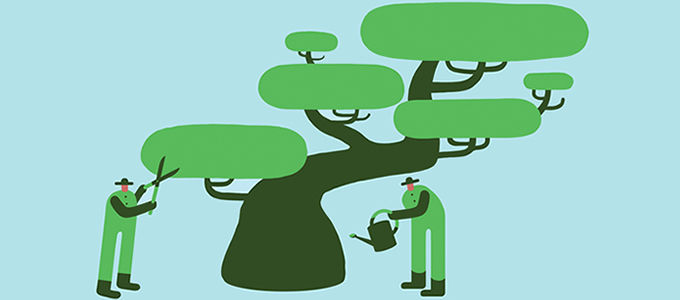 'To grow,
you need to cut back'

In their new book, 'Fewer, Bigger, BOLDER,' Mohanbir Sawhney and Sanjay Khosla advise mindful growth on the path to PROFITABILITY
By Cheryl SooHoo | Illustration by MÁgoz

From startups to established conglomerates, companies looking to expand often go for broke — literally. They make more products, create more brands and enter more markets with the goal of growing their market share. While seemingly reasonable, this approach can often lead to fleeting gains, dismal results or outright failure.
"The complexity of companies frequently grows faster than revenues," says Mohanbir Sawhney, the Robert R. McCormick Tribune Foundation Clinical Professor of Technology. A strategy and innovation consultant in the startup world, Sawhney has long observed the "unwieldiness" of companies that expand for expansion's sake. "The paradox is that to grow, you need to cut back and do less."
This simple, powerful strategy is just one of several detailed in Fewer, Bigger, Bolder: From Mindless Expansion to Focused Growth (Portfolio). Sawhney partnered with co-author Sanjay Khosla, former president of Kraft Foods International (now Mondelēz International), to develop a simple framework for sustainable growth and profitability in any market. At its core, their seven-step model, Focus7, calls for making fewer but better bets.
Khosla intuitively followed this strategy throughout his long corporate career. Most strikingly, he used it in 2007 to turn around Kraft's then-floundering developing-markets business. In five years, annual sales rose from $5 billion to $16 billion. Now consulting and implementing the model for other companies across varied industries and geographies "seems to work," says Khosla, now a senior fellow with the Kellogg Markets and Customers Initiative (KMCI).
The authors created a how-to book on achieving profitable expansion by combining their academic and real-world experiences. In addition to drawing upon case studies featuring companies like Cisco, Netflix and Spirit Airlines, the duo also interviewed business executives around the globe. They distilled their observations and practical application of the program into a handful of key concepts:
Be bold.
Focus only on the areas where you'll have the best chances of winning. Shift resources — people and money — accordingly.


Simplify everything.
Reduce complexity in your organization, from the number of decision makers to the number of meetings.


Write blank checks.
Selectively give teams carte blanche to devise their own budgets and control their own destinies. Empowerment can yield amazing results.


Execute.
Move quickly and learn from trial and error. Stay with what's working. Cease and desist what's not.

"At the end of the day, this is a model for making things happen and not just one-stop growth," says Khosla. "It's about creating a winning culture for sustained growth."
| | | | |
| --- | --- | --- | --- |
| | Learn more about the Kellogg Innovation and Entrepreneurship Initiative at kell.gg/si-kiei | | Want to know more about focused growth? Visit kell.gg/1oKaaRu for exclusive content from Kellogg Insight. |