Double

data
Florian Zettelmeyer launches immersion program to help academics and industry leaders explore big data together

It's called big data for a reason. On average, humans generate enough data through routine activities like mouse clicks, social-media posts and GPS navigation to fill 57.5 billion 32GB iPads daily. 
It also moves incredibly fast. And the methodology for analyzing the ever-growing amalgam of information continues to evolve, says Florian Zettelmeyer, the Nancy L. Ertle Professor of Marketing and director of the Program on Data Analytics at Kellogg.
"No one owns the truth in this area," he says. "Academics don't own the truth, and the companies don't own the truth. The only way to make yourself smarter is to find out what other people are doing."
The need to team academic and industry leaders led Zettelmeyer to develop the Faculty Immersion Program. Launched in fall 2013, the program takes faculty on site visits to both established corporations and startups operating at the forefront of industry, says Jamie Rosman, executive director of the Kellogg Markets and Customers Initiative (KMCI).
With the help of alumni working at some of these companies — "They've really played an ambassador-like role in hosting and bringing Kellogg in," Rosman says — faculty meet with the firms' analytics and data science experts. The experts discuss their triumphs and challenges while Zettelmeyer and a team of faculty share their insights on the subject.
Past sites have included IBM's Advanced Analytics Lab in Columbus, Ohio, and Civis Analytics in Chicago, a firm created by the analytics team that handled data mining for President Barack Obama's 2012 re-election campaign.
"We do a lot of listening on those trips," says Rosman. That attentiveness, she adds, has led to a dialogue of ideas and created "opportunities to maintain relationships and build projects [with these companies] going forward."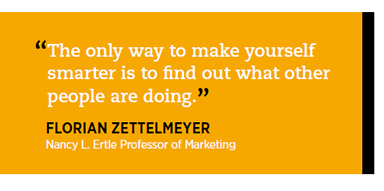 "It was pleasant to see many of the tools we're developing used in reality," says Chaithanya Bandi, an assistant professor in the Managerial Economics and Decision Sciences Department who went on two of the site visits. "I really like to see things getting implemented and [that] gives me new research ideas."
In some cases, the companies have benefited from the faculty's acumen. During a lengthy session at SimpleRelevance, a Chicago-based startup that develops individual marketing campaigns, faculty worked with the firm's technology staff to refocus how it handles time series analysis, which draws on successive data points to generate statistics and conclusions.
"We got very deep in terms of how we actually build the models," says Erik Severinghaus '12, founder of Simple-Relevance. "Everybody dug in as a team. And we ended up actually modifying the way that we do things based on some of the intelligent questions that Kellogg had for us."
Other benefits are long-term. Bandi continues to work with data scientists from SimpleRelevance on an ongoing basis. And staff from Kellogg Case Publishing now accompanies the faculty on trips, scouting leads for potential case studies and other research prospects.
"It allows us the opportunity to capture how things are happening right now and produce cases that are going to be very fresh to students," Case Writing Manager Vasilia Kilibarda says.
With more trips scheduled for this fall, faculty and staff are optimistic that the program will become an integral part of Kellogg's data analytics endeavors. Besides getting people out of "the ivory tower," Zettelmeyer says the trips have reinforced his belief that all students need a working knowledge of data science.
"The days of analytics as a specialization are completely over," Zettelmeyer says. "Analytics is a competitive necessity."
Learn more about the Kellogg Markets and Customers Initiative
at kell.gg/si-kmci
Want to know more about Kellogg's visit to IBM?
Visit kell.gg/1jhMnoX for an exclusive interview with IBM Retail Software Sales Leader Robyn Zeeman '89.