The master of the midway
Bears President and CEO Ted Phillips tackles the NFL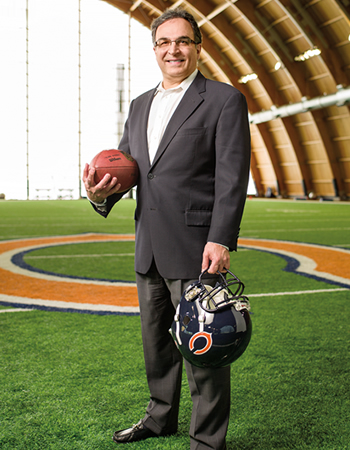 By Dave Wischnowsky | Photo by Jeff Sciortino
W
hen he took a job at the accounting firm Ernst & Whinney in 1979, Ted Phillips '89 had no idea he would one day end up with a career in the National Football League.
"I didn't have a vision that I'd get into pro sports," Phillips said. "I thought I'd end up as a partner at a public accounting firm."
Then life called an audible. After two years as the firm's tax client, the Bears hired Phillips in 1983 as controller. Over the next 16 years, Phillips worked his way up from director of finance to vice president of operations. He made history in 1999 when he was named the first Chicago Bears president and CEO who was not a member of the Halas and McCaskey clan — the family that has owned the NFL franchise for 94 years.
"It was an overwhelming feeling," Phillips said. "I still look at every day as a blessing to have that unbelievable trust put in me. It's very humbling."
In this role, Phillips' responsibilities extend past the goal posts. His first task was to tackle the issue of Soldier Field, an aging stadium that lacked ample revenue opportunities.
"From a financial perspective, we had to do something about our stadium situation," he said. "We weren't able to financially compete to win championships, which is always our No. 1 goal."
"Every Bears game is an event, not just another game in a season."
Completed in 2003, Soldier Field's renovation opened up a host of new revenue streams, including sponsorships, signage, premium club seating and upgraded executive suites. Despite having the league's smallest seating capacity, the Bears grew from the NFL's 10th most valuable franchise in 2006 to its eighth in 2014, when Forbes valued the team at $1.7 billion, up 36 percent from last year.
"I've always treated the McCaskeys' money as my own," Phillips said. "Increasing the value of the team is something I'm very proud to be a part of."
The Bears continued to reinvest back into the franchise and, in recent years, have made high-profile moves to acquire some of the league's top talent, including Jay Cutler, Julius Peppers and Jared Allen. Under Phillips' leadership, the Bears also returned their summer training camp to Illinois from Wisconsin in 2002, pleasing a fan base that simply cannot get enough of the team. In 2013, Chicago Bears ticket sales were up 9.2 percent from 2012, a league high.
Phillips said the team is working to continually improve the in-game experience at Soldier Field to ensure a unique environment that cannot be duplicated at home.
"Every Bears game is an event, not just another game in a season," Phillips said. "A key for the future is focusing on the value proposition for fans coming into Soldier Field."