The problem solver
Sharmila Mulligan takes on big data's biggest quagmires with ClearStory Data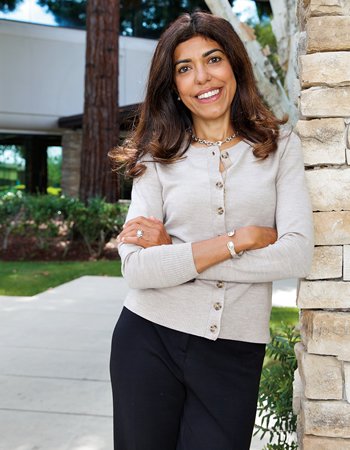 By Gina Bazer | Photo by Angela DeCenzo
A
pply the adage about making lemonade out of lemons to the entrepreneurial track record of Sharmila Mulligan '94, and you've got some very successful lemonade stands. Five started in 19 years, to be exact.
"Every company I have started was born out of a problem that I saw at the last place," says Mulligan, whose current company, ClearStory Data makes business data intelligent by giving companies the ability to access, blend and analyze massive amounts of data in a timely, user-friendly fashion.
Years before ClearStory, Mulligan helped build Kiva Software, a company acquired by Netscape, which created one of the first commercial Internet browsers. At Netscape, she saw the need for automated management of Internet infrastructure and joined renowned tech investors Marc Andreessen and Ben Horowitz at Opsware to shape the "data center automation" market.
And so it went: Problem. Solution.
With the market for big-data technologies predicted to reach $32.4 billion by 2017, Mulligan was in the right place at the right time when she founded ClearStory in 2011. After an initial funding round of $9 million two years ago, ClearStory raised another $21 million this past spring to develop its unique platform, which harmonizes internal and external data in real time, and presents it visually so that managers at any level can intuitively use the data to help make smart business decisions quickly.
"Every company I have started was born out of a problem that I saw at the last place."
This is a major improvement on the norm.
"Companies have traditionally hired intermediaries to do rearview mirror reporting. But by the time that data is manipulated, converged and put into a dashboard view, it can take 60 to 90 days before people actually see what they need to see," says Mulligan. "In today's environment, with consumers having so much power, that's not a viable solution."
ClearStory provides clients in a variety of industries — from health care to entertainment to consumer packaged goods — with blended data on a daily or weekly basis. Managers can use that information to collaborate on insights and findings for fast decisions from any location.
One such client is Dannon, who called on ClearStory to combine historic data about retailers' orders with data on inventory levels from stores and distributors to help the yogurt company restock its inventory more efficiently. "The speed of execution is dramatically different than what it was before, and we're still in early days," Dannon's former Chief Information Officer Tim Weaver (now at Del Monte Foods Inc.) told The Wall Street Journal.
But for Mulligan, a mother of three, tech innovation is both good business and a cause to advocate. She helps fund and sits on the boards of multiple startups in the Bay area. Born in India and educated in both London and Hong Kong, Mulligan is committed to the mentoring of science- and math-minded girls — like she once was — in middle school and high school.
"My mother, a nurse, was always a big proponent of girls following their career dreams and having a family," she says. "I'd like to impart this to other girls because I've loved being in the tech world. It's opened many doors for me."