The Operations Management function is at the heart of any firm's ability to transform inputs into the goods and services that it supplies its customers. Well managed Operations can provide significant strategic advantage to a firm as demonstrated by the success of firms like Wal-Mart, FedEx, and Toyota among others. On the other hand, a lack of focus on Operations can be a significant barrier to success.

The Operations major at Kellogg aims to equip students with skills to analyze operational performance within supply chains and design and manage processes for competitive advantage.

Faculty

The faculty members associated with this area include:
*note: if on-campus, just dial the last five digits of the phone number.
Courses

The required Operations Management (OPNS-430) course forms the core of the portfolio of operations electives, shown in the figure below. (The figure also shows the quarter when the course is offered in the Evanston campus, as well as the number of sections offered in parentheses.) The operations portfolio includes strategy-oriented courses (OPNS454), functionally-oriented courses (supply chain operations OPNS455 and service operations OPNS 912), application-oriented courses (process improvement in various industries, product development, international ops and risk management), and tools-oriented courses (OPNS450).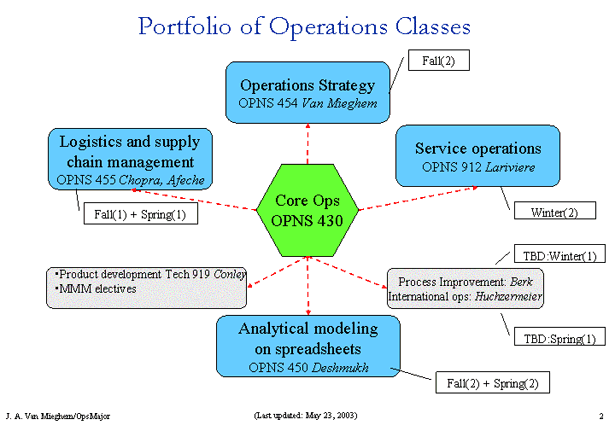 The Core Course (Operations Management, OPNS-430)

Majority of the sections of the core course are taught in the spring quarter. This course aims to (1) familiarize you with the problems and issues confronting operations managers, and (2) provide you with language, concepts, insights and tools to deal with these issues in order to gain competitive advantage through operations. The course uses the text Managing Business Process Flows. For current course information refer to the Prof. Vanmieghem's OPNS-430 page.

Electives

A student must take three of the electives listed below to qualify for the Operations major:

Obtaining a Waiver

There are two types of waivers that the students can apply for OPNS 430
Partial waiver: A student is awarded this type of waiver based on the relevance of their prior academic or industry experience to the subject matter of the OPNS 430 course. A student who is awarded partial waiver would have to take one of the following Operations electives: OPNS-454, OPNS-455, OPNS-450 or OPNS-912 in lieu of OPNS 430. To apply for this waiver, students should provide the relevant supporting material to the Office of Student Affairs by mid-July (contact them for the exact date).
Full waiver: A student requesting a full waiver (i.e., waiving all Operations requirements) must take a waiver exam based on the material covered in the core OPNS 430 course. Please contact Prof. Deo for arranging the waiver exam. A request to take the waiver exam must be made by the beginning of the second week of classes in the fall quarter (September 29th 2008). Here is a sample exam: http://www.kellogg.northwestern.edu/course/opns430/exams/SampleFinalAnswers.pdf
page last modified 8/11/2008