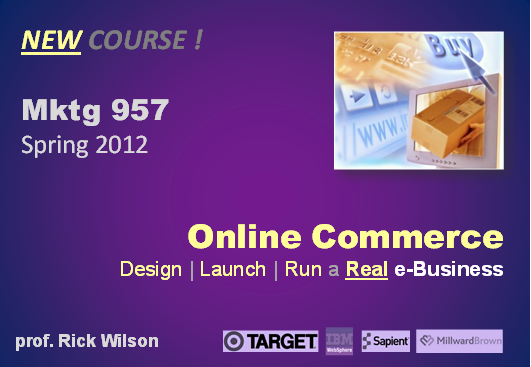 "Online Commerce" is a new marketing course at Northwestern, co-sponsored by retailer Target Corporation and the Kellogg Center for Global Marketing Practice. For its inaugural term, spring 2012, Mktg-957 is being taught by the Center's associate director, Richard Wilson.
Besides being one of the few courses anywhere to focus narrowly on consumer electronic commerce, Mktg-957 is a practicum. Students. design, launch, and build their own online storefronts, select products, determine inventories, set prices, develop promotions, and compete against other student businesses. Sales to actual consumers are tracked, strategies adjusted, profits made or lost.
The new course exemplifies the GMP's commitment to bring academic researchers and progressive companies together. Besides Target, important contributions to the supporting technology infrastructure and market-facing elements were furnished pro bono by software provider IBM, business technology consultant Sapient, and global research agency Millward Brown.