Some Assembly Required
Ann Hand '99 shakes up the construction trade with Project Frog
BY Patricia Riedman Yeager | Photo by Robert Houser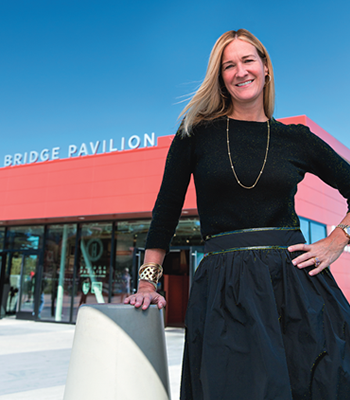 It was 2009, and Ann Hand had just walked away from a nearly 20-year career in energy to join Project Frog, a San Francisco construction startup. First order of business: Change the name.
The name proved stickier than flies on a you-know-what's tongue.
"We went out and asked customers, and they said, 'You can't change the name — you guys are Froggers,'" says the former senior vice president of global brand marketing and innovation at BP.
The name leapt out. It was shorthand for "Flexible Response for Ongoing Growth," and it fit the company's mission to create component buildings that were affordable, stylish, energy-efficient and easy to assemble. Imagine if IKEA had a buildings section and you get the idea.
It also piqued the interest of clients such as Kaiser Permanente and General Electric, which led a $22 million investment round in 2011. So, the name stayed, Hand says. "We're taking an unconventional approach to construction, so we need an unconventional name."
Creating smart buildings at low cost isn't easy. It's even harder for a company like Project Frog, which recently expanded its product line to include health care facilities, retail stores and other midsize office buildings in addition to schools. But it's a challenge that Hand, the company's CEO and one of Fortune's Most Powerful Women Entrepreneurs of 2013, gladly embraces.
"We've cut out prices 40 percent over the past few years. Each model year, we make the system achieve more.
"I've always liked a good brand puzzle," she says. "We've cut our prices 40 percent over the past few years. Each model year, we make the system achieve more."


Project Frog increases quality and drives down cost by using digital fabrication and efficient production processes. The result is the "kit" — a package that includes about 60 percent of the completed building along with systems such as LED lighting, controls and smart technology to regulate airflow and water and energy consumption. These kits are then flat-shipped to a site where they can be assembled in days.
Hand says the company modeled its advanced manufacturing approach after automotive and aerospace companies such as Boeing Corp., one of its advisers. "Construction is one of the last industries to do one-off craft production and resists embracing technology and innovation," she explains.
Next up for Project Frog: a building for a large tech company. And while Hand says the company will certainly take "iconic oneoff" projects, she knows the true economies of scale can only be realized through volume. "We need to look for ways to continually drive down costs," she says. k