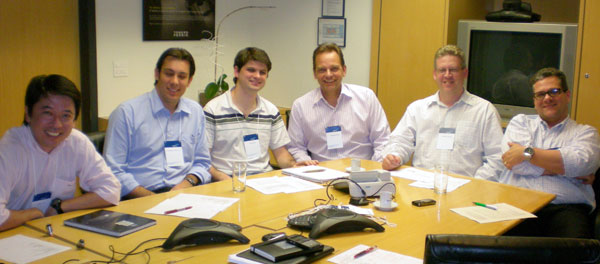 KAC of Brazil co-chairs, from left: Fabio Iwai '04, Fernando Wartusch ´06, Elvio Lupo ´09, Willy Kotas '86, Robert Foster '04 and Eduardo Capocchi '97. Not pictured: Emerson Vasconcelos '05, Bruno Carriel '09, Daniel Mello '08, João Lucio de Azevedo Filho '09 and Rodrigo Baer '07
| | |
| --- | --- |
| | |
| | Kellogg alums at Gallo i Vino in Sao Paulo, Brazil |
| | |
| | |
| | Kellogg alums and spouses at Gallo i Vino in Sao Paulo |
| | |
| | |
| | Willy Kotas '86 with wife Erika |
| | |
| | |
| | Professor Andris Zoltners lecturing before Brazilian alums in Sao Paulo |
| | |
Brazil

Alumni Club of Brazil
On Aug. 18, the KAC of Brazil organized a dinner reception that included a lecture by visiting Kellogg Professor of Marketing Andris Zoltners. His presentation, "Building a Winning Sales Force," was well attended by Kellogg alumni.
In September, the club had a change of leadership. The quartet of '02 alums (José Rodrigo Sabino, André Oliveira, Afonso Sugiyama and Mariana Tolovi) that had led the KAC retired, and a new board of 11 alumni assumed power.
The new junta includes representatives from several graduating classes and each of the Kellogg programs. While lacking gender diversity, we do cheer for a wide variety of soccer teams. Willy Kotas '86, former president of the KAC of South Florida (2000-2004), has taken on the main leadership role. The KAC is planning a diverse mix of social, academic, community and career-oriented events over the next year. These will be posted on the Kellogg Web site, but the club leaders also encourage the estimated 300 alumni in Brazil to keep their contact information up to date and to also join the LinkedIn group Kellogg School of Management–Brazilian Alumni Group.
The new management's kickoff event took place in late September with a welcome dinner for recent graduates; over 40 alums were present. The reception was held at Gallo i Vino in Sao Paulo, which is co-owned by Rodrigo Baer '07 and Pedro Melzer '07.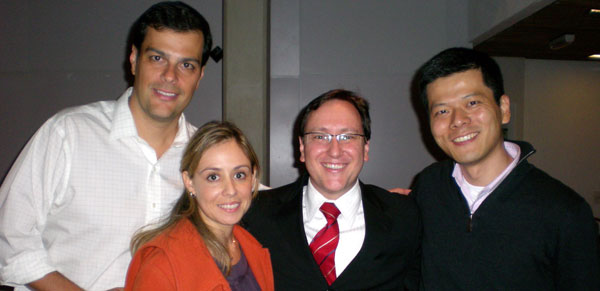 Former KAC of Brazil co-presidents José Rodrigo Sabino, Mariana Tolovi, André Oliveira and Afonso Sugiyama, all '02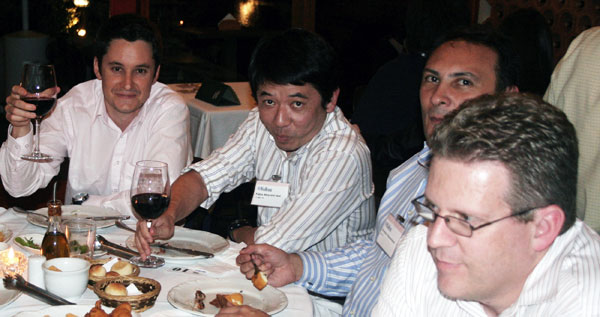 Rodrigo Rasera '04, Fabio Iwai '04, Emerson Vasconcelos '05 and Robert Foster '04 at the KAC event

KAC of Brazil alumni laugh and chat at Gallo i Vino in Sao Paulo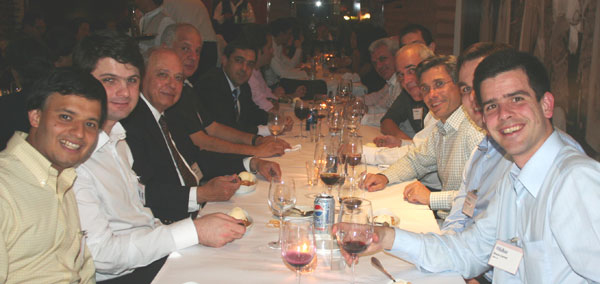 Kellogg alums at Gallo i Vino in Sao Paulo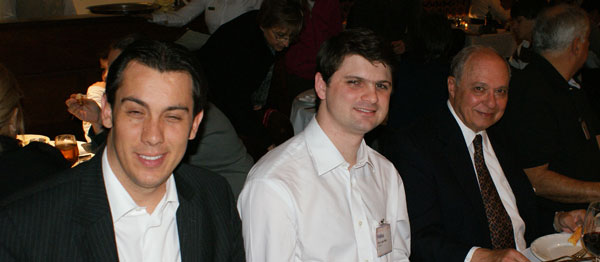 Fernando Wartusch ´06 and Elvio Lupo ´09