| | |
| --- | --- |
| | |
| | Andy Lock, executive vice president and chief administrative officer at Herman Miller Inc., delivered a larger-than-life keynote address. |
| | |
Kellogg hosts national Net Impact Conference
Student leadership key to success of social entrepreneurship gala; conference reveals how business can reduce poverty, environmental crises
The three-day event, the largest of its kind, is produced each year by Net Impact, a national organization founded by MBA students in 1993. Claiming a membership of some 10,000 "new generation leaders committed to using the power of business to improve the world," the group seeks ways to eradicate various social ills, including poverty and environmental crises. Helping advance the agenda for the 2006 summit were more than 150 Kellogg students from the school's Social Impact Club who contributed their leadership in marketing, logistics and curriculum — no small task, considering the event's ambitious program.
| | |
| --- | --- |
| | |
| Kellogg alum Janet Froetscher '83 delivered a Sunday capstone address at the Net Impact Conference. The President and CEO of United Way of Metropolitan Chicago encouraged attendees to consider a role in the private sector to build credibility and contacts that they would find valuable once they made the transition into the nonprofit world. | |
| | |
| | |
| Sheryl O'Loughlin '94, CEO of Clif Bar & Co., shared the challenges her company has faced trying to manufacture a more environmentally friendly nutrition product. In her Saturday capstone remarks she told the audience how her firm abandoned shrink wrap, resulting in a significant environmental benefit. | |
| | |
| | |
| In his Saturday capstone address, Fast Company Co-Founder Alan Webber said, "If you look at the landscape of business, it's not difficult to see that the rules have changed ... [and] the status quo is broken." | |
| | |
Net Impact featured scores of panels, workshops, networking opportunities and prominent speakers, including leaders from organizations such as United Way, Herman Miller, Deloitte and Touche, Gap Inc. and Clif Bar. Activities began Friday on Chicago's Navy Pier with a keynote address by ACCION International CEO Maria Otero.
Otero spoke about microfinance's role in combating global poverty and what she called the "moral imperative" for MBA graduates to use their skills to improve society. The following day brought the conference to the Kellogg School's Evanston campus, where students sipped fair-trade coffee from biodegradable paper cups as they dashed from the Donald P. Jacobs Center to Cahn Auditorium to the James L. Allen Center and back again. They set aside leftovers from organic lunches for composting and dropped empty sugar packets into the helpfully labeled recycling bins — all elements in practicing what attendees were preaching as the sort of socially responsible actions they hoped to see emulated.
As participants reviewed their eco-friendly conference materials, they did not complain about the wind. They lamented only one thing: their inability to attend several events at once during the action-packed weekend.
The conference's return to Kellogg for the second time was the fruit of more than a year's labor by the school's award-winning Net Impact chapter, the Social Impact Club. Conference Marketing Chair Ananda Baron '07 said the event's size — and the many Kellogg students who volunteered to help organize it — speaks to a sea change in the culture of business education nationwide. "This shows a very strong trend," she said, noting that the conference sold out before early registration concluded. "This is not a marketing conference," she said. "We're not giving away jobs or stock tips."
What the conference did offer attendees were insights bound to contribute to their professional success, said Tiffany Brooks '07, conference design team chair: "To be competitive in business, you have to think about the environment ... from oil to green buildings to HIV/AIDS in Africa — it's all relevant."
New to the conference was the "Professional Summit," presentations and breakout sessions tailored to the interests of socially minded leaders already in the field. Panel topics included "The Business Case for Green Building" and "Sustainable Product Development and Design."
The conference's Saturday portion featured addresses by Deloitte and Touche Managing Partner Barry Salzberg, Clif Bar & Co. CEO Sheryl O'Loughlin '94, Room To Read Founder John Wood '89 and Fast Company Founding Editor Alan Webber.
Salzberg's opening remarks were directed at the "millennials" — the new generation of MBA students. "You are a generation with more clout than perhaps you realize," he said, citing a recent study that found more than half of MBAs in the "millennial" generation said they would never work for a company that was not serious about changing the world for the better. "So change it," he said. "It's your world. Change it."
If Salzberg made amelioration sound simple, O'Loughlin discussed just how complicated it can be from the chief executive's perch. The Clif Bar & Co. CEO demonstrated how something as seemingly uncomplicated as producing organic energy bars has far-reaching consequences. O'Loughlin recalled that her company shrink-wrapped its products in plastic up until the day an ecologist the company hired to evaluate its environmental impact asked why: "And we said, 'Um, we don't know.'" The company's decision to stop shrink-wrapping saved tens of thousands of pounds of plastic, and O'Loughlin said she and her team have continued questioning business-as-usual ever since.
| | |
| --- | --- |
| | |
| | |
| | |
| | "You are a generation with more clout than perhaps you realize," said Deloitte and Touche Managing Partner Barry Salzberg in his Saturday keynote. He cited figures that indicate 61 percent of young business leaders believe they are "personally responsible for making the world a better place." |
| | |
| | |
| | Desiree Rogers brought insights from her role as president of Peoples Gas and North Shore Gas. "I must balance my responsibility to my shareholders with society's needs," she told conference attendees during her capstone address. |
| | |
| | |
| | Adjunct Kellogg Professor Richard Sandor provided fuel for thought during a capstone speech that included references to his role as chairman and CEO of the Chicago Climate Exchange, a multisector marketplace that aims to reduce and trade greenhouse gas emissions. |
| | |
Room To Read Founder John Wood '89 also found the status quo lacking when he left his marketing job at Microsoft in 1999 to devote his life to building schools and libraries for children in poor countries. "We are way over the model of a bunch of well-meaning Westerners going in with hardhats," he said, emphasizing the importance of community cooperation and commitment to education. Room To Read has helped build more than 3,300 bilingual libraries throughout six poor Asian nations since its inception.
While some attendees sat in on speaker presentations, others split off into smaller groups for discussions. One popular breakout session, "How to Start a Social Enterprise: a Case Study of the One Acre Fund," focused on the phenomenal success of the fast-growing, hunger-ending microfinance organization and included One Acre Fund Founder Andrew Youn '06. Joining him were Kellogg Professor Barry Merkin as well as Ken Appenteng, head of microfinance banking for Opportunity International in Malawi, and Paul Christensen, president of ShoreCap International.
Afterwards, Youn, who flew to Evanston from Africa especially for the conference, said: "The panel showcased that One Acre Fund is truly a Kellogg affair. Professor Merkin incubated our business plan in his class, and continues to spread the word with key people. Larry Levy ['67] has provided One Acre Fund with advice and financial support through his entrepreneurship center on campus. Matt Forti ['06], our board chair, led the drive to get more than 100 Kellogg students in the Class of 2006 to become monthly contributors."
The conference concluded Sunday with additional speakers, including United Way of Chicago CEO Janet Froetscher '83, Kellogg Adjunct Professor and CEO of Chicago Climate Exchange Richard Sandor, and Peoples Gas President Desiree Rogers.
Froetscher noted how a professional start in the private sector builds credibility and contacts in a world that nonprofit execs need to tap for resources in an era of reduced government spending on social programs. As recently as 10 years ago, nonprofits tended to question the motives of those entering their world after working in the for-profit sector, but some of that suspicion has fallen away, she said.
"The sources of funds for nonprofits are really diminishing," said Froetscher. "They're looking for business to engage more. They're looking [to hire] someone who has played in that world."
Rogers said she must measure a double bottom line as president of People's Gas, a role she said provides operational and public relations challenges in an era of wildly fluctuating energy costs. "I must balance my responsibility to my shareholders with society's needs," she said. "We're seeing [energy prices] become much more of a populist issue."
The price of gas may have risen in recent years, but clean air and water are going to be the most valuable commodities in the years to come, said Sandor, who's known as the "father of financial futures" for his pioneering work in the 1970s to create interest rate futures.
"We are, simply speaking, living in a decade and time where the scarcest resources ... are in the environment we live in," he said during his Sunday capstone address.
For example, the incentives to bring sulfur emissions below EPA targets easily cost-justify the equipment needed to do so, and carbon emissions are headed down that path, Sandor said. "The sulfur crop in America is bigger than the wheat crop," he said, adding that carbon "will be the largest [emissions trading] market in the world – not even anything close."
Though students and presenters alike expressed hope for the future, the weekend's idealism was tempered by an awareness of the hurdles facing leaders willing to create a better world.
Webber observed that social change necessarily "starts with looking the brutal facts of life in the eye and admitting that the status quo is broken." Wood invited conference attendees to have a look at the front page of any newspaper for a glimpse at the world's many dark realities, but he urged them to stand firm.
"It's up to all of us to shine a light on that darkness," said Wood. "The world is a scary place today. But we cannot give up."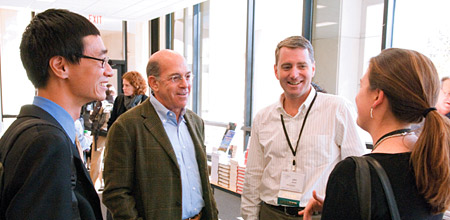 The collective entrepreneurial power at the Net Impact Conference was impressive. Here, Kellogg alumni (from left) Andrew Youn '06, Larry Levy '67 and John Wood '89 interact with Sandra Anderson '07. At the event, the graduates all participated in capstone addresses or panel discussions.